(Editors' Note: This article covers a micro-cap stock. Please be aware of the risks associated with these stocks.)
Iluvien is pSivida's (NASDAQ:PSDV) most advanced stage product and is partnered with Alimera Sciences (NASDAQ:ALIM). Iluvien has a PDUFA action date of October 17, 2013, for approval in chronic DME. In this article, I will take an in depth look at pSivida's entire pipeline and its partnerships.
Iluvien for Chronic DME partnered with Alimera Sciences
The current standard of care for DME is a monthly injection of Lucentis to the eye. Regeneron (NASDAQ:REGN) has recently announced plans to submit Eylea for DME in the US and Europe by the end of 2013. Eylea, which requires an eye injection every 2 months, will compete with Lucentis in the front line setting once approved. In DME, there are things of an inflammatory nature that anti-VEGF treatments may not address, and subjects whose eye vision fails to improve on Lucentis currently have no other approved treatment options. These patients highlight the need for a 2nd line therapy. Steroids like Triesence that require several eye injections each year are often used off-label to treat these subjects. Generally, the subjects in this setting are those who had DME for a long duration (>3 years), often referred to as chronic DME. Alimera Sciences is seeking FDA approval of Iluvien in this setting. Iluvien is a small insert that delivers a low dose of fluocinolone acetonide for a duration of 3 years. Iluvien is already approved in six countries in Europe. Below are the reasons why I believe Iluvien will be a revenue generator:
In the RESTORE study conducted in the Europe that enrolled both newly diagnosed and chronic DME subjects, about 47% of subjects treated with Lucentis didn't achieve 20/40 outcome after 12 months. This confirms that the 2nd line market exists and is a meaningful percentage of the 1st line market. Iluvien has demonstrated a very good efficacy among chronic DME subjects.
The convenience offered by Iluvien, an eye injection once every 3 years, is vastly better than that offered by the VEGF treatments (eye injection every 1-2 months) or the off-label short-term steroids. This will bring relief to both the patients and retinal specialists. Iluvien will be a welcome treatment option to a 50-60 year old DME patient who has to get eye injections for the rest of his or her life.
The main concern with use of steroids in DME is the increase in IOP pressure. Iluvien is designed to release a very low dose of steroid for an extended duration of 36 months, thereby minimizing the side effects significantly compared to old generation steroid inserts like Retisert (3 times fewer patients with IOP increase over 30 mm Hg).
The prescriptions patterns in retinal diseases like wet AMD and DME are driven by insurance coverage. Retinal specialists will often prescribe off-label treatments if the patient does not have insurance coverage. Alimera is planning to finalize reimbursement agreements with the krankenkassens (health insurance companies) in Germany by the end of the year. In UK, NICE has issued a positive appraisal in June this year and a final guidance is expected in the next few months. This could lead to coverage by NHS in the 4th quarter of this year. In France, Alimera is expecting to be reimbursed for 100% of the cost when it launches Iluvien in early 2014.
Need for treatment options for chronic DME in the US is similar to that of Europe.
pSivida is entitled to a $25 million milestone if Iluvien receives FDA approval and a 20% net profit split on a country by country basis.
Iluvien (Medidur) for Posterior Uveitis fully owned by pSivida
pSivida is conducting a phase 3 study (ClinicalTrials.gov Identifier:NCT01694186) in posterior uveitis using Iluvien, the same insert used in DME. Posterior uveitis is caused by an inflammation of the uvea. It affects about 1 in 4500 people and common between ages of 20 to 60. It is estimated to be responsible for 10-20% of blindness in the US. pSivida estimates the prevalence in the US to be around 175K.
pSivida recently announced preliminary results from an investigator sponsored study. Through the first 12 months of enrollment in this study, none of the treated eyes had a recurrence of uveitis, and inflammation had been reduced in all treated eyes. By contrast, fellow (untreated) eyes showed either recurrence of uveitis or worsening or no improvement in inflammation. pSivida has expressed a high degree of confidence in the efficacy of Iluvien in posterior uveitis based on the preliminary results from the investigator sponsored study. Additionally, the steroid delivered by Iluvien is similar to that of Retisert, which is already FDA approved for posterior uveitis. Iluvien has a significantly better safety and convenience (no surgery needed to inject) profile than Retisert. pSivida fully owns the rights to this indication and is currently projecting a NDA filing by the end of 2015.
Slow release Latanoprost (Xalatan) in a research and license agreement with Pfizer
pSivida has received regulatory approvals for 3 inserts to treat back-of-the-eye diseases. A sustained-release bioerodible micro-insert designed to slowly deliver latanoprost is its attempt to treat glaucoma, a front-of-the-eye disease. Adherence to treatment is a huge problem among glaucoma subjects and a slow release insert has the potential to solve these compliance issues. This insert is being developed as part of a collaborative research and license agreement between the company and Pfizer (NYSE:PFE). A phase 2 investigator sponsored proof of concept (POC) study (ClinicalTrials.gov Identifier:NCT01180062) is currently ongoing. Pfizer has the option to exercise an exclusive worldwide license to develop and commercialize the slow release latanoprost within 90 days of receiving the POC final study report in exchange for a $20 million payment, double-digit sales-based royalties and additional development, regulatory and sales performance milestone payments of up to $146.5 million. Note that the primary completion date for this POC study on the clinicaltrials.gov site is listed as September 2013. This is a catalyst that is not on many traders' radars. Given pSivida's experience in developing slow release inserts, there is good reason to have confidence in this slow release biodegradable device for the treatment of glaucoma.
Tethadur
Tethadur is potentially the most revolutionary product in pSivida's pipeline. The CEO's recent comment at Stifel Nicolaus about transforming the company from a drug delivery company to a specialty pharma is largely attributable to Tethadur. Tethadur is based on the company's Biosilicon platform. Dr. Leigh Canham, who is pSivida's scientific director in the UK office is the developer of this technology. His work with Biosilicon earned him a nomination for the European inventor award for 2011. A video with an overview of Biosilicon can be found here. Tethadur is nanostructured porous silicon that is biodegradable. pSivida can control the size of the pores, making it suitable for delivery of several proteins, peptides and antibodies.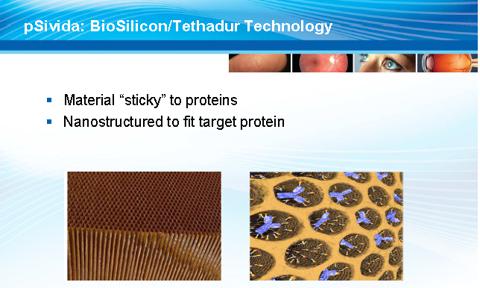 This technology has tremendous potential, both in the ophthalmology and non-ophthalmology spaces. Given pSivida's experience in developing treatments for eye disorders, it is focusing on the ophthalmology based treatments first. It has at least 2 technology evaluations with undisclosed pharmaceutical companies based on Tethadur. The fact that this biodegradable porous silicon (hence the name 'pSi'vida) could be tailored to fit various proteins and antibodies, enables pSivida to pursue multiple partnerships to develop biosimilar or biobetters. pSivida has been welcomed as a new co-sponsor of the "Biosimilar and Biobetter" annual conference to be held in UK (October 1-2, 2013) next month. Tethadur may follow the footsteps of Halozyme's (NASDAQ:HALO) rHuPH20 enzyme technology that enables subcutaneous administration of various IV formulations. Halozyme was able to enter into partnerships with Roche (OTCQX:RHHBY), Pfizer, and Baxter (NYSE:BAX) using its enzyme technology.
BrachySil for pancreatic cancer partnered with Enigma Therapeutics
BrachySil is a BioSilicon product candidate that delivers a therapeutic P32, a radioactive form of phosphorus used to treat cancer, directly to solid tumors. pSivida has an exclusive, worldwide royalty-bearing license agreement with Enigma Therapeutics for the development of BrachySil. Enigma Therapeutics was acquired by NeuroDiscovery Ltd in February of this year. Neurodiscovery changed its name to Oncosil Medical Limited (ASX:OSL) in June 2013 and will focus on developing Oncosil (BrachySil).
Enigma Therapeutics has previously conducted two phase II studies with pancreatic cancer subjects. One of these two studies was designed as a safety study combining BranchySil with standard chemotherapy among subjects with inoperable pancreatic cancer. The data showed a disease control rate of 82% and an overall median survival of 309 days (10.3 months). These results were presented at the 2008 ASCO-GI conference. Additional details of the phase 2 studies can be found here. On September 13, 2013, Oncosil Medical announced that it raised $10.3 million to fund its global registrational phase III study for Oncosil for treatment of pancreatic cancer. The study is expected to begin enrollment in Q1 2014.
Pipeline Overview
Drug Name

Indication

Partner

Timeline

Potential revenue

Iluvien

Chronic DME

Alimera Sciences (20% royalties from net profit)

Approved in 6 EU countries

PDUFA date of Oct 17th 2013 in the US

$140 M-$400 M (Europe)

$140 M-$400 M (US)

Total sales of $280 M - $800 M (US+Europe)

Iluvien

Posterior Uvietis

Fully owned

A phase 3 study ongoing. Expects a NDA submission towards the end of 2015.

Prevalence ~ 175 K in US (orphan disease). Given the cost of $10,000 per Iluvien insert, an estimate of $100 million seems reasonable.

Slow release

Latanoprost

Glaucoma

Pfizer (double digit royalties)

Results from POC study expected Sept 2013 (per clinical trials.gov)

>$1B (peak sales of $1.6 billion before patent expiration in Mar 2011).

Tethadur

Multiple indications possible (wet AMD, DME, cancer, and other non-opthomology applications)

2 tech evaluations ongoing with undisclosed pharmaceutical companies

Additional pre-clinical data before end of 2013

Huge potential to develop biosimilar and biobetter formulations.

BrachySil

Pancreatic cancer

Oncosil Medical Ltd (royalties)

Phase 3 global registration study projected to begin in Q1 2014

>$1B worldwide
Valuation
pSivida has raised about $55 million from its partnership agreements since 2008. Below is a list of additional revenue sources, both short and long term for the company:
Milestone payment of $25 million from Alimera based on FDA approval of Iluvien in chronic DME.
Royalties from Alimera based on net profit from Iluvien in EU (and US).
Revenue from Iluvien for posterior uveitis (not before 2016).
Upfront and milestone payments from future Tethadur agreements.
Royalties from BrachySil.
Since most of the developmental costs are paid by its partners, pSivida has an unusually low burn rate of $2 million (approximately) per quarter. After raising $10 million in equity offering in July this year, it currently has a total cash reserve of $20 million. The DME market is worth several billions (NYSEARCA:USD) and will be dominated by Lucentis and Eylea. The chronic DME market, however, does not have any approved treatments and the market is undervaluing the true potential in the 2nd line setting. Iluvien stands to gain a respectable market share among DME subjects that are not responding to Lucentis. Tethadur is a highly promising protein and antibody delivery technology under development. pSivida currently has a low market capitalization value of $107 million. A market capitalization of $200 million, which translates to a share price of $7.5 (26.8 million shares) is a more fair valuation of the company's promising pipeline. The multiple near-term revenue sources can turn this company profitable in 2014.
Disclosure: I am long PSDV, ALIM. I wrote this article myself, and it expresses my own opinions. I am not receiving compensation for it. I have no business relationship with any company whose stock is mentioned in this article.