Athletic footwear retailer Foot Locker (NYSE:FL) posted second quarter results that were largely in-line with expectations. Revenue increased 6.4% year-over-year to $1.5 billion, in-line with consensus estimates. Earnings per share excluding the integration of Runners Point Group increased 21% year-over-year to $0.46, a penny below consensus expectations but not much of a disappointment.
Same-store Sales Growth Decelerating...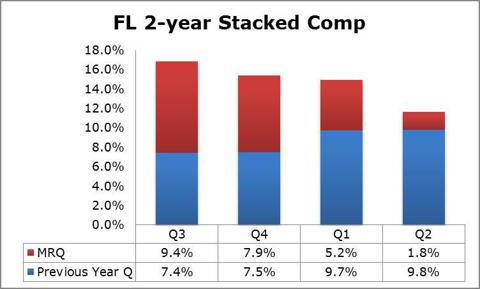 Source: Valuentum, Company Filings
Foot Locker's same-store sales increased only 1.8% year-over-year, down dramatically from the growth in excess of 5% we've seen from the retailer since the first quarter of fiscal year 2011. Revenue growth at existing stores becomes more difficult since comp sales growth has been so strong during the past few years. We don't think Foot Locker's business is bad or struggling by any means, but we can see from the above chart that the pace of growth has clearly slowed.
We think one of the issues driving the comp deceleration is that Nike (NYSE:NKE) isn't raising prices at the same magnitude it was only a few years ago. Let's take the flagship LeBron model, for instance. MSRP on the 8th edition of the shoe was $160, while the 9th edition carried an MSRP of $170 (6.25% higher). The 10th model carried an MSRP of $180 (5.88% higher). This is for the flagship Nike basketball product with the most pricing power; thus, for models that do not have the same appeal, we're seeing even smaller price increases. Foot Locker simply isn't getting the price tailwind from its most important vendor that it received in the past.
However, we do think fall releases of the new LeBron model as well as Jordan retro products could attempt to further test the limits on pricing. For instance, the 11th LeBron model will cost $200, an 11% increase versus the prior model. We think same-store sales growth could recover in the back half of the year even though comparisons remain difficult.
Looking at Margins
Gross margins declined about 15 basis points year-over-year to 31.15%. CFO Lauren Peters provided what sounds like positive commentary on the gross margin, noting on the conference call:
"We gained 10 basis points of leverage on our occupancy and buying costs, however, this improvement was offset by a decline of 20 basis points in merchandise margin. Our markdown rate continues to edge lower, even with the softness of our top line sales in Q2 relative to our expectations."
It is interesting to note that markdowns are declining, and gross margins are also declining. The two usually run counter. CEO Ken Hicks explained the decline was due to lower IMUs (initial markups) as vendors passed along input cost increases, saying:
"We saw larger cost increases a year ago, but we will continue to see cost increases, not just because of materials, but because of labor costs and other costs that they're seeing, fuel costs, go up. The costs, we work with the vendors to try to manage the cost to make sure they're focused on products that can accept it."
We aren't buying this argument, especially since Nike has expanded its gross margin in recent quarters. In reality, we think the company is the victim of Nike's continued dominance in the US. While management always tries to highlight the importance of other businesses, it is no secret that Foot Locker depends heavily on Nike-it's hard to imagine a Foot Locker without Nike.
In our view, Nike is dictating lower gross margins at Foot Locker in order to boost its own fortunes. As Nike continues to increase its retail infrastructure, Foot Locker and other customers such as Dick's Sporting Goods (NYSE:DKS) can either accept lower margins or be faced with losing Nike.
Further, if Foot Locker were to push back against price increases, Nike would simply allocate more product to a competitor like Finish Line (NASDAQ:FINL) or sell more of its products through Nike.com. This trend could be bearish for Nike's retail partners' gross margin over the long-term.
On the positive side, SG&A declined 80 basis points year-over-year as a percentage of sales to 21.6%. Management did a fantastic job of controlling variable expenses, and we believe this continued positive performance will be able to offset some of the gross margin headwinds Foot Locker is set to face in the coming quarters.
Goodbye Ken Hicks?
Ken Hicks joined Foot Locker as CEO in 2009 after a long tenure as J.C. Penney's (NYSE:JCP) chief merchandise officer and time spent at Payless Shoes and McKinsey. Hicks has been praised for helping turnaround Foot Locker by revamping stores, providing executives and store employees alike with large amounts of variable compensation, and closing underperforming outlets. All of these notions are true, but we believe a corresponding economic recovery and surge in the popularity of Nike certainly helped.
Regardless, Hicks, a native Texan, has been linked to the J.C. Penney top-job several times since Ron Johnson was fired. The belief is that the man is a turnaround expert who already knows how to operate JC Penney. And as we mentioned, he's from Texas, where JC Penney is headquartered.
While fleeing may seem tempting, we aren't sure Hicks would be interested, though he didn't go as far as to rule out his departure. Reviving JC Penney would be a wonderful achievement for any executive, and it would certainly vault Hicks into the conversation as one of the best retailers of his generation. Further, it could mean leaving Foot Locker after margins and sales growth peak-further enlarging his legacy.
However, a turnaround of JC Penney wouldn't be easy, and we believe dealing with low-single-digit same-store sales growth at Foot Locker would be less of a headache than trying to reverse a sinking ship.
Valuentum's Take
Foot Locker's second quarter wasn't as strong as we've seen recently, but most retailers posted lackluster results during the same time period. While gross margins may decline over the next few quarters, we think the firm is doing a fantastic job of controlling costs so any incremental sales flow through to the bottom line. Along those lines, same-store sales growth could re-accelerate in the back half of fiscal year 2013 thanks to price increases and a strong fall release lineup.
Foot Locker looks slightly undervalued, but shares score only a 4 on the Valuentum Buying Index (at the time of this writing), so we won't be adding the company to the portfolio of our Best Ideas portfolio.
Disclosure: I have no positions in any stocks mentioned, and no plans to initiate any positions within the next 72 hours. I wrote this article myself, and it expresses my own opinions. I am not receiving compensation for it (other than from Seeking Alpha). I have no business relationship with any company whose stock is mentioned in this article.