The Power of a Valuentum Buying Index (VBI) Score of 1--the worst possible measure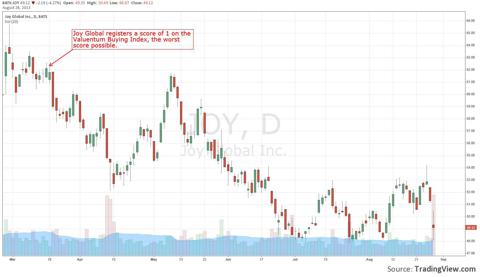 Mining equipment maker Joy Global (NYSE:JOY) posted lackluster results Wednesday for its fiscal year 2013 third quarter. Competitor Caterpillar (NYSE:CAT) posted similarly weak results as it deals with many of the same weakening global trends that are impacting Joy Global. During the period, Joy Global's revenue declined 7% year-over-year to $1.3 billion, though that was better performance than consensus estimates predicted. Excluding items, earnings per share fell 9.1% year-over-year to $1.70, which was also slightly above consensus estimates. Free cash flow was actually better than the prior-year quarter at $320 million, equal to 24% of total revenue.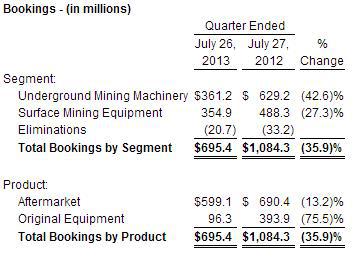 Image Source: JOY 3Q FY13 Release
Though the sales and earnings declines weren't great, bookings were terrible. 'Original Equipment' bookings declined 75.5% year-over-year, hurt largely by a steep decline in 'Underground Mining Machinery' bookings (which fell nearly 43% year-over-year). The pace of orders for underground mining machinery is a useful gauge of interest in investing in mining projects, and commodity prices have become too weak in the mining space to justify marginal projects (and therefore marginal equipment purchases). The company's current sales backlog stands at $1.6 billion versus $2.2 billion at the beginning of the quarter.
CEO Mike Sutherlin communicated that conditions could get worse going forward, noting in the press release:
"Our project tracking list has increased this quarter as our customers continue to set their longer term priorities. However, the list is back-end loaded, and project slippage has become common under current market conditions. This means that improvement in the prospect list is not expected to have a significant impact on our 2014 order rate. This is consistent with our view that the market will continue to be more challenging before it starts to improve."
The company's gross margin declined 100 basis points year-over-year to 33.3%. The decline reveals the impact of margin deleverage inherent in manufacturing. Still, Joy Global was able to cut other costs, so total operating margins declined just 80 basis points year-over-year, to 20.8% of sales. We anticipate further operating margin deterioration going forward as sales continue to face pressure.
Looking ahead, Joy Global did not cut its fiscal year 2013 sales outlook of $4.9-$5 billion, nor did it cut its full-year earnings per share outlook of $5.60-$5.80. Despite management's bearish commentary about the global outlook for mining, particularly with regards to international coal markets, Joy Global believes it will be able to achieve 2013 targets. However, Sutherlin did add that he does not think the current mining environment will support annual revenue in fiscal year 2014 in excess of $4 billion. That figure is more than half a billion below the Street's pre-quarterly-release expectations, and given the large degree of sales deleveraging and possible product price deterioration, it means earnings are going to be weak in fiscal year 2014 as well.
On the bright side, Joy Global's US pension obligations are nearly fully funded, and the company will make further capital investment reductions to help generate free cash flow. With cash-savings initiatives, the company intends to repurchase over $1 billion in stock over the next three years, close to 20% of the current market capitalization. Share buybacks, however, are only a good investment if a company is trading below its fair value estimate, which is not the case of Joy Global. The buybacks are a value-destroying move to merely boost earnings per share in the out-years.
Valuentum's Take
The global mining industry is dealing with a glut of oversupply and overcapacity and that theme played out during Joy Global's fiscal third quarter. Unfortunately for the mining equipment maker, we do not see fundamentals improving in the near term. We believe shares look fairly valued at current levels (the price falls within our fair value range), but we could see further price declines to our point fair value estimate.
Joy Global's end markets are inherently volatile, and if share price weakness persists, we also leave open the idea that a larger buyer could acquire the firm. Long-rumored suitor GE may not be as interested as it was prior to acquiring Lufkin for $3.3 billion. However, after strong performance from GE Capital and its divestiture of NBCUniversal, the company could look to purchase one of the stronger mining equipment manufacturers if the price becomes too attractive to ignore. We're nowhere near attractive levels as it relates to Joy Global's valuation, however.
Disclosure: I have no positions in any stocks mentioned, and no plans to initiate any positions within the next 72 hours. I wrote this article myself, and it expresses my own opinions. I am not receiving compensation for it (other than from Seeking Alpha). I have no business relationship with any company whose stock is mentioned in this article.