Luxury jeweler Tiffany (NYSE:TIF) posted decent second quarter results. Sales increased 4% year-over-year to $926 million, falling slightly short of consensus estimates, but not enough to warrant concern. Earnings per share were 15% higher than the year-ago period at $0.82, several pennies higher than consensus expectations.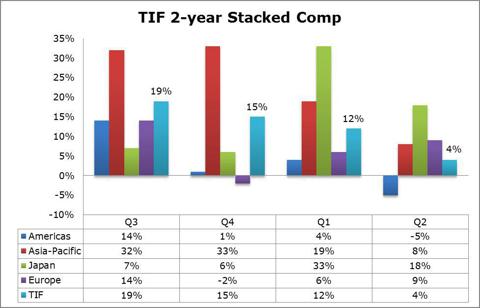 Source: Valuentum, Company Filings
Same-store sales growth at Tiffany wasn't bad during the second quarter, up 5% year-over-year on a constant-currency basis. However, it is hard to ignore the two-year trend that is clearly declining, as the two-year stacked comp shows (see light blue line on right in image above).
Americas
Recent trends in the Americas region reveal that much of Tiffany's potential growth in the market has largely been realized. Of course, this comes after a spectacular run in 2011 when comp growth registered a double-digit pace (with the exception of the fourth quarter). On the conference call, VP of Investor Relations Mike Aaron provided additional details about the Americas performance, saying:
"Performance varied geographically, with growth in the New York flagship store sales tied to both increased local and tourist demand, being offset by a slight decline in comparable brand store sales. And those brand store results were mixed by market, with no discernible pattern except for pronounced softness in Hawaii and Guam, reflecting a decline in Japanese tourist sales that we believe is attributed to the weaker yen."
Given the bevy of mediocre results we've seen throughout retail, we gather the weakness can be attributed to the American consumer, especially since New York flagship sales are driven by tourists and wealthy Manhattan dwellers. We question if the story is more of a secular issue, or if it underscores Tiffany losing some of its brand luster. The company's focus on keeping its products up-market coerces us to believe the brand can remain relevant and popular going forward.
Japan
As Tiffany noted on its conference call, tourism spend in Guam and Hawaii was lackluster, but Japanese strength likely offset this weakness, as same-store sales increased 8% year-over-year during the second quarter. This came after a 21% increase in same-store sales during the first quarter, which prompted Tiffany to imply that growth would slow materially in the second quarter. Either way, it is hard not to be pleased with underlying strength in Japan, though it will not have the same impact as Asia-Pacific on the company's future.
Asia-Pacific
Asia-Pacific also remained a growth driver during the second quarter, as total sales increased 20% year-over-year to $208 million. Though the region is still less than half of the size of the Americas segment, its Asia-Pacific segment will be a key growth driver for years to come. Not only is Tiffany able to open up new stores in China, but same-store sales also increased 13% year-over-year during the quarter, revealing the strength at existing locations. Admittedly, the 2-year stacked comp shows some sequential deceleration, but 2012 wasn't necessarily a great year for Tiffany in the Asia-Pacific region, particularly after the company had to lap comp gains in 2011 ranging from 26%-41%.
Margins
On the cost side, Tiffany's gross margins jumped 120 basis points year-over-year to 57.5% driven largely by lower input costs and some modest price increases. Still, management does not believe gross-margin expansion will continue, noting on the conference call:
"However, these gross margin benefits are still being partly offset by a continuing shift in sales mix toward higher price-point, lower gross margin products."
The notion of higher price-point, lower gross margin products may seem contradictory, but it does cost Tiffany more to acquire rare/large diamonds than it does to make mass-produced jewelry. Still, we think maintaining a prestigious reputation is paramount to the business' long-term success, so pursuing higher price-point products is a good idea, in our view.
SG&A declined 40 basis points year-over-year to 38.4% of total sales, driven mostly by sales leverage. Altogether, operating margins jumped 170 basis points year-over-year to 19.1% of sales.
Guidance
Going forward, Tiffany kept its prior sales guidance in place, but upped its earnings per share forecast to $3.50-$3.60 from its prior forecast of $3.43-$3.53. While the new range represents an improvement, it will not cause a change in our fair value estimate.
Valuentum's Take
Overall, Tiffany's second quarter wasn't great, but it was reasonably steady in a difficult retail environment. Growth is alive and well in Asia-Pacific, though sales growth could be stronger in the Americas region.
We think Tiffany is making the right decision to sacrifice gross margin dollars in the near-term for long-term product credibility. Brand erosion can hit companies hard and when products become ubiquitous like they have for the aspirational Coach (NYSE:COH), consumers can look elsewhere for new products. However, we think shares look fairly priced at this juncture, so we won't be looking to add the firm to the portfolio of our Dividend Growth Newsletter at this time.
Disclosure: I have no positions in any stocks mentioned, and no plans to initiate any positions within the next 72 hours. I wrote this article myself, and it expresses my own opinions. I am not receiving compensation for it (other than from Seeking Alpha). I have no business relationship with any company whose stock is mentioned in this article.