Offshore drilling contractor Seadrill (NYSE:SDRL) posted solid second quarter results. Revenue increased 13% year-over-year to $1.3 billion, slightly above consensus estimates. Earnings-per-share was in-line with consensus expectations, more than tripling year-over-year to $3.53 thanks to a $1.26 billion gain on sale of tender rigs.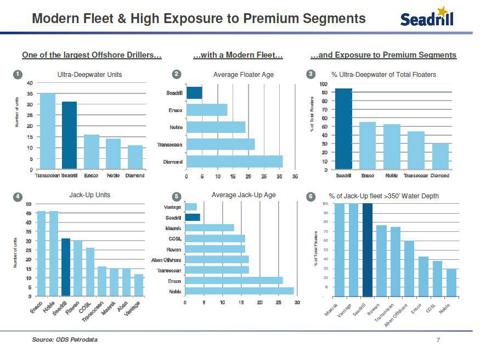 Image Source: SDRL 2Q FY13 Slides
Though the oil spill in the Atlantic Gulf region caused some environmental concerns about deep-water drilling, Seadrill noted that the demand for deep-water rigs from exploration & production (E&P) companies remains strong. Seadrill possesses one of the newest fleets with the safest and most-efficient technology; thus, demand for its rigs remains particularly robust. The company also is positive about utilization rates, and its ability to charge higher rates going forward.
Seadrill's premium jack-up rigs operated with a utilization rate in excess of 95% during the second quarter, a strong figure. More importantly, the company sees an intriguing opportunity to expand into Mexico, writing in the press release:
"During the last 10 years, 552 wells have been drilled offshore Mexico while 4,653 wells have been drilled in the US Gulf of Mexico. With similar geology, this highlights the enormous potential for the Mexican portion of the Gulf and we believe the first leg of the growth story will occur in the shallow water. Seadrill sees Mexico as a strategically important market going forward."
If additional Mexican well supply comes on-line, Seadrill is likely to not only experience better utilization rates, but also better day-rates as rigs become scarcer.
Management also spoke favorably about its acquisition of 50.1% of Sevan Drilling ASA. The company sees at least $30 million in annual financing savings, several millions of dollars in insurance cost savings, and some potential for additional savings going forward. Given Seadrill's highly-leveraged balance sheet, cost savings are of incredible importance as the company pays a hefty dividend.
Surprisingly, Seadrill increased its quarterly dividend 3 cents to $0.91 per share. Although Seadrill's annual dividend yield of 7.9% looks awfully tempting, we're simply not excited about it due to the firm's enormous debt load. We're not saying the dividend is going to get cut at this time, but as was displayed in the financial crisis, the firm's over-leverage can be a recipe for disaster (when shares dropped from nearly $37 to $6 and change). When it comes to dividend growth investing, we don't ignore the capital risks.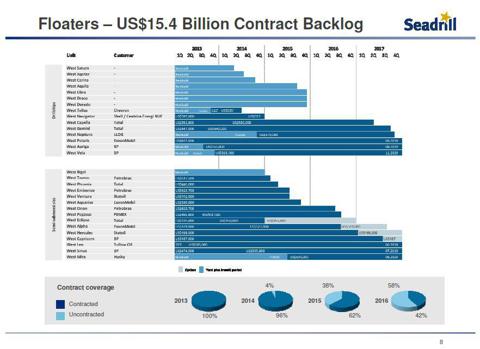 Image Source: SDRL 2Q FY13
Looking ahead, Seadrill has a robust backlog of orders for its floaters (platforms fitted with drilling equipment and anchored to the ocean floor) that currently sits at $15.4 billion -- and remains contracted for all of 2013 and virtually all of 2014. Seadrill's backlog for its jack-up fleet currently stands at $3.1 billion with upside for contracting in 2014. Seadrill's customers are oil and gas stalwarts like BP (NYSE:BP), Exxon Mobil (NYSE:XOM), Total (NYSE:TOT), and Statoil, so we think customer credit risk is minimal.
Valuentum's Take
Fundamentally, Seadrill has done a fantastic job acquiring a young, efficient fleet of rigs though it has come at the expense of financial flexibility. The firm's roughly 6% dividend yield looks attractive, but its debt load may be too much to bear when times get tough. Seadrill's current valuation suggests the market is privy to its positive momentum, leaving shares fairly valued.
Disclosure: I have no positions in any stocks mentioned, and no plans to initiate any positions within the next 72 hours. I wrote this article myself, and it expresses my own opinions. I am not receiving compensation for it (other than from Seeking Alpha). I have no business relationship with any company whose stock is mentioned in this article.