"Gold gets dug out of the ground in Africa, or someplace. Then we melt it down, dig another hole, bury it again and pay people to stand around guarding it. It has no utility. Anyone watching from Mars would be scratching their head." -Warren Buffett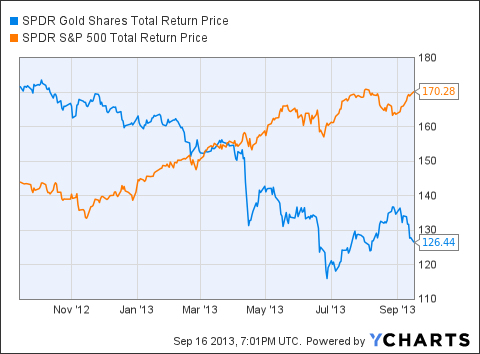 GLD Total Return Price data by YCharts
On Wednesday, September 18th the Federal Reserve will have a policy meeting discussing the possibility of tapering treasury purchases from $45 billion to $35 billion per month. Both Wall Street and Main Street seem overly concerned on the timing of the taper; however, whether it is September or October, in the end, this is insignificant. The bottom line is that the taper will occur, it is a question of when, not if. We also think in the first half of 2014, the Fed will totally exit the quantitative easing program. We believe that, with rising rates, the Fed must start shrinking its massive balance sheet.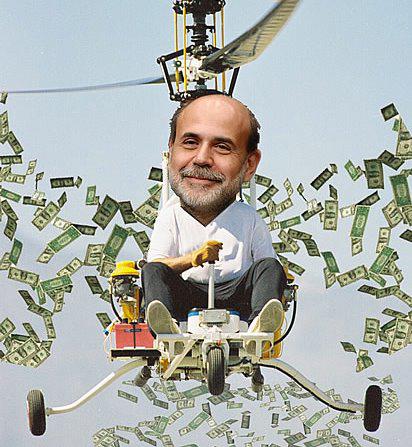 Helicopter Ben Putting Away The Copter?
Although the gold bulls have been highly skeptical of the tapering, it seems highly logical, given the data trends within the U.S. economy. Unemployment rates have come down substantially from around 10% in late 2009 and early 2010, to the most recent figures of 7.3% in August of this year.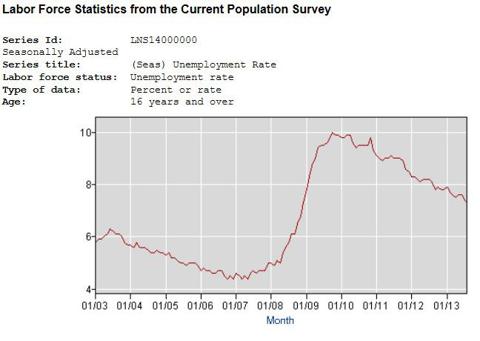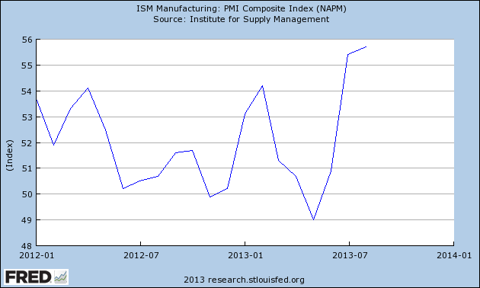 *Federal Reserve Bank of Saint Louis
An ISM reading above 50 indicates growth and below 50 indicates a contraction. We had a brief period of contraction in 2013, but have resumed an upward trajectory in the last few months.
Higher Prices Immediately Halted International Demand
After our first article denouncing gold, gold prices increased sharply to a high of around $1,430- a result that is quite typical immediately following our recommendations. Luckily, we did not have a short position at the time (disclosed in article), although we did initiate a short position during the run-up.
The supporting factor for higher prices during the past three months hinged on the thesis that Indian and Chinese demand was increasing rapidly as gold collapsed below $1,200. That turned out to be the case based upon many data points. Many international buyers, especially Indian buyers, viewed cheaper gold as an excellent inflation hedge. With India consuming 20% of the world's gold in 2012, India has become an important consideration in global demand forecasting. As the Rupee dropped significantly against the U.S. dollar, gold became an excellent safe haven. However, once gold prices rose above $1,400, demand started to wane considerably. Even more problematic for demand was a fourth tariff this year from the Indian government on gold imports from, 8% to 10%. The Indian government has been attempting to narrow the current account deficit and slow the demand for the yellow metal. The problem now is that gold has become incredibly expensive to own in Rupee denominated currency (not to mention the inclusion of the import tariff), while just recently hitting an all time high of above 95,000 INR/1oz of Gold. Only lately has the price greatly affected demand, collapsing to around 84,000 INR/1oz gold.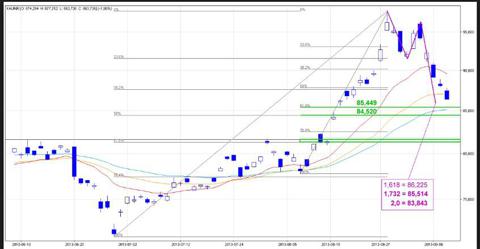 Avoid the gold miners in an increasing price environment, and especially in a declining price environment.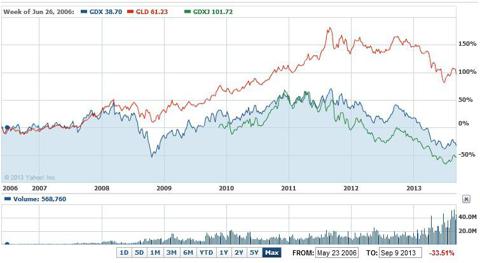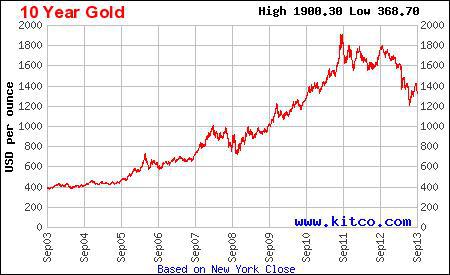 As you can see from the above data, from 2006 until now, physical gold prices have roughly doubled. During that same period, the Market Vectors Gold Miners ETF (NYSEARCA:GDX) has fallen by about 35%. And the situation has been even worse for the newly minted (2009 EOY) Market Vectors Junior Gold Miners ETF (NYSEARCA:GDXJ) performance in the past four years. These are two perfect examples of what has taken place with the gold miners for much of the gold bull market- costs have been rising just as quick, if not quicker, than the bullion prices. Any other industry, where the raw product more than quintuples in value, would typically see huge returns for the equities of corresponding companies. Unfortunately, that is not the case here; on the whole, gold miners have followed a policy of capital misallocation while allowing rising costs to eat into any profits. Most of the "all-in costs" gold miners provide to investors purposely exclude significant portions of capital expenditures. This brings to mind a prescient comment from Warren Buffet discussing EBITDA,
"Does management think the tooth fairy pays for capital expenditures?"
With that quote, it has been painfully obvious that gold production costs are not as low as the miners have been reporting to investors. In fact, this brings up the very question what would occur if gold prices doubled again in the next seven years. We think the gold miner ETFs, on average, would still be down significantly over the course of that timeframe.
Euro-zone & the Middle East
Euro zone fears having recently abated with consumer confidence running at a two year high. With second quarter growth of 1.1% the euro zone is finally coming back into the picture after an 18 month hiatus. While the problems in Europe seem to have disappeared, another fear is popping up within the last month- Syria. The looming threat of a U.S. strike on Syria, which has the potential for a wider conflict with Russia and Iran, is reflected in the sudden surge in gold prices in the last month. However, we feel, once again, that the gold market overreacted to the possibility of widespread chaos in the region. With diplomatic discussions progressing between Russia and the U.S., it seems a U.S. incursion has been avoided for the time being. While this potential poses a real threat, we view any spike in gold from a U.S. strike as an excellent shorting opportunity.
Conclusion:
It has seemed to be the overarching thesis of gold bulls that the euro zone would eventually collapse, and a potential war could occur in the Middle East, sending gold to new highs. The problem with those two rationales is that thus far, the Middle East has been fairly "peaceful" and the euro zone has seen surprising resiliency. In the U.S., a strengthening dollar, lower unemployment rates, higher manufacturing growth numbers, and a growing independence from foreign oil are all factors we believe will continue to put downward pressure on gold. Though this may not occur until mid 2014, once the Fed fully stops the tapering process and initiates higher interest rate policies, precious metal prices will be affected. In addition to tapering, this will be the first year (unless there is a massive rally by year end) in 13 years that gold has had a loss on an annual basis. We project that tax loss selling will put even more pressure on SPDR Gold Shares (NYSEARCA:GLD) as we head into 2014; our target is for physical gold to get below $1,000 per ounce.
For prudent investors, it is time to exit the great gold run of the 21st century before gains turn into potential losses. Even though the exact timing of monetary policy changes is unknown, it is inevitable that sooner or later, the taper will end and Ben will put his helicopter away for good.
Disclaimer: This report is intended for informational purposes only and you, the reader, should not make any financial, investment, or trading decisions based upon the author's commentary. Although the information set forth above has been obtained or derived from sources believed to be reliable, the author does not make any representation or warranty, express or implied, as to the information's accuracy or completeness, nor does the author recommend that the above information serve as the basis of any investment decision. Before investing in a security, readers should carefully consider their financial positions and risk tolerances to determine if such a stock selection is appropriate.
At any time, the author of this report may trade in or out of any securities that are mentioned in the report as long or short positions in his own personal portfolio or in client portfolios that he manages without disclosing this information. At the time this report was published, the author had a short position in GLD and SAND either in his personal account or in accounts that he managed for others.
THIS REPORT IS NOT A RECOMMENDATION TO BUY OR SELL ANY SECURITIES MENTIONED. THE AUTHOR ACCEPTS NO LIABILITY FOR HOW READERS MAY CHOOSE TO UTILIZE THE INFORMATION PRESENTED ABOVE.
Disclosure: I am short GLD, SAND. I wrote this article myself, and it expresses my own opinions. I am not receiving compensation for it (other than from Seeking Alpha). I have no business relationship with any company whose stock is mentioned in this article.