By RJ Towner
Dividend Growth Newsletter portfolio holding Microsoft (NASDAQ:MSFT) will acquire Nokia's (NYSE:NOK) device and services business for $7.1 billion. Though rumors about a deal have swirled since the two companies partnered for the Lumia, the timing is somewhat shocking, in our view. With CEO Steve Ballmer to depart within the next twelve months, we assumed he wouldn't make any major splashes.
Deal Details
On the surface, this deal seems a lot like Google's (NASDAQ:GOOG) acquisition of Motorola Mobility. However, the details differ materially, particularly since Microsoft didn't acquire the entire Nokia business. Further, Nokia will retain its patent portfolio and lease its patents to Microsoft for ten years with an option to extend the deal into perpetuity.
In addition to a the actual handset business, Microsoft will also acquire Nokia's top management, including Jo Harlow, Juha Putkiranta, Timo Toikkanen, and Chris Webber, but most importantly, potential Ballmer successor Stephen Elop. Microsoft will inherit 32,000 total employees, though we anticipate duplicative costs will be reduced.
Valuation

Source: NOK 2012 20-F filing
Depending on how the intellectual property leases are valued, the deal looks cheaper than Google's Moto acquisition. Microsoft essentially paid 0.5x sales, but those sales come with thin gross margins (21.3%) and without profitability.
We doubt Nokia had any competing offers on the table, and we're slightly surprised that Nokia was able to obtain such a healthy price for a floundering business unit. However, if Microsoft can moderate sales declines and materially improve margins, the price could look decent for both parties.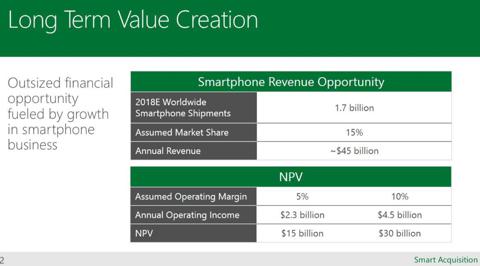 Image Source: Microsoft
Microsoft posted slides for the event on its investor relations site, and if the company is able to hit 15% global market share (shown above), the deal could be incredibly profitable for the software giant. At the very least, it seems like Microsoft has given itself a relatively large margin of safety when it comes to creating value. Microsoft expects breakeven at 50 million smartphone units, which should not be difficult.
Impact on Nokia
Selling its services and devices business allows Nokia to focus its attention on telecom equipment and takes the company away from a cutthroat industry in which Nokia had seen its market share decline tremendously. The company is now profitable on a pro-forma basis.
Of vital importance, the deal gives Nokia additional financial flexibility. The company no longer must float an unprofitable smartphone business and now sits on a hoard of cash. We aren't sure what Nokia will do with its new cash pile, but returns to shareholders via dividends could be the right path. Management will take time to evaluate all of its capital allocation opportunities, however, and we may not see a material decision in months.
With Elop gone, Risto Siilasmaa will take the CEO position on an interim basis. Siilasmaa is an industry veteran who currently chairs Nokia's board of directors, so we're fairly confident he will avoid making any large, poor decisions during his expected tenure.
Impact on Microsoft
Many believe Microsoft not only acquired a handset business, but also its next CEO in Elop. Frankly, $7.1 billion is a hefty price to pay for leadership, so we hope that Microsoft sees a clear path to turning Nokia into a profitable entity.
In early July, Microsoft announced a restructuring plan that makes the firm look a lot more like Apple (NASDAQ:AAPL). In this light, the deal isn't too far of a stretch as Microsoft looks to further integrate its software offerings with proprietary hardware.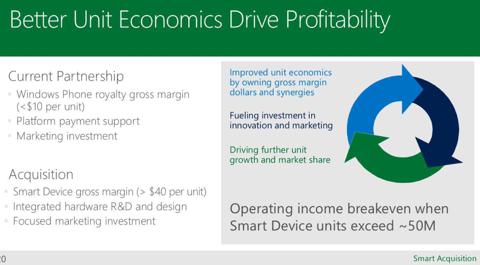 Image Source: Microsoft
With the Windows phone stealing global market share, Microsoft will be better positioned to capture gross margin dollars, which are less than $10/unit under the current arrangement. Management believes the deal will be accretive to earnings per share in fiscal year 2016 on both a GAAP and non-GAAP basis.
Although Microsoft will now sell its own Windows phones, we do not believe the company will sever ties with any existing OEM partner as the firm targets robust global market share.
Valuentum's Take
Ultimately, Microsoft has been the only logical acquirer for Nokia for some time, so the deal doesn't come as a major surprise, though the timing is strange. Regardless, we believe Elop is now the front-runner to replace Ballmer atop a firm that intends to reposition itself as a device and services firm.
Although Microsoft could have manufactured its own mobile phone, we learned from the Surface debacle that the learning curve for hardware manufacturing is steep and risky. Since Nokia already possesses the expertise for manufacturing, Microsoft is well-positioned to bring products to market efficiently.
While the Street clearly believes Microsoft paid too much for Nokia, we think the deal could be a wise investment over the long-term, particularly if the company is able to hit its 2018 predictions. We continue to hold shares of Microsoft in the portfolio of our Dividend Growth Newsletter.
Disclosure: I am long AAPL. I wrote this article myself, and it expresses my own opinions. I am not receiving compensation for it (other than from Seeking Alpha). I have no business relationship with any company whose stock is mentioned in this article.
Additional disclosure: RJ Towner is Director of Research Development at Valuentum. AAPL, MSFT, and GOOG are included in our actively-managed portfolios.