SodaStream (NASDAQ:SODA) shares have recently been held under pressure in part due to two great misconceptions by the street and speculative short traders. The two misconceptions were that the impending attacks on Syria might result in retaliatory attacks from parties in the region on Israel and the other was the Green Mountain Coffee Roasters' (NASDAQ:GMCR) impending entrance into the carbonated soft drink category would harm SodaStream upon discussion by GMCR's management. In this article, we will explore these two misnomers and update investors on the operational progress of SodaStream and Green Mountain.
SodaStream continues to baffle investors as the short interest has remained elevated for the better part of the last two years and has recently accelerated with the short interest now resting above 8 million shares or roughly 45% of the float. In spite of the company's outstanding quarterly performance, which has forced the company to raise guidance twice already this year, investors remain leery about the future success and prospects for the company and its stock performance. Capital Ladder Advisory Group is not one of these fearful investor groups. More to the point, on the most recent 10% pullback in shares of SODA, we found ourselves buying shares and call options of SODA as we understand that from $68 a share down to $61.60 a share in less than two weeks, nothing had fundamentally changed regarding SodaStream's business nor did we see anything on the horizon that would affect the business, not even Green Mountains future "Karbon" launch. Karbon is the trademarked name that many believe to be associated with GMCR's eventual entrance into the at-home carbonated soft drink market which is dominated by SodaStream.
To discover the true potential for GMCR and its "Karbon" platform aimed at the at-home CSD market, we have to use SodaStream's market dominance to model the potential. Keeping in mind that GMCR has the majority of its market penetration in N. America, we will only use N. American revenue from SodaStream to model GMCR's potential. Based on previous analysis and the general consensus of analysts covering SODA for the investor community, SODA has the potential to do well over $200 million in N. American revenues during fiscal 2013.
Now that we have established the base of revenue potential which GMCR could achieve in the coming years, let's give GMCR their fair share of this revenue pie. With SODA dominating this category in N. America and its closest competition, represented by Cuisinart, continuing its uphill battle, it's safe to say that GMCR will have an equally rough road ahead in the at-home CSD market. So let's make it easy and give a percentage of SODA's market share to GMCR for the sake of this exercise and modeling of GMCR's potential in the category; let's give them half, yes, half of SODA's N. American revenues for the full year. We are talking about $100 million and that is assuming SODA all but relinquishes its closely held grasp on N. America and fails to deliver its message to the consumer a full year from now. We would also have to assume SodaStream's two biggest supporters in Bed Bath & Beyond (NASDAQ:BBBY) and Wal-Mart (NYSE:WMT) would decide to minimize their exposure to SODA and increase their exposure for Green Mountain's Keurig products in kind. But that may not bear fruit from an analytical perspective as these two retailers are actually and continuously increasing their exposure to SodaStream products. Take a gander at the latest SodaStream commercial advertisement which tags Wal-Mart for point of purchase.
The fact is that GMCR doesn't have the ability to enter this category for another 12-15 months and by that time SODA will have an even larger, dedicated user base and even more products to offer the consumer. Giving GMCR $100 million in potential does what for GMCR? That is the most important reality that GMCR investors have to consider; we are talking about a very small category and minute revenue possibilities given the company's $4 billion plus revenue achievement. $100 million does very little for GMCR and considering the costs associated with entering the at-home CSD category, investors may not expect actual earnings contribution from the segment for another 12-15 months beyond market entrance.
GMCR's biggest problem or challenge when entering the cold beverage category is developing a product with a value orientation. Unlike the hot beverage category, the cold beverage category needs to show economic value to the consumer. In the home brewer category for hot beverages, convenience is the main value orientation as brewing a tasty cup of coffee or tea at home instead of waiting in line at Starbucks (NASDAQ:SBUX), McDonald's (NYSE:MCD) or Dunkin Donuts (NASDAQ:DNKN) proves beneficial for the consumer. In the case of the cold beverage category, this is not going to be a relevant value to the consumer as a can of cola and bottle of sparkling water are literally at your fingertip whenever and wherever the consumer desires. GMCR has never been called upon to show an economic value to the consumer in any of its products which it will decisively have to do in the cold beverage category. I have laid claim to this point of analysis regarding the cold beverage category and GMCR in the past and GMCR's CEO validated this point at the Investor Day event when he cited the need to show economic value for the cold beverage platforms.
During GMCR's first ever Investor Day event, the company outlined a great deal of information regarding its operations and the future opportunities for the company. In addition, the company also offered to investors its plans to develop and innovate along current and adjacent product lines. Here is what the company has to prove to investors, "We actually can innovate!" Why do I say this? The fact is that since the Keurig and its generationally improved products which have effectively proven to lower the return rate, GMCR hasn't innovated or produced a viable and profit accelerating product on the brewer side of the business. I will offer to readers that this is just my personal opinion, but my opinion is born out in the undeniable sales data.
Green Mountain launched the Vue 700 last year and YOY numbers continue to deteriorate with sales more recently turning negative for the brewer and orders following suit. No wonder it launched a less expensive and less bulky Vue 500 brewer this year. Unfortunately, both of these brewers stretch the consumers' wallet beyond the pre-determined acceptable limits around $120 for a brewer as indicated by sales channel data year-over-year. But don't take my word for it, take a look at the numbers for yourself and realize that when GMCR says they are looking to combine the Vue platform with existing Keurig platform functionalities it is because sales are declining and don't bode well for the future of the Vue platform without some changes.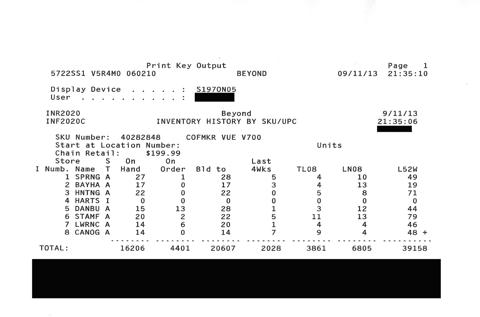 During the Investor Day event, Brian Kelley noted that one of the learning experiences the company has taken away from the Vue product line is that the brewer was not backward compatible, meaning the Vue doesn't accept K-cups; it is only compatible with V-packs. Just to reiterate, if we look at the facts, GMCR has yet to ever produce or innovate a single brewer since the Keurig and we are some 11 years removed from the Keurig market launch. As an investor, one has to consider these fundamental facts as part of their overall due-diligence.
What we have here are two market leaders in SODA and GMCR. They dominate their respective product categories which have great opportunity going forward. SodaStream continues to expand internationally. The fizzy company is stretching its distribution in Brazil most recently as it inked deals with both Future Shop and Sam's Club Brazil. Spotlight and Matchbox are recent additions to the distribution chain in Australia while the company continues to grow its doors in Japan.
Alongside regional expansion the company recently announced a new product line-up called the SodaStream Play designed by Yves Behar, the world-renowned designer and social entrepreneur. The product will debut at design junction during the upcoming London Design Festival from September 19-22.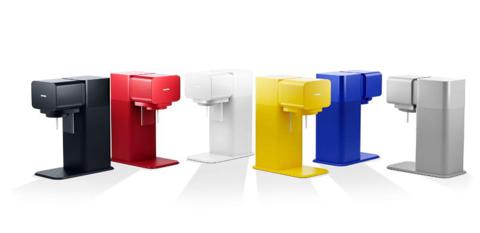 Alongside the new SodaStream Play, the company also plans to debut the new tear drop shaped bottle which may see retail distribution later this year.
Green Mountain is advancing it skus to represent greater selection for consumers. In the last 30 days alone, it has launched 15 new K-cup flavors and 3 new V-Pack flavors at Bed Bath and Beyond in combination with 9 new K-cup flavors at Wal-Mart. It is nice to see the recent partnership with Lipton is now expanding to include Black Tea, Sweet Tea and Green Tea as well. Good news for GMCR investors also comes in the way of the company expanding its distribution of the Keurig Rivo espresso maker. Recently, GMCR launched the Rivo brewer in over 500 Bed Bath and Beyond locations as its first mass market retailer for the brewer. It remains to be seen how well sales will fare, but early indications are proving there is much to be desired for sales of the product. We will continue to monitor the progress.
SodaStream is not alone with regards to international expansion as GMCR has now laid out its plans to grow internationally. The company has indicated to the public that it has plans to expand into Sweden, Australia, the United Kingdom and South Korea. The company will face steep competition in these regions, but with thoughtful partnerships and strong operational execution the company could see meaningful revenues in the regions in the future.
Speaking of partnerships, we believe it is safe to assume that the company will continue to expand its licensed product line-up through thoughtful partnership alliances that will be announced as they occur. One fundamental reason individual investors should shy away from dedicating large capital positions to short shares of GMCR is, in part, because of the partnership potential. Remember, shorting GMCR means you are also shorting Wal-Mart, yes Wal-Mart. With one of the largest private label brands in the world, "Great Value", there really is no telling if one day Wal-Mart turns to GMCR for a potential K-cup partnership. If you haven't thought about that before, well maybe it bears some consideration as GMCR has a dedicated partnership with Costco currently to produce Kirkland K-cups.
As we conclude our updates on SODA and GMCR we now circle back to the misnomers regarding investor sentiment for SodaStream. Since the beginning of media headlines which outlined that the U.S. was planning on an imminent strike against Syria, shares of SODA began to tumble from $68 a share. It is widely believed that if the U.S. used missiles to strike Syria, the ruling Syrian dictator Assad would in turn retaliate directly or indirectly with attacks on Israel. With the bulk of SodaStream's manufacturing taking place in several factories in Israel, 3 of which are in the West Bank or disputed territory, investors became fearful that if a retaliatory strike took place against Israel, SodaStream's operations could be halted or impeded with varying degrees of monetary impact.
The notion that much of the Middle East has animosity toward Israel is somewhat true, but the notion that the individual nation states would unite against Israel in a regional conflict is largely heresy and/or misguided and subsequently has not been demonstrated in warfare against Israel. The fact is that most of the regional states in the Middle East, frankly speaking, can't stand each other. While they may hold Israel in similar regards, they hardly desire a unified conflict with Israel and its proven military might which has the world's largest superpower as a long-time ally. The lone Jewish state in a major Muslim region, with a vastly inferior population and geographical size, would be an easy target for the majority to prey upon and yet the country of Israel remains whole and thriving as it has for decades.
Investors should keep in mind that if it is the Israelis that the regional extremist would wish harm upon, then it is unlikely that they would attack areas in and around the West Bank. Many Palestinians find work in these areas and thus attacks on Israel would more likely be centered around Tel Aviv and densely populated Israeli cities as they have always been. With this in mind, the logical conclusion is that investors selling shares of SODA or shorting shares are or have been doing so with a lack of insight or historical logic concerning the Middle East conflicts. Let's now look at some investor sentiment related to this topic that has been offered recently on message board forums like Yahoo Financial (NASDAQ:YHOO) and Stocktwits:
"No matter what goldy tells you like a good mama, the Syrian conflict will tank this stock in the short term. Once the USA strikes Syria, ANY stock that has ties in Israel will tank heavily. Sell now while you still can or put a limit stop. Remember Goldy will tell you that Soda would not be affected, etc. blah blah blah, but Wall Street is run on GREED and FEAR".
"You people holding on to stocks in this upcoming conflict are fools Better to sell now and buy stocks at a much cheaper price". .
Obviously the individual who offered this sentiment had little understanding concerning the Middle East and SodaStream's operations. Unfortunately, many had similar misconceptions. In light of the most recent developments surrounding the potential for a strike on Syria by the U.S., shares of SODA have been on a steady climb over the last several trading sessions and those who were adding to their position in SODA on the 10% pullback have been greatly rewarded with an opportunity to trade around their core position and lower their overall dollar/cost/average as I have done and posted openly on Stocktwits. The situation regarding Syria/U.S. strike with subsequent sell-off in shares of SODA could easily arise again, but it has always been the case that the potential for conflict in the Middle East have presented investors in SODA with a sizeable opportunity to profit.
Since falling to a recent monthly low of $61.55 a share, SODA has risen in the last 5 trading sessions by greater than 11%. The rally in shares of SODA on Thursday September 12, 2013 was largely due to Capital Ladder Advisory Group latest channel sales data which once again proved to show the consumer's affinity toward SodaStream products. Some of our clients took advantage of this highly important and sought after data which showed accelerating sales for SodaStream products over the last two months.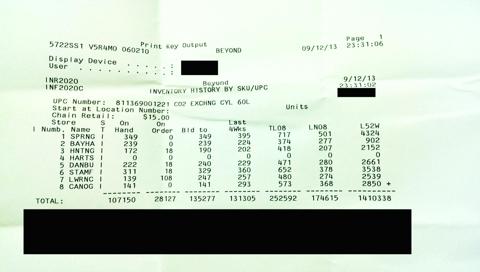 Now let's take a look at the other variable which held shares of SODA under pressure recently. Some investors gave far too much credence and placed far too much importance on the notion of Green Mountain's inevitable entrance into the at-home CSD market. The company first detailed to investors that it was eying the carbonated beverage category during its 3rd Quarter Conference Call on August 7, 2013. Green Mountain's CEO Brian Kelley outlined that there was a sizeable opportunity for earnings and revenue growth for the company in this category and the cold beverage category altogether. As investors became excited about Green Mountain's potential to compete with SodaStream, their sentiment was proudly displayed, however misguided it may have been. Take a look at a recent post by an investor who also hadn't much knowledge about how SODA would be affected by this potential new category entrance by GMCR:
"Keurig Karbon to lauch with Coke Partnership..........tomorrows headline...SODA down 50%". .
"The news is KARBON, the soda machine. Announcement next week? Sell the news, go ahead, you'll be sorry. Don't sell." (for GMCR longs).
Aside from the misspelling of the word launch, these ill-advised predictions denote the poor understanding of what could actually be realized and/or should have been anticipated by GMCR's entrance into the at-home CSD market. With GMCR to enter the cold beverage market later in fiscal 2015, as has been suggested by the firm on their Investor Day event, some believe that this will be a strong revenue driver for the company in the future. However, the problem GMCR has is addressing the business momentum of today and bridging the gap between Q4 2013 and Q1 2015. With revenue growth slowing sequentially and annually, the company is hard-pressed to expand into new revenue channels alongside existing revenue channels. For now though, and with regards to the prospects for GMCR's entrance into the at-home CSD market, let's see what investors might reasonably expect.
Through dedicated analysis and timely sales data, investors have a more clear representation of the fundamentals guiding the performance of these two companies. We continue to maintain a Hold recommendation on GMCR as it looks to improve upon recent revenue results and builds out the infrastructure for developing adjacent sales channels. We continue to maintain a Buy rating on shares of SODA as it continues to expand its global footprint and displays its dominant market position.
Disclosure: I am long SODA. I wrote this article myself, and it expresses my own opinions. I am not receiving compensation for it (other than from Seeking Alpha). I have no business relationship with any company whose stock is mentioned in this article.