Sometimes, there can be a big difference between a great company and a great stock. There are many examples in our market today where a name will fit into one of those categories, but not both. Today, I'm here to detail the curious case of SodaStream (NASDAQ:SODA). The company that allows you make your own soda at home has been one of the best performing companies in recent years, but that hasn't always translated into tremendous stock gains. In this article, I'll show why SodaStream is a great growth story and excellent company, but analyze some risks that make this stock not always the best.
Continued excellent results:
SodaStream has continued to deliver excellent results. A review of the company's earnings history page on Seeking Alpha shows beat after beat. It has gotten to the point that SodaStream is basically expected to beat every single quarter when they report. I'll show later why that hasn't always translated to stock price increases.
As we finished up 2012, SodaStream made my list of predictions for 2013. My prediction was that SodaStream would do at least $525 million in revenues during 2013. At that time, the prediction seemed rather bold. The average analyst estimate was for just $498 million in revenues, and the highest estimate on the Street was for $524 million.
When SodaStream reported Q4 2012 results, they beat on the top line by more than $11 million. This meant that analyst estimates for 2013, which were expecting a lower base number for 2012, already seemed to be conservative. SodaStream guided to 25% revenue growth for 2013, which would imply a little more than $545 million. That was well ahead of the $510 million analysts were looking for at that point. The company also announced expectations for 2013 net income to increase by 18% from the 2012 figure of $43.9 million. At that time, the average analyst estimate was for $2.74 in 2013 earnings per share. However, there has been a disconnect at times when it comes to earnings per share, as the company provides both a regular and adjusted number. Some analysts have used the adjusted number, while others have used the unadjusted one. The adjusted number excludes share based compensation figures.
Going into the Q1 2013 report, analysts were looking for $547.79 million in revenues this year and earnings per share of $2.47. SodaStream obviously beat again with its results, and the company raised its guidance. Revenues were now expected to grow by 27%, and net income by 20%, both two percentage points higher than the previous guidance of 25% and 18%, respectively.
By the time we got to the Q2 report, analysts obviously had raised their expectations to account for the higher guidance. Estimates stood at $558.46 million and $2.52 for this year. SodaStream again beat with its Q2 results, and guidance was raised again. Yearly revenues were now expected to rise by 30%, and net income by 23%. This time around, both figures were raised by three percentage points.
Thanks to the increased guidance, analysts have increased their numbers yet again. Current estimates call for revenues of $567.26 million, which represents exactly 30% revenue growth. The average earnings per share estimate is $2.57, which represents 23% growth from the $2.09 figure achieved in 2012. Right now, analysts are right on the guidance number for SodaStream. That means that if SodaStream beats Q3 numbers and raises guidance at their next report, they probably will have yearly guidance ahead of expectations. In the past two years, they've reported on November 7th and 9th, so I would expect that first full week of November (4th to 8th) to be when they report Q3 numbers.
I went into a bit of detail above to illustrate a couple of points. First, this is a name that continues to impress, delivering results well above expectations. Since my 2013 predictions column, analysts have raised their average revenue estimate for this year by $70 million. That's a tremendous amount for a company only expected to do about $570 million in revenues, and I've personally raised my expectations a couple of times. At this point, I would think $575 million could be doable, and I wouldn't be surprised if SODA ends up in the $575 million to $600 million range. A strong partnership with Wal-Mart (NYSE:WMT) should certainly help, and I've already seen the SODA/WMT TV commercial a couple of times. But no matter how great results have been, the stock has not always been a great investment. In the next section, I'll discuss some of the reasons why.
SodaStream, the stock:
This stock has done well overall in 2013, up about 50%, but it also has been very volatile at times and there have been many instances where the potential for big losses has been there. In early January, the stock went to $54 but then lost $8 in a week. We then had the whole buyout bubble where I cautioned investors to be very careful. At that point, shares were above $76, and they had been well over $90 on the initial buyout rumors (in pre-market trading). Shares fell into the mid $50s, so those who piled in on the buyout rumors were crushed. Obviously, a buyout would be extremely beneficial for investors, but I'm not sure I see it here. Coca-Cola (NYSE:KO) and PepsiCo (NYSE:PEP) are doing just fine on their own, and buying SodaStream would somewhat force them to compete with their own products. Why would they do that?
So let me get to some of the risks for this stock. I won't do them in any specific order, but I'll start with perfection risk. Perfection risk is involved when a company like SodaStream continually beats expectations. When a company has a stellar track record of beating estimates, raising guidance at every report, etc., people get use to that. So there becomes a built in expectation that the company will always produce, always raise guidance, etc.
A great example of perfection risk that compares to SodaStream is Apple (NASDAQ:AAPL), because everyone always demands everything from Apple. Apple investors and analysts got especially spoiled after the huge holiday season in 2011, when Apple announced one of the greatest financial quarters in corporate history, absolutely crushing analyst estimates. Since then, when Apple reports its results, it is always expected to beat. When they announce a new product, it is supposed to have the latest and greatest features. Every iPhone needs to be the greatest product since sliced bread. Over the last few iPhone launches, the standard joke has been that the new iPhone is a disappointment because it did not have a teleportation device. People literally go crazy over Apple. It gets annoying at times when people put such high expectations on a name like this, because when the company does something good, but not great, you get a lot of whining. The latest item for Apple is the disappointment of its new phone lineup, which has led to a stock price decline of more than $60. Why do I bring up the case of Apple? Well, the following table shows SodaStream over the past two years, in regards to earnings reports and its stock price change on the day it reports.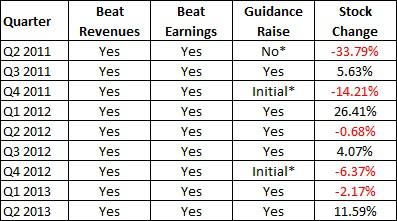 *Company maintained revenue guidance at Q2 2011 report, but took down net income guidance due to increased share based compensation expense. For the two Q4 reports, revenue guidance for following year was well above analyst estimates.
As I said above, there has been some confusion between the unadjusted and adjusted earnings per share number for this name at times, so the beat earnings category above could depend on whose estimates you use. Basically speaking, SodaStream has beaten on both the top and bottom line in every report over the past two years. Every first through third quarter report since Q3 of 2011 has seen the company raise its guidance, and in both Q4 reports revenue guidance was well above expectations. However, despite all of these beats, guidance raises, and other items, the stock doesn't always rally on this news. Sometimes, perfection just isn't good enough. Apple and SodaStream are two great examples of that over the past two years.
The second risk is political risk. SodaStream is based in Israel, with a lot of their production facilities located inside that country. There have always been some investors concerned about conflict in the Middle East, because if a missile strike aimed at Israel hits a SodaStream factory, the company could have some serious production issues. As I'll show a bit later, short interest did rise at the end of August, and that was right after the Syria issue came up. If you've noticed in the past few days, it doesn't appear that Syria will be as worrisome as initially thought, and SodaStream shares have rallied a bit. Part of the reason for the rally, in my opinion, is due to a little less political risk.
The third item worth mentioning is competitive risk. SodaStream is not exactly a beverage giant. They don't have tens of billions in revenues, and they aren't this massive powerhouse. They are a small company, and if a larger company were to enter this space, it could mean big trouble for SodaStream. In the past couple of months, there has been a growing concern about single cup coffee giant Green Mountain Coffee Roasters (NASDAQ:GMCR). Green Mountain has had a huge revenue growth slowdown in the past year or two, and is looking at ways to increase revenues. It has been speculated that Green Mountain would try to take on SodaStream, launching their own similar product(s). Were Green Mountain to have something launching soon, I think it would be a bit of a big deal. However, Green Mountain's recent investor day presentation was not spectacular. Green Mountain is going into teas, energy drinks, and juices. That could provide some competition to SodaStream, but investors don't seem to be that concerned at the moment. Green Mountain is not going into soda at the moment, and the above mentioned items won't be launching for at least another year or two. That gives SodaStream more time to continue building its brand, and be in a stronger position to thwart potential competitors. The disappointing Green Mountain investor day was the second reason why SodaStream shares have risen recently, along with the Syria news.
The fourth risk, and this might be the biggest one out there, is just small cap risk. SodaStream only has a market cap of $1.4 billion, and the average trading volume is about 1.25 million shares. One large investor could really have a dramatic impact on this stock, in either direction. Look what happened to Green Mountain a few years ago when hedge fund titan David Einhorn announced a short position. Green Mountain at its peak had a market cap north of $15 billion I believe. Even at Green Mountain's roughly $15 low in August 2012, the market cap was still over $2.3 billion.
SodaStream is a small company, and has a float of just 19.6 million shares according to Yahoo! Why is that important? Well, at the latest update, SodaStream had more than 8.22 million shares short. That means that about 42% of the float was short. That's an incredibly large percentage. While that means a short squeeze is definitely possible on good news, it also means that a big drop on bad news is possible. Look what happened to SodaStream in 2011 when they had that one quarter where they didn't raise guidance. The following chart shows SodaStream short interest over the past 14 months or so.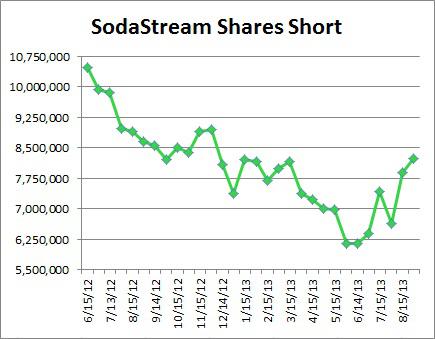 You'll notice a large jump in short interest over the past few months. The mid-June low was about 6.13 million shares short. Since then, short interest is up 34.13%. That low in short interest was around the time that SodaStream peaked thanks to the buyout bubble, and from there until the end of August, shares went from the high $70s (higher at the peak) to the low $60s. I won't go as far to say this name can be manipulated, but larger investors can make a difference. There have been plenty of days in the past few months where daily trading volume has been under half a million shares. That makes this name a very volatile one, and that benefits traders, not investors.
It's still a great growth story:
I don't want at all to minimize the success that SodaStream has had in recent years or their future potential. This company is still one of the best growth stories in our market today, and that is not something to ignore. SodaStream is looking to hit $1 billion in yearly revenues during 2016, which would be about twice what they've done in the past 12 months. The following table shows why names like SodaStream and Green Mountain are followed by growth investors, compared against other more established names. The abbreviations "CY" and "NY" mean current (fiscal) year and next year. The following table shows current analyst estimates and some valuation metrics.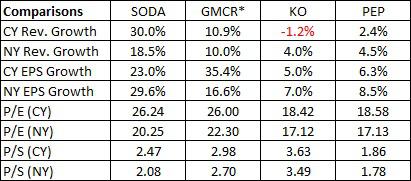 *Fiscal year ends in September. Green Mountain had an extra week in prior fiscal year. Normalizing that period, the current year revenue and earnings growth numbers would be 13.53% and 39.48%, respectively. Green Mountain P/E above based on non-GAAP earnings per share, so GAAP P/E would be higher.
SodaStream has plenty of growth ahead. So do Netflix (NASDAQ:NFLX) and Tesla Motors (NASDAQ:TSLA), but does that mean you have to buy them right now? With Netflix above $300 and Tesla above $165, you might say no. Well, SodaStream went from $62 to almost $70 in less than a week before losing more than $2 from Monday's high. The 3.6% decline from the high in SodaStream happened on a day with just over 736,000 shares traded, just 60% of the 3-month average volume. This goes back to some of the risks I discussed above, primarily small cap volatility risk. What's the key takeaway here? Well, when you have a stock that runs quickly like SodaStream has, maybe you should wait for the next pullback. SodaStream does trade at a large premium to Coke and Pepsi on a P/E basis, but what is the extra growth worth? That's the question, so here's how I look at things, especially after a run in the stock. Buy at 24 times this year's expected earnings instead of 26, or buy at something like $60 instead of $70. That's how I look at this name, and it is how you should too.
Final thoughts:
SodaStream is a great growth story, and I've been one of their biggest fans. But a great company doesn't always mean a great stock, and investors need to realize the risks involved with this small cap stock. Quite often, quarterly beats and raised guidance have not been good enough, and this low float stock can be controlled extensively by short sellers. A recent pop was nice, but may not be the best time to buy. Given the history of this stock, SodaStream will come back down, and then you can submit your buy orders.
Disclosure: I have no positions in any stocks mentioned, but may initiate a long position in AAPL over the next 72 hours. I wrote this article myself, and it expresses my own opinions. I am not receiving compensation for it (other than from Seeking Alpha). I have no business relationship with any company whose stock is mentioned in this article.
Additional disclosure: Investors are always reminded that before making any investment, you should do your own proper due diligence on any name directly or indirectly mentioned in this article. Investors should also consider seeking advice from a broker or financial adviser before making any investment decisions. Any material in this article should be considered general information, and not relied on as a formal investment recommendation.