As usual within the utilities sector, PPL Corporation (NYSE:PPL) offers an attractive dividend yield of 4.9%, which may represent a good opportunity for income investors. PPL Corporation is one of the largest electric power companies in the U.S., and its main competitors are other large electric power companies, such as Duke Energy (NYSE:DUK), Exelon Corporation (NYSE:EXC), or American Electric Power (NYSE:AEP). It has a market capitalization of $18.9 billion and is listed on the New York Stock Exchange.
Company Overview
PPL Corporation is headquartered in Allentown, Pennsylvania, and through its subsidiaries it controls more than 19,000 megawatts of generating capacity. In the U.S., it sells energy and delivers electricity primarily in the Northeastern states to about 2.2 million customers. Abroad, it has operations in the United Kingdom, where it delivers electricity to around 7.8 million customers. PPL has grown over the past few years though acquisitions, reducing its overall business risk profile by increasing the regulated portion of its business.
The company has four major business segments: Kentucky Regulated; U.K. Regulated; Pennsylvania Regulated; and, Supply. The majority of its operations are regulated with supply being the only business segment which consists primarily of competitive electricity generation. In 2012, about 72% of its earnings came from regulated activities a number that should increase during 2013 to more than 80%. This heavily regulated business makes PPL Corporation a stable utility providing therefore a good visibility for its future earnings, something that is very valuable for long-term income investors. Through the increase in regulated assets the company expects to provide earnings stability and the ability to recover costs of capital investments, in contrast to the competitive energy supply business where earnings and cash flows are subject to commodity market volatility. On the other hand, with the acquisition of WPD Midlands in 2011, PPL has a higher proportion of earnings subject to foreign currency risk.
PPL Corporation's electricity business is currently too much reliant on burning coal to emit energy. In the second quarter of 2013, coal represented almost 50% of generation output and even though it is expected to slowly decrease it leaves the company exposed to a potential regulated emissions tax, while coal plants are switched over. Compared to some of its closest peers, the company is too much reliant on coal and has a small exposure to renewable sources which could be a disadvantage over the medium to long-term making it particularly vulnerable to "green" legislation.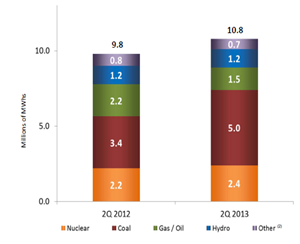 Regarding PPL Corporation's financial performance, its revenues decreased by 3.5% in 2012 due to lower wholesale prices for electricity and natural gas at its Energy Supply business. Its operating income was stable at $3.1 billion, representing an operating margin of 25.2%. Earnings increased 2% to $1.526 million in 2012 compared to the previous year. However, due to a higher number of shares outstanding its earnings per share declined to $2.60 per share. Earnings from ongoing operations were $2.42 per share compared to $2.73 per share a year ago, with the decline being mainly justified by lower earnings in its Supply business (a drop of $0.47 per share compared to 2011). For the full year 2013, the company expects EPS to in the range $2.25-$2.40.
Benefiting from a constructive regulatory environment in Pennsylvania, PPL Corporation is investing on new assets that will increase its regulatory asset base to more than $27 billion in 2017, representing a 7.9% CAGR during the next five years. As the company will have more assets from regulated operations, its earnings should become even less volatile which is supportive for a growing dividend.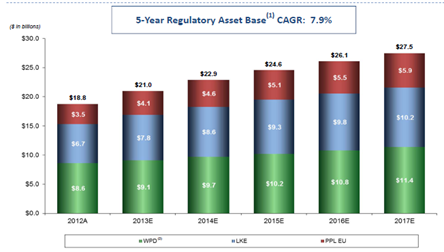 Dividends
PPL Corporation's dividend history is quite good, as the company has increased gradually its dividend over the past few years. In 2012, the dividend per share [DPS] was $1.44 representing an increase of 3.9% from the previous annual dividend. In April, PPL increased its annualized dividend by 2.1% to $1.47, the 11th increase in the past 12 years. The company's dividend payout ratio increased slightly to 55% in 2012, which is an acceptable level given PPL's relatively stable business.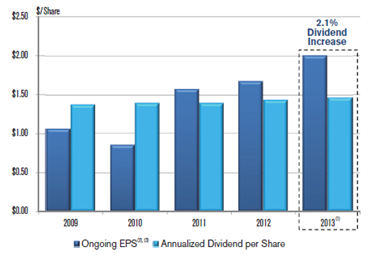 In 2012, PPL's capital expenditures amounted to $3.1 billion, an increase of 21% from 2011. Like many of its peers this high level of investments was not covered by PPL's cash from operations, leading to negative free cash flow before dividends for the full year. For 2013, the company's capex is expected to increase significantly to about $4.5 billion, which will lead to an even higher negative free cash flow of $1.7 billion during the year. However, 2013 should represent the peak year regarding capex and over the following years it should decline gradually to about $3.4 billion per year. Nevertheless, it should continue to have a negative free cash flow implying higher balance sheet leverage for the next few years.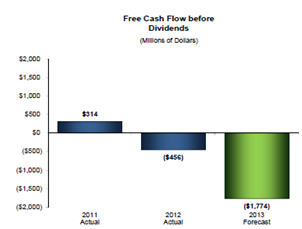 The company has begun to alter their capital structure over the past couple of years, leading to higher balance sheet leverage. At the end of the second quarter of 2013, its net debt was $18.44 billion a small decrease from the end of 2012. Its net-debt-to-EBITDA ratio was 4.21x, which is quite high compared to some of its peers. Moreover, as the company's free cash flow should be negative over the coming years, its balance sheet leverage should remain high and especially susceptible to higher interest rates.
Conclusion
PPL Corporation offers an above-average dividend yield of 4.9%, which is supported by the company's good dividend history and low payout ratio, highly regulated business, and good growth prospects. However, as utility stocks are often seen as income stocks used as an alternative to holding low yielding debt securities it will have an inverse relationship with interest rates.
Moreover, as the company's balance sheet is high and is not expected to be reduced over the next few years, it should be especially affected by an increasing interest rate environment. Therefore, although PPL Corporation has good fundamental its debt levels are a red flag and its dividend may not be sustainable over the long-term.
Disclosure: I have no positions in any stocks mentioned, and no plans to initiate any positions within the next 72 hours. I wrote this article myself, and it expresses my own opinions. I am not receiving compensation for it (other than from Seeking Alpha). I have no business relationship with any company whose stock is mentioned in this article.