Mueller Industries (NYSE:MLI) is an interesting small-cap play on new housing starts and new commercial construction. The company is a leading manufacturer of some of the materials used in new construction: copper, brass, plastic, and aluminum products. Mueller makes a wide range of products with these materials which include: copper tubes and fittings, brass and copper alloy rods, aluminum and brass forgings, aluminum and copper impact extrusions, fittings/valves, plastic pipes, refrigeration valves/fittings, fabricated tubular products, and steel nipples. Residential construction activity is improving but is still below historical levels. Non-residential construction has not yet taken off following the financial crisis. This means that Mueller still has plenty of upside potential for the long-term as these markets increase to approach historical levels. Remodeling projects are also important drivers of demand for the company's products. The stock's attractive valuation and above average expected earnings growth make this an investment worth considering.
Mueller's business is divided into two segments: Plumbing & Refrigeration and Original Equipment Manufacturers (OEM). The Plumbing and Refrigeration segment is involved in selling products to wholesalers in the HVAC, plumbing, and refrigeration markets and to distributors in the manufactured housing & RV industries, and to building material retailers. The OEM segment sells its products mostly to original equipment manufacturers in the HVAC, plumbing, and refrigeration markets. Both of these segments should see improved sales over the long term as residential and commercial construction projects return to normal levels. Home repair and remodeling projects should also provide a boost to the company's top and bottom lines.
Increases in New Construction to Catalyze Company Growth
Since the company's success largely depends on new housing and commercial construction starts, let's see what's in store for the future of these markets. The fifty-year average for new home construction sales is 1.5 million homes per year. The National Association of Realtors is forecasting new home sales of 575,000 for 2013 and 650,000 for 2014. This follows new home sales of 368,000 for 2012. This is based on expected U.S. GDP growth of 2.3% for 2013 and 3% for 2014. These forecasts also take into account a steady increase in interest rates. As the sales of new homes increase, the demand for Mueller's products should also increase. The company's products are essential for plumbing and HVAC systems in new home construction.
New Commercial construction has not been as strong as residential construction. The non-residential sector remained somewhat stagnant so far in 2013. Growth came in less than expected in the first half of 2013. However, the American Institute of Architects (AIA) expects new non-residential construction to pick up in the second half of 2013, with that strength continuing into 2014. Non-residential construction typically lags a recovering economy, so increases in this market should catch up soon. Thus far for the second half of the year, June was down 1%, while July saw a 3.3% increase in new development for institutional buildings. I think that businesses are responding to the rise in interest rates and are beginning large projects before the rates go higher. As non-residential construction picks up, Mueller should benefit from increased revenue.
Home remodeling projects also contribute to Mueller's revenues. The company's various pipes, valves, and fittings are sold in The Home Depot (NYSE:HD) and Lowe's (NYSE:LOW). Plumbing and HVAC upgrades or additions often require Mueller's products. As the economy continues to improve, Mueller should benefit from higher sales due to increased remodeling projects. The Home Improvement Research Institute forecasts a 4.3% increase in home improvement sales for 2013 with sales growth averaging 5.9% in 2014 - 2015. Sales of Mueller's products are likely to increase along with the increase in home improvement projects. Bathroom, kitchen, and HVAC upgrades will lead to an increase in demand for the company's various pipes, fittings, drains, strainers, and faucets.
Valuation
Mueller's stock is trading below the S&P 500, giving it an attractive valuation. Mueller has a trailing PE of 11.3 as compared to the S&P 500's PE of 17. When looking ahead, Mueller is trading at only 12.5 times next year's earnings, while the S&P 500 is trading at 15 times next year's earnings. The company's PEG of 1.3 is also slightly below the market's PEG of 1.4. This provides investors with an attractive entry point for Mueller. The company's relatively low valuation can be attributed to the sluggishness of the housing market in relation to the overall market. The housing market was slower to recover than the rest of the economy and the stock market following the 2008 financial crisis. However, new home sales picked up this year and the stock rose from the $40s last year to the current price of $55.
As the housing market continues to show improvement and if commercial construction picks up, Mueller's valuation is likely to increase to approach a fair valuation. Improvements in new home and commercial construction are likely to increase demand for Mueller's plumbing and HVAC related products. This should increase the company's revenue and earnings, which should drive the stock higher as investors see increased value for the company. This should increase Mueller's PE and PEG ratios to more closely match the ratios of the S&P 500.
The Risks
Since the company's products are made of copper, brass, zinc, aluminum, PVC, and ABS resins, gross margins could shrink if the costs for obtaining these materials increase. On the other hand, when the price of these raw materials decrease, the company typically has to lower its selling prices which causes a reduction in revenue. The company also uses energy to manufacture these goods. Therefore increases in the cost of electricity and natural gas could negatively impact the company's margins. Mueller may not be able to pass all of the increased costs onto consumers, which would lower margins. If the gross margin is squeezed, it's likely to have a negative effect on earnings and the stock price.
Since Mueller is highly dependent on the health of the new home and commercial construction markets, the company could face a decrease in revenue and earnings if these markets declined. If interest rates rise significantly, it could slow the demand for new construction which would reduce the demand for Mueller's products. If consumer confidence declines or if the economy slows, new home construction is also likely to decline. With that in mind, I think that interest rates are likely to rise only modestly within the next few years and that the economy continues to make modest gains.
Competition could eat into Mueller's market share which could have a negative impact on the company's bottom line. Privately held U.S. companies: NIBCO, Cambridge-Lee Industries, and Cerro also manufacture similar products such as copper tubes for HVAC and refrigeration. Another privately owned U.S. competitor, Charlotte Pipe and Foundry, competes with Mueller on PVC pipes and fittings. These companies could increase sales enough to reduce Mueller's market share. Also, customers could increasingly import products from companies outside of the United States. China's Shanghai Metal or India's Kanak Pipe Industries are examples of overseas competitors that could also cut into Mueller's market share if they significantly increase their sales. The reduction in Mueller's market share would have a negative impact on revenue and earnings, and thus negatively affect the stock.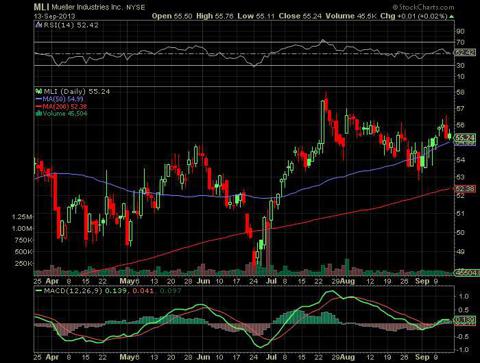 Click to enlarge
Conclusion
Mueller is attractively undervalued relative to the S&P 500. This should create a good entry point for investors for the long-term. New home construction has shown sales gains which is likely to catalyze revenue and earnings growth for Mueller's plumbing and HVAC related products. I think that new commercial construction will soon show increases due to the improving economy. Businesses will want to begin key projects before interest rates go higher from here. Growth in home remodeling should also have a beneficial effect on Mueller's earnings. The company is expected to grow earnings at 12% annually for the next five years. The expected increases for new residential and non-residential construction should allow Mueller to meet or exceed these expectations. The company's broad-range of products gives it an edge over the competition. By offering a wide range of products (made of copper, brass, zinc, aluminum, PVC, ABS resins, etc.), Mueller stands out above its competitors who offer a narrower range of products. The company's expected growth is higher than the S&P 500's expected growth of 9% - 10% annually over the same period. Therefore, I think that Mueller's attractive valuation combined with its above average expected earnings growth, driven by an improving housing market will allow the stock to beat the market over the long-term.
Disclosure: I have no positions in any stocks mentioned, and no plans to initiate any positions within the next 72 hours. I wrote this article myself, and it expresses my own opinions. I am not receiving compensation for it (other than from Seeking Alpha). I have no business relationship with any company whose stock is mentioned in this article.