Despite the weakness in the commodities space, diamonds are shining, supported by the rising middle class in the emerging markets. While there is no physically backed diamond fund, investors can still gain exposure to the asset through a miners exchange traded fund.
The PureFunds ISE Diamond/Gemstone ETF (NYSEARCA:GEMS) gained 13.3% over the past month and increased 12.2% in the last three months.
"The ETF just moved back into positive territory and is up 1.5% since March 5th, showing resilience for a mining heavy product, most of which were materially weaker over the same time period," Paul Zimnisky, CEO of Pure Funds, said in a note.
The recent earnings season showed that long-term Asia demand continues to support the diamond industry, Zimnisky said. For example, China has become the 2nd largest jewelry consumer in the world from 5th largest over the past eight years.
Tiffany (NYSE:TIF) also pointed to "Asia-Pacific" demand growth as a major factor to its second quarter earnings, along with lower gold prices, which helped diamond demand as well.
On an earnings report for the first half, Rio Tinto (NYSE:RIO) stated that they experienced average price declines in almost all major commodities "with the exception of diamonds."
Looking ahead, the Grib project in Russia will start production towards the end of 2013, producing an estimated 4 million carats annually, which makes it the first large-scale commercial diamond mine to start up production since 2003.
The PureFunds GEMS ETF tracks about 60% miners and 40% jewelers and services.
Potential investors should note that the fund only has $1 million in assets under management and has a daily average volume of about 5,000 shares.
PureFunds ISE Diamond/Gemstone ETF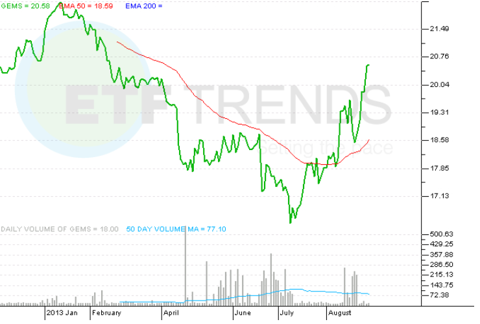 Max Chen contributed to this article.
Disclosure: I have no positions in any stocks mentioned, and no plans to initiate any positions within the next 72 hours. I wrote this article myself, and it expresses my own opinions. I am not receiving compensation for it. I have no business relationship with any company whose stock is mentioned in this article.