$54 billion. That number represents the market capitalization value Apple (NASDAQ:AAPL) has lost since the iPhone 5C/5S introduction last Tuesday. Below I will present my views of why this amount is absolutely irrational and at Apple's current multiple the amount either wipes out the next 2+ years of the iPhone's entire profits, reduces the iPhone valuation by a whopping 27%, or pegs the entire China value at $0 and that includes the iPads, Macs, and iTunes sold in that region.
Before we get into that, however, I'd like to present just how fundamentally irrationally Apple is currently trading.
As the table below shows, Apple currently trades at the lowest multiples (11X P/E TTM) among large tech companies with positive EPS. Ex-cash, the company is trading at a mere 7X P/E TTM. Apple also produces higher margins on more dominant sales and earnings per share than Google (NASDAQ:GOOG), but ex-cash, it trades at one-third of Google. The difference is the multiple investors are willing to attribute to Google's industry versus that of Apple's (investors don't seem to like hardware so much). Google trades at 27X P/E TTM and 22X P/E ex-cash.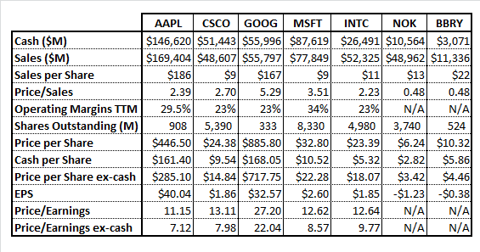 Now for the irrational valuations Wall Street has given to the iPhone. There are three different ways to view the company's $54 billion crash since last Tuesday.
Scenario #1: The next 2+ years of the iPhone profits are now valued at $0.
Since the disappointment came as a result of the iPhone offering, one way to view the mini Apple crash is by segmenting Apple's operating income by its products. As is evident below, during the last 4 quarters of its operations, 64% of Apple's gross profits have come from the iPhone. After adjusting for 64% of Apple's trailing operating expenses and taxes, the iPhone's TTM net income amounts to only $23.6 billion, or a little less than half of the amount lost since iPhone's 5C/5S introduction. That's right. The market has priced Apple's iPhone profits at $0 for the next 2+ years. It's as if the 5C/5S, 4S, 4, etc. will not bring a single penny of profits to the company during the next 2+ years.
Scenario #2: Wall Street has discounted all future iPhone profits and the iPhone brand by 27% since Tuesday's announcement.
Another way to look at this is by doing an iPhone valuation. Let's take the ex-cash valuation Wall Street gave the iPhone pre-September 10th launch. The ex-cash multiple Wall Street awarded Apple at the time was 8.6X, an already extremely low valuation. Multiplying 8.6X Apple's TTM iPhone profits of $23.6 billion results in $203 billion, or the valuation Wall Street gave the iPhone prior to Tuesday's launch. If the remainder of the company is still valued at 8.6X and the iPhone is responsible for destroying $54 billion of the company's market capitalization, then Wall Street has given the iPhone a new valuation of 6X P/E and expects the 5C pricing strategy and the China Telecom subsidy reduction to be responsible for 27% of the all future iPhone profits! That includes iPhones 5S, 6, 7, 8, etc.

Scenario #3: China is now priced at $0. That includes the iPads, iPhones, iTunes, Macs, etc.
If China is the culprit, then Wall Street should have correctly discounted the China profits by the amount they felt was fair given a reduction in volume at the higher than expected pricing of the iPhone 5C and the increase in the China Telecom subsidy. Instead, Wall Street did something much more extreme and irrational, as it often does.
China's operating income during the last four quarters was $8.4 billion. China's estimated net income was about $4.4 billion. Even at 12X China TTM earnings, the valuation is less than the $54 billion that was lost during the past week. According to Wall Street, it's as if Apple will never earn a penny from that region again as Wall Street has essentially pegged China as a worthless segment.

Conclusion
Irrational fear. None of the above is actually fairly valued. As I mentioned in my article titled Apple's Story: Only the Beginning, analysts and pundits have severely affected Apple's stock price with speculative arguments, rumors, and cheap shots. Apple as a high-margin business model has now earned itself the reputation as the most hated stock on Wall Street. And as Wall Street has irrationally valued China's contribution to Apple at $0 and/or the next 2+ years of iPhones 5S/5C, 4S/4 profits as $0, there is much value to be extracted from Apple at its current valuation.
For those Wall Street titans wasting valuable CNBC air time with announcements that Apple is valued abnormally high without a shred of evidence, I especially welcome their rebuttal.
Disclosure: I am long AAPL. I wrote this article myself, and it expresses my own opinions. I am not receiving compensation for it (other than from Seeking Alpha). I have no business relationship with any company whose stock is mentioned in this article.
Additional disclosure: This article represents my views only and not the views of any organization that I am affiliated with. This article is intended for informational and educational purposes only and shall not be construed to constitute investment advice. Nothing contained herein shall constitute a solicitation, recommendation, or endorsement to buy or sell any security or private fund.