The general commodity sector, like equities, bottomed out in March, and has had a significant run since then, assisted by the weak dollar. The one laggard in the sector has been the agricultural component, specifically livestock.
The I-Path ETN COW is composed of two futures contracts, lean hogs and live cattle. The weekly chart of COW appears to have bottomed and, possibly, formed a double bottom: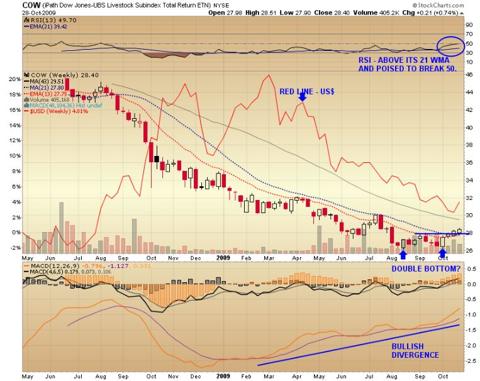 Click to enlarge
The weekly RSI is poised to move above 50 and there has been a bullish divergence in the MacD since the beginning of the year. The ETN is up about 1% this week in contrast to the DBC (Commodities Tracking Index) which is down over 2.5%. It appears that this basket of commodities has been more closely correlated to the dollar than other commodities, at least since March of this year.
On the trade side we like to see our favorite averages the 21 and 13 in confluence which often precedes strong moves. The 43 week/ 200 day moving average is just overhead and should offer resistance but a break through that level would be important.
The advantage to this trade is the tight stop. The 28 level, for shorter term traders, is an extremely thrifty stop-loss target and for swing traders the double bottom is manageable.
Disclosure: No Position