A prudent investor periodically re-evaluates his portfolio to assess his investments. Investments that have performed well might now be expensive or have limited additional upside. Investments that have declined might have become much more attractive.
That has certainly been the case in the REIT market over the last several months. While all REITs have traded down, those sectors that have been historically viewed as defensive, with long-term, fixed leases have been hit especially hard, including the Triple Net and Healthcare sectors. The declines have been largely felt across the board, with limited discrimination between individual companies within these sectors. It is during times like this that intelligent investors can find opportunities to pick some winners for the long term.
A recent Seeking Alpha article titled "The Self Evident Truth About Healthcare REITs", the author "Factoids" accurately points out that healthcare REITs include a diverse group of asset subsectors that need to be valued differently. Some of the larger Healthcare REITs (HCP, VTR, and HCN) buy all of the asset classes and count on their size to provide investors with diversification and asset allocation. While this works well for some investors, I prefer to control my own investment portfolio and invest in REITs that focus on one sector at a time.
One of my favorite sectors in the healthcare space is the medical office building (or MOB) subsector. I prefer this sector for its attractive mix of long-term stability, strong outlook for growth, and under-investment by institutions, which I will discuss later. Unlike the skilled nursing or hospital sectors, which traditionally have higher yields, the MOB also has limited exposure to government reimbursement risks which have caused the sector issues in the past.

In the Factoids' article, he concludes that MOBs are highly valued by Mr. Market right now. However, he is not investing here because he has not seen any dividend growth out of these companies in the last year, he is investing elsewhere. While this might be true historically, as an intelligent investor, we also need to look to the future and use the best evidence available to us, to see if there is any dividend growth in this sector's future.
Long-term readers of mine have seen me write about one of these companies, Healthcare Trust of America (NYSE:HTA) (where I'm also an owner). Investors who put money into HTA during the economic downturn have done well. Focused on a traditionally defensive sector, healthcare and medical office buildings, the company's portfolio did just fine despite the economic downturn during that period, with HTA outperforming the MSCI US REIT Index over that time. This stability is critical to occupying a spot in my SWAN portfolio (see my newsletter here). But can they grow their dividend over time? Let's take a look.
Does HTA Offer Prospects for Dividend Growth?
The first part I like to look at is the sector. For HTA, the healthcare sector gets a strong bill of health. Healthcare has several macroeconomic tailwinds that should push its expansion over the coming decade. First, the US population is getting older which will result in increased demand for visits to the doctor. Second, the Affordable Care Act is expected to add 25 to 35 million more insured individuals to the overall population. Regardless of your politics, this legislation is going to increase demand for healthcare. Finally, all of this is resulting in significant increases in healthcare employment. Healthcare produced more jobs during the downturn than any other sector. That trend is expected to continue over the next decade, with healthcare employment growth far exceeding the rest of the U.S. All of this is great news for the MOB sector, and should allow for future occupancy and rental growth.
So the market looks promising, but how has the company been performing? Here again, things are looking solid. Over the last three quarters, the company has grown its same store earnings by more than 3%. That significantly outpaces its peers and is good across most real estate asset classes. Normalized Funds from Operations (or FFO) per share is also up over 7% for the first half of the year; even more impressive when you consider that the company has actually improved its balance sheet during this period - reducing leverage and extending debt maturities.
The company has taken many steps to ensure this level of consistent growth continues. Over the last year, HTA has taken a significant amount of their property management and leasing onto its own internal platform. Not only does this reduce expenses (and improve earnings!), but it also creates dedicated resources that should help better tenant relationships, improved building efficiencies, and improved leasing.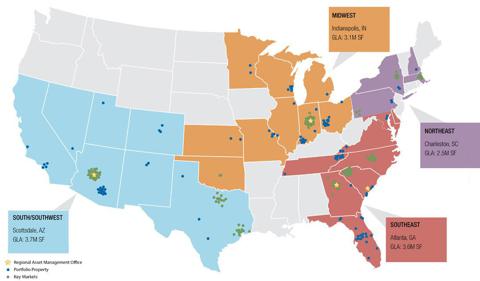 I'm Encouraged by the Fall Season and the Prospects for HTA
Increasing leasing is the real cause for optimism in the future. In November, CEO Scott Peters appeared on CNBC's Mad Money and stated that leasing activity has started to pick up. He has continued to remain optimistic on the company's earnings calls, stating that the leasing pipeline is strong and robust. This activity has started to produce results, with occupancy increasing 40bps in 2Q, growing to 91.3%.
This increased activity is coming from three growing players in the healthcare space: The first is increased activity from health systems. These systems have been acquiring physician practices over the last several years and are now moving them into key locations to best serve patients. These are generally in locations that allow them to utilize the hospital and refer patients within a health systems' physician network. The second group is an increasing number of large healthcare provider groups. This includes both large, local physician groups and national healthcare practices in fields such as oncology, dialysis, and lab services. The third group is the colleges and training programs aimed at training the healthcare workforce of the future. As mentioned previously, healthcare employment is growing faster than any other field in the U.S. This has created significant demand for space from educators with programs in nursing, physician assistants, and technicians.
So far, so good. The final area to evaluate is the ability of the company to expand externally, with good acquisitions. So far this year, HTA has announced acquisitions of over $150 million. Given HTA's size, this has expanded the company's asset base by more than 7%. In addition, it appears that the company's investments are expected to produce strong growth in the years to come, through either in-place rent escalators, the ability to grow occupancy, and the ability to increase rental rates as leases come up for renewal. For instance, the company recently announced a $42 million acquisition in Denver. The company stated that this property has 3% in-place rent bumps, plus an adjacent parcel of land that will allow the company to expand by almost 40% in the next few years.
Add this all up, and you have a company that is poised to grow its cash flows through internal growth - in-place rent bumps, occupancy gains, rental rate increases, and operating efficiencies, plus external growth. This should allow HTA to grow its dividend over time which is critical to this economy. On August 22nd I became a shareholder in HTA. I am looking forward to increasing my exposure in healthcare and I believe that HTA represents an attractive value proposition of income and growth.
I may take a drive to the mountains in a few weeks to relax and enjoy my favorite season. Fall is a wonderful time of year and I always look forward to the cooler temperatures and the crisp nights writing on a back patio. Yet nothing is more relaxing than examining a quality REIT; especially one that helps me "sleep well at night" like Healthcare Trust of America.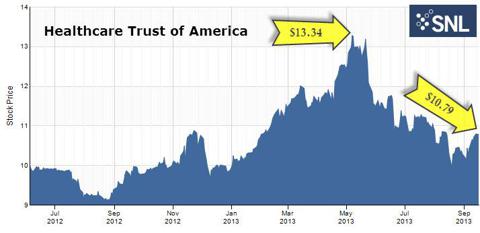 Source: SNL Financial.
Disclaimer: This article is intended to provide information to interested parties. As I have no knowledge of individual investor circumstances, goals, and/or portfolio concentration or diversification, readers are expected to complete their own due diligence before purchasing any stocks mentioned or recommended.
Disclosure: I am long O, UMH, STAG, ARCP, HTA, VTR, HCP, GPT, CSG, DLR. I wrote this article myself, and it expresses my own opinions. I am not receiving compensation for it (other than from Seeking Alpha). I have no business relationship with any company whose stock is mentioned in this article.