Last time I wrote about Cracker Barrel Old Country Store, Inc. (NASDAQ:CBRL) on July 16, 2013 I stated that the stock was topping out on a technical basis and wouldn't be adding to my position at that time. In addition to the technical situation we experienced a retail wreck which decimated the teen apparel stores and I thought it would carry over into the restaurants area of the market, hence I sold the stock. Cracker Barrel operates 620 stores in 42 states. On June 3, 2013, the company reported fiscal third quarter earnings of $1.02 per share, which beat the consensus of analysts' estimates by $0.08. The stock is up 2.48% since I last wrote about it and is beating the S&P 500, which has gained 0.9% in the same time frame, and with that in mind I'd like to take a moment to evaluate the stock on a fundamental, financial and technical basis to justify why I sold it (that isn't to say that you should sell it, it just didn't fit my investing thesis anymore).
Fundamentals
Cracker Barrel currently trades at a trailing 12-month P/E ratio of 21.19, which is fairly priced, but I mainly like to purchase a stock based on where the company is going in the future as opposed to what it has done in the past. On that note, the 1-year forward-looking P/E ratio of 18.43 is currently fairly priced as well for the future in terms of the right here, right now. Next year's estimated earnings are $5.68/share. The one-year PEG ratio (1.3), which measures the ratio of the price you're currently paying for the trailing 12-month earnings on the stock while dividing it by the earnings growth of the company for a specified amount of time (I like looking at a 1-year horizon) tells me that Cracker Barrel is fairly priced based on a 1-year EPS growth rate of 16.33%.
Financials
On a financial basis, the things I look for are the dividend payouts, return on assets, equity and investment. Cracker Barrel boasts a dividend of 2.87% with a payout ratio of 60.7% of earnings (or 94% based on free cash flow) while sporting return on assets, equity and investment values of 8.4%, 28.1% and 16.3%, respectively, which are all respectable values, but nothing to write home about. Because I believe the market may get a bit choppy here and would like a safety play, I believe the 2.87% yield of this company is good enough for anyone to take shelter in for the time being. The company has raised its dividend for 11 straight years with a five-year dividend growth rate of 18.5%. Most recently the company raised the dividend 50%.
Technicals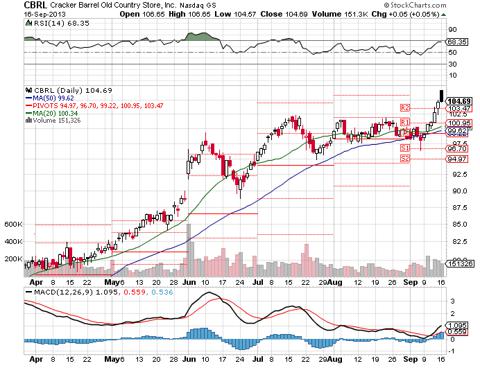 Looking first at the relative strength index chart (RSI) at the top, I see the stock in overbought territory with a value of 68.35 but with upward trajectory, which is a bullish pattern. To confirm that, I will look at the moving average convergence-divergence (MACD) chart next and see that the black line is above the red line with the divergence bars increasing in height to the upside, indicating the stock has upward momentum. As for the stock price itself ($104.69), I'm looking at an all-time high right now and don't see much more upside and I'd see $103.47 to act as support for a risk/reward ratio, which plays out to be -1.16% to 0%.
Recent News
Another proxy fight is heating up at the company with Sardar Biglari, who has 36% support of the shareholders.
The company announced its board rejected a slate of nominees for a board seat stating "uncertainty" over the candidate's agenda.
Raymond James downgraded the company from "outperform" to "market perform".
Conclusion
Cracker Barrel is fairly valued based on future earnings and on future growth prospects (one-year outlook). Financially, the dividend payout ratio is middle of the road and I don't doubt management will be able to continue to increase the dividend going forward at double digit clips. The technical situation of how the stock is currently trading is what is telling me that it can hit a top right here. The reasons for selling the stock was because it was at its 52 week high, the struggles on the board, and the fact that the next retail domino to drop may be in the dining area. Since the stock is near its 52 week high it has a long way to come down if we start to see a sell-off in the broader market as the market itself seems to be exhausted. As I stated earlier, just because it isn't a good investment for me, it doesn't mean it's not a good investment for you; it is still a great company (I hope I can find a great opportunity to buy it again in the future). I took the proceeds from this sale and found a different stock in the Technology sector which provides stability for my capital right now and initiated a position in, AT&T (NYSE:T). If you would like to read up on why I bought AT&T click here.
Disclaimer: These are only my personal opinions and you should do your own homework. Only you are responsible for what you trade and happy investing!
Disclosure: I am long T. I wrote this article myself, and it expresses my own opinions. I am not receiving compensation for it (other than from Seeking Alpha). I have no business relationship with any company whose stock is mentioned in this article.