The most battered sector ETFs over the last 5 days all relate to natural resources. Is it time to give up on the stuff that we excavate or drill for?
In essence, there are 2 reasons for the tremendous hit to lumber providers, oil explorers, gold miners and steel producers. First, the U.S. dollar's ascent for 4 consecutive days has effectively lowered the spot prices of commodities. The lower the price of the commodity (e.g., crude, iron ore, silver, etc.), the less profitable these types of companies are likely to be.
5 of the Worst Sector ETFs Over the Last 5 Trading Days
%
Market Vectors Steel (NYSEARCA:SLX)
-13.4%
SPDR Metals and Mining (NYSEARCA:XME)
-12.2%
Market Vectors Gold Miners (NYSEARCA:GDX)
-11.6%
SPDR Oil Gas Exploration/Production (NYSEARCA:XOP)
-9.3%
Claymore Global Timber (NYSEARCA:CUT)
-9.2%
Second… the higher they climb, the harder they fall. Through the end of last week, no industrial segment had gained as much in 2009 as Global Materials (NYSEARCA:MXI). While Global Tech (NYSEARCA:IXN) and Global Financials (NYSEARCA:IXG) have been impressive in their own right, they were still more than 1000 basis points away from MXI.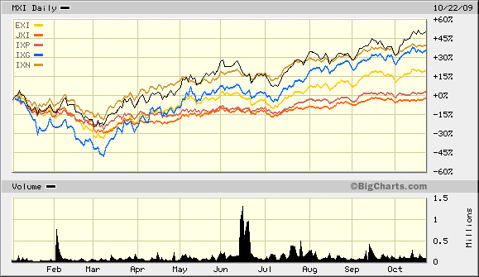 So we come back to the original question… is it time to get out of natural resources-related ETFs? The answer depends on your outlook for the U.S. dollar as well as your tolerance for risk.
If you think the U.S. dollar will cool off soon and if you believe the dollar will be getting weaker as the days and months go on then continue to overweight the materials sector in your portfolio. If you've stopped out, look for an appropriate re-entry point into a similar fund. If you haven't had any exposure, think about buying on the dips. And always be careful to avoid overlap.
On the other hand, if you see the U.S. dollar on a path of significant strengthening due to changes in government policy or due to investors seeking safety in the "world's most familiar" currency then you should stay away from materials and natural resources. Commodities, as well as the companies that acquire "stuff," would likely be crushed by a strong dollar.
Full Disclosure: Gary Gordon, MS, CFP is the president of Pacific Park Financial, Inc., a Registered Investment Adviser with the SEC. The company may hold positions in the ETFs, mutual funds and/or index funds mentioned above.