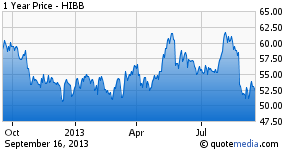 Warren Buffett once said that it's important to keep your eyes on the ball. Hibbett Sports (NASDAQ:HIBB) may be that ball due to its low valuation. HIBB's recent earnings report has sent the once sports star back to a bench player level. HIBB fell as much as 12.5% right after its Q2 earnings report.
HIBB's 2013 Q2 earnings report was certainly a sublime performance. Second-quarter revenue rose 13% to 186.2 million. Net income was up 33% to 10.5 million and EPS for the quarter was $0.40 per share versus previous consensus EPS $0.39.
The only problem is that the company lowered its fiscal 2014 earnings outlook to $2.65-2.77 per share. This is about a 10% drop compare to the previous outlook and of course the market punished the company with a rapid drop in the stock price followed with downgrades.
During the quarter, HIBB opened 17 new stores and 3 high-performing stores while it also shuttered 4 underperforming stores. HIBB owned 892 stores in 31 states by the end of the quarter.
HIBB is quite different from its major competitors like The Finish Line (FINL) and Dick's Sporting Goods (DKS). Instead of opening stores in major big cities, HIBB runs its business in mid-sized markets. HIBB specifically targets places that have populations range from 25,000-75,000. This strategy enables a better cost-efficient system that provides better financial results than most competitors. According to HIBB's 2013 annual report, the company is aiming to open over 1300 stores. New stores are expected to open around two-hour driving distance from existing stores to take advantage of efficiencies in distribution, marketing and regional management.
As we can see, HIBB targets markets that larger competitors are unwilling to spend excessive resources to develop. Mid-sized markets are highly fragmented as many different sized stores compete for market share by applying different stores and business strategies. In this fragmented market, HIBB has a solid business moat. Smaller competitors in this market don't have the capabilities to compete against HIBB and yet large competitors are outside of the fences.
Similarly, PetSmart (PETM) owns more than 10% of the pet market in the U.S. Since PETM is the largest player in the market, smaller competitors often sell their business to PETM to end the pain.
HIBB targets a specific market and aims to be the leader. However, this is hard to see from a macro view of the retail business view. HIBB's 2013 revenue is expected to reach 850 million dollars comparing to DKS's 2013-projected revenue of 6.12 billion dollars. How is that a leader position eh? Exactly, it's hard to tell HIBB is leading this mid-sized market. Remember that HIBB owns 892 stores by the end of the quarter, and this means that average annual store revenue is less than 1 million dollars. HIBB's penetration is far better than most competitors in the same market. A much larger competitor, Dickson Sporting Goods Inc, operated 520 DICK'S Sporting Goods stores in 44 states by the end of the Q2 2013. In comparison of store count, HIBB owns more stores than any competitors in the industry.
Why does HIBB want to open so many stores? The reason is that they are deploying a different business strategy to take over the mid-sized market as quickly as possible by opening smaller stores to extend market penetration.
HIBB is a small sized company compare to large competitors. From an investor's point of view, it is small and it is not growing very fast. Since 2009, HIBB is sitting on a very steady annual growth rate about 8%. The latest guidance sent down HIBB's share price down to $50 level, this reflects a P/E ratio of 17 using next year's projection. If we compare the P/E ratio to the growth rate, we may see that HIBB is over-valued. The truth lies beneath the seemingly high P/E ratio.
HIBB's EPS growth rate has risen way faster than its revenue. 2009's EPS was $1.03 and 2013's projected EPS is now around $2.7. HIBB has nearly tripled its EPS in four years while its revenue hasn't even doubled. The rapid rise EPS indicates that the company has been creating higher profit margin since 2009. Given the clear business model, HIBB is able to occupy this special market and create impressive RoA and RoE. For the first half of 2013, HIBB presented impressive 21% RoA and 32.78% RoE; both numbers are beating the industry average.
HIBB's lowest price in 2009 was around $14 a share, which means even subprime mortgage crisis couldn't send its P/E ratio down to 14-15. By the end of the 2009, it was $20 a share. HIBB has never been "undervalued". Taking that into account, the valuation after Q2 earnings report is attempting.
I myself have a very interesting hobby finding stocks that aren't grow anymore. HI, MAT, and SWHC are all good examples of my criteria. I like these stocks because I know that even though they don't grow anymore, they can still show me good returns by repurchasing shares, acquiring smaller companies, cut off low profit margin products or services, and increasing cost-efficiency. These companies are sometimes undervalued due to their low-growth rates. When these companies face problems, they take big hits.
HIBB is still growing. That's great and that's why people are still willing to pay forward P/E of 17 to this company. HIBB is currently in a problem that every player in the industry suffers from and I think HIBB has the best chance to surf the tide. I would wait a little long to see if the market pulls back HIBB's share price a bit more. It is ideal to buy under $50 a share. Remember it's better to buy a great company at a fair price than a fair company at a great price.
In the end, I would like to quote a dialogue from Men In Black. I believe this dialogue reveals one of the essences of investing in stock markets.
"A person is smart. People are dumb, panicky, dangerous animals and you know it."
Disclosure: I have no positions in any stocks mentioned, but may initiate a long position in HIBB over the next 72 hours. I wrote this article myself, and it expresses my own opinions. I am not receiving compensation for it (other than from Seeking Alpha). I have no business relationship with any company whose stock is mentioned in this article.