Dominion Resources (NYSE:D) is the latest energy company to go the route of spinning off some important assets into a Master Limited Partnership (MLP). D is a regulated utility with exposure to electric generation and distribution along with natural gas transmission and distribution. In addition, D owns a liquefied natural gas LNG import facility and last week received approval to convert the import facility to a natural gas export facility. A proposal to spin off the Cove Point LNG terminal and Blue Racer midstream processing assets was offered during their investor presentation at Barclays CEO Energy Conference on September 12.
Along with the possibility of spinning off some assets into a MLP, D announced a proposal to restructure their gas distribution business.
Below are graphics of these businesses from the most recent investor's presentation: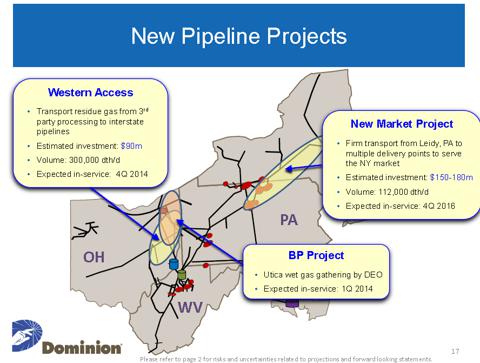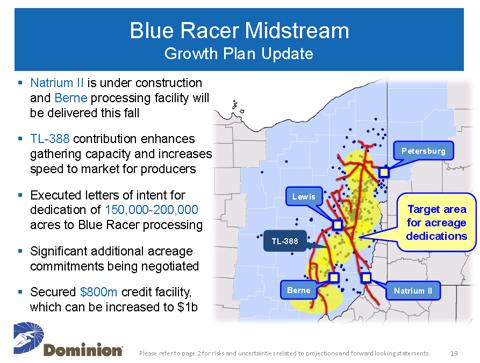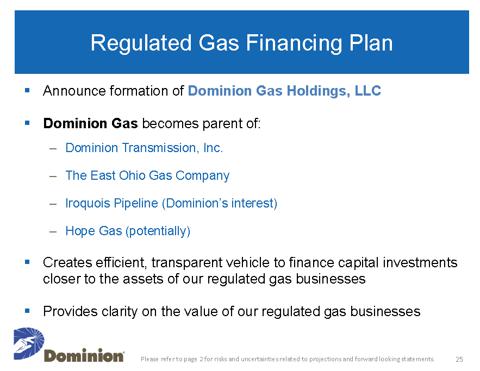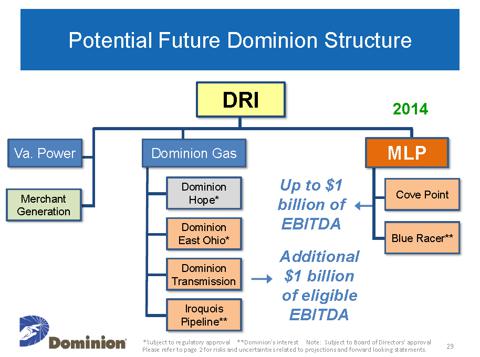 Blue Racer is a mid-stream joint venture 50% owned by D and 50% owned by Caiman Energy, and services the fairway of the Utica shale oil area in Ohio. The separation of Cove Point and Blue Racer sets the stage for more drop down of assets over time into the new MLP. As indicated, it appears management intends to separate Dominion East Ohio, Dominion Transmission and Iroquois Pipeline assets to be distributed to the MLP as well, based on acquiring regulatory approval.
As an MLP comparison, Enterprise Products Partners (NYSE:EPD) generated $4.6 billion in EBITDA for the trailing twelve months ending 6/30/13, as reported in their investor's presentation at the same conference. With a current market capitalization of $53 billion, EPD is trading at a multiple of 11.5 times EBITDA. Similar valuations for Dominion Resources' initial MLP drop down would be $11.5 billion and could reach $23 billion if/when the above outlined assets are also incorporated. As D generated TTM EBITDA of $4.6 billion as of 6/30, it seems the current share price of $60 for D is a valuation of 11 times EBITDA. The proposed new MLP will represent almost 50% of Dominion's total EBITDA generated over the previous 12 months.
It would seem D is currently trading at a fair valuation of both the new MLP and the remaining structure of Dominion Resources.
Going forward, it would seem the growth drivers will be the electric transmission assets of Dominion Resources and the new MLP assets. The balance of Dominion's business is merchant power, regulated electric distribution and gas distribution businesses. These will represent lower growth opportunities for investors.
However, investors should not discount the opportunity for D to generate IDRs, or Incentive Distribution Rights, from the new MLP. These are payments from the partnership to Dominion, as they will most likely act as the General Partner for the partnership. In addition, Dominion will most likely own the majority of new MLP units with the public/shareholders receiving the balance.
Williams Companies (NYSE:WMB) and Williams Partners LP (NYSE:WPZ) MLP could be a footprint for Dominion Resources. WMB began spinning off assets to WPZ in 2005 and WMB is the general partner managing those assets. According to a recent SA article, in 2012, WPZ paid $1.24 a unit in distribution to unit holders and $0.38 a unit to WMB as its general partner. There are 413 million WPZ shares outstanding and WMB owns 65%, or about 268 million shares. Without any waivers of fees, WMB could collect a total of $332 million in unit distributions from its unit ownership and an additional $156 million in general partner management payments. According to the most recent investor's presentation (.pdf), these total $488 million in payments from WPZ and represents about 18% of WMB's total anticipated 2013 EBITDA of $2.6 billion. Income from WPZ covered the 2012 WMB dividend of $1.11 a share.
The Cove Point LNG terminal is expected to export 770 million cubic feet per day (cf/d) of natural gas, to countries without a free-trade agreement with America. Management believes the facility has the ability to generate $0.27 to $0.40 a share in earnings, or between $156 million to $236 million in net earnings based on D current share count. Cove Point is the fourth export LNG facility to be approved and should be operational by mid-2016. The retrofit and redesign from an existing import facility to an export facility will take less time than building a new plant from scratch. In addition, much of the infrastructure is already in place. Cove Point is the closest export facility to the Marcellus and Utica shale gas fields and will be an important asset in exportation of this increasing production profile.
In addition to the $3.5 billion in capital expenditure needed to convert Cove Point, Dominion Resources is expected to invest an additional $3 billion a year in its regulated utility assets. These include improving its electric transmission assets, replacement of gas distribution pipelines and capital investments in Virginia Power. The increase in its regulated asset base should drive earnings by 5% to 6% annually and allow for a 6% to 7% growth in dividends. The main headwind is in the merchant power earnings, which represents about 10% of earnings. When power markets in the Northeast turnaround, the non-regulated merchant nuclear power plant Milestone should offer higher earnings contributions as it represents about 50% of D merchant power capacity at 2,000 MW.
Virginia has been historically a favorable regulatory environment with Virginia Power being the major utility in the state. The area is not particularly well suited for the disruptive nature of wind or solar generation. These two aspects should favor long-term shareholders in D.
While D's share price has been strong of late, patient investors should be amply rewarded through higher regulated earnings, rising dividends, and better valuation of its energy assets through a MLP structure. Although the details of the separation and establishment of a MLP are not yet clear, shareholders buying at today's price should receive a minimum 3.7% current dividend that should grow at about 7% a year and capital appreciation of about 8% to 10% over the next twelve months. An added bonus could be a distribution to current shareholders of a portion of the IPO from the new MLP.
Author's Note: Please review important disclaimer in author's profile.
Disclosure: I am long EPD. I wrote this article myself, and it expresses my own opinions. I am not receiving compensation for it (other than from Seeking Alpha). I have no business relationship with any company whose stock is mentioned in this article.