In May 2012, the world's largest social networking site held its IPO. Facebook's (NASDAQ:FB) IPO was the most awaited and perhaps one of the most marketed IPOs of all times. Ridiculous valuations were being accorded to it despite the fact that the company's actual fundamentals could not justify them. But the investment bankers responsible for it were selling the IPO on the popularity of Facebook. The performance of Facebook post the IPO was equally publicized since its shareholders ended up losing most of their investment. It is only recently that the stock was able to recover to levels that are close to the IPO value.
A little over a year, another social networking site has filed its papers for a public issue. This time the company is Twitter. Though the company has not disclosed the IPO value, the investment "experts" have already started pegging its value in billions. One of its investors had valued the company at US$ 10.5 bn last month. So do the financials justify this huge value?
Unfortunately just like it was in the case of Facebook, the answer to this question also seems to be a big no. The company has filed its IPO papers under the cloaked option which is available to companies with revenues of less than US$ 1 billion. This way the company is not bound to disclose its financials till close to the actual sale date.
IPOs that give huge premiums to companies that have popular brands are not unique to just the U.S. markets. But what investors need to understand is that the valuations and premiums have to be justified by the fundamentals. Because in the long run the stock price will reflect the fundamentals of the company. And if the fundamentals are weak, then the price would fall. And the only one who will lose in this scenario would be the investor investing in the IPO. Not the company. And certainly not its investment bankers.
Where will most of Twitter's revenue come from? Advertising, of course. But here is the difference between Facebook and Twitter:
Facebook is a website on which one spends hours a week on or even a day (on average, 7 hours a month). Twitter on the other hand, is a website you might spend a few minutes a day on. You just check some tweets of interesting persons, or you post one yourself and that's it.
Now, I want you to think about the fact how difficult it was for Facebook to gain some money from its advertising model. Facebook has 1.11 bn active users each month and reported $4 B in revenue and $532 M net income. Indicating that it makes only $0.5 profit per active user on the $4 of revenue it gets from them.
I don't think Twitter is a website on which many people spend hours a day, no. Twitter is a tool that we use quickly to tweet an opinion and that's it. If there would appear adds on Twitter, I don't believe a lot of people would click on them, as their time spend on Twitter is just way shorter (only 36 minutes a month) than those of Facebook users.
On a revenue per active user basis, one can even conclude that Twitter's IPO will be even more expensive than Facebook's if it comes to the market against a value of $10.4 B.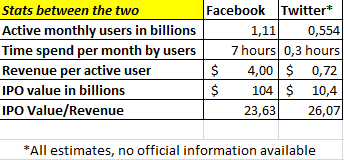 Conclusion
Watch out for hyped IPO's and make decent, logical investment decisions. Don't always follow the crowd and start thinking for yourself. Once again: The valuation needs to match the real value of the company. It is fine to pay a premium price for a company with exceptional growth prospects and a strong business model, but I believe it is not fine to pay 100x the projected earnings per share for a company that hasn't proved much and has still many uncertainties.
Disclosure: I have no positions in any stocks mentioned, and no plans to initiate any positions within the next 72 hours. I wrote this article myself, and it expresses my own opinions. I am not receiving compensation for it (other than from Seeking Alpha). I have no business relationship with any company whose stock is mentioned in this article. The official numbers of Twitter, which will be released after its IPO, will give more insight whether or not the company is worth a buy. Everything stated in this article should be seen as an opinion, not actual advice.