Vodafone (NASDAQ:VOD) is a mobile telecommunication company that provides various services to 409 million customers across the globe. The company has managed to make its shareholders happy, at least in the short term, after finalizing a deal with Verizon (NYSE:VZ) to sell its 45% share of VZ Wireless. VOD has planned to return $84 billion, consisting of all of the VZ stocks and some part of the cash, to its shareholders. Also, the company is planning to use $20.7 billion to reduce net debt.
Vittorio Colao, the CEO of VOD, said in an interview with Bloomberg TV, "It's a great asset; it's an asset with a fantastic team managing it, we got the value that a good asset deserves." This is an interesting statement given that the question arises as to why somebody would sell a great investment when your primary business is not performing well. I believe that there are two possible reasons behind this decision. Firstly, VOD's management might believe that the wireless business will experience a decline in the future, and they want to get out while the business is doing good to get the maximum price for its 45% share. However, I think that the wireless business will continue to drive growth in the future, and while that growth may not be smartphone-centric, several other growth opportunities are available like M2M solutions. Secondly, VOD might need money to invest in its own business to remain competitive and drive growth, as the telecom industry is capital intensive. This I believe can be a valid reason, as Europe has been left behind with respect to high-speed data services.
There are plenty of growth opportunities available in European markets, especially in the wireless segment. These opportunities have attracted several international incumbents like AT&T, Inc. (NYSE:T), which is looking to expand its operations in Europe. With the sale of the 45% share in Verizon Wireless, VOD has become a potential takeover target, which is discussed in detail in my article "AT&T the Stock of Choice for Hefty Returns".
Possible Acquisition of Kabel Deutschland
VOD is looking to strengthen its operations in Germany by acquiring the country's largest cable company, Kabel Deutschland. This will help VOD to target more customers, as it can now offer cable services to its mobile customers as well as offering various services to Kabel Deutschland customers. This deal will enhance VOD's customer base in its largest market, and it would also help reduce the company's churn rate. Additionally, it will help cut down costs, as the traffic of its mobile network could be directed to the cable network. Recently, VOD managed to overcome a major regulatory hurdle by gaining the support of more than 75% of Kabel Deutschland's shareholders.
Project Spring
(Note: all the figures below are converted to dollars using GBP/USD=1.5448)
The company is planning to take several new initiatives, both in Europe and emerging markets, to help gain a competitive advantage and unlock growth opportunities. The table below highlights the company's $9.55 billion (£6 billion) organic investment plan over the next three years.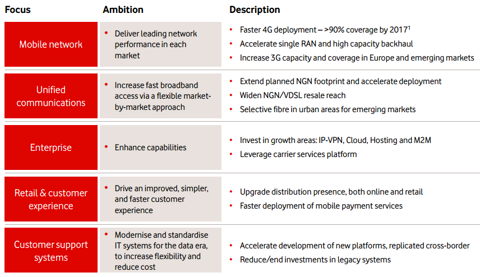 Source: Company Data
Financial Performance of 2Q'13
The company continues to face revenue pressure in European markets, but it managed to perform well in AMAP (Asia, Middle East and Asia Pacific) countries. The table below highlights the performance of different markets in which the company operates.
| | | |
| --- | --- | --- |
| Countries | Change in Organic Revenue | Mobile customers-Net additions |
| Germany | -5.1% | -168,000 |
| UK | -4.5% | -12,000 |
| Other North and Central European Countries | 1.6% | 165,000 |
| Italy | -17.1% | -88,000 |
| Spain | -10.6% | -237,000 |
| Other South European Countries | -3.6% | 37,000 |
| India | 13.8% | 2,686,000 |
| Vodacom (South Africa) | 3.2% | 1,137,000 |
| Other AMAP countries | 0.7% | 2,347,000 |
Source: Company Data
The company suffered major setbacks in almost all key European markets, primarily because of poor macro-economic conditions and intense price competition. Also, high unemployment rates in Spain resulted in a massive decrease of 237,000 mobile customers. Given that the company generates more than half of its revenues from its operations in Europe, this poor performance is a serious concern for investors. AMAP countries delivered strong performance, especially India, which managed to grow its organic revenues by 13.8% by increasing its mobile voice minutes, along with the higher rates per minute. Furthermore, VOD red has expanded its footprint in 16 markets and added around 5.2 million customers. The company also continued to benefit from its exposure in the fast growing U.S. wireless business, through its investment in VZ Wireless. But as VOD has decided to sell its shares, these strong results will not be included in its next quarter earnings.
Dividends
The company offers a healthy dividend yield of 6.10%. Also VOD has announced a $0.17 (11p) dividend per share in FY2014, which is an increase of 8% YoY, and it plans to grow this figure on an annual basis. The company also reaffirmed its free cash flow guidance to $6.95-$7.72 billion (£4.5- £5 billion) this year, which confirms its dividend safety.
Conclusion
With the significant cash infusion after selling its crown jewel investment, VOD has an opportunity to expand and diversify its operations by capturing opportunities available in Europe and emerging markets. As of now, it is too early to say as to how these investments will shape up in the future, as they are primarily dependent on Europe's macroeconomic prospects. Time will also help decide whether selling VZ Wireless was a mistake or an opportunity well taken to strengthen the company's core operations. However, I believe that it will be hard for VOD to justify the sale of an investment, which contributes around 54% in adjusted operating profit. I think VOD has limited appreciation potential, but it promises a striking dividend yield for income-seeking investors.
Disclosure: I have no positions in any stocks mentioned, and no plans to initiate any positions within the next 72 hours. I wrote this article myself, and it expresses my own opinions. I am not receiving compensation for it (other than from Seeking Alpha). I have no business relationship with any company whose stock is mentioned in this article.