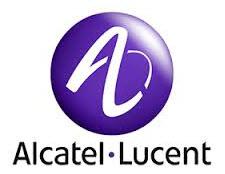 Executive Summary
I wrote an article on August 20th regarding Alcatel Lucent (ALU) detailing the reason why I felt it was time to take profits. Subsequently, the stock has run up another 40% to $3.41. This persuaded me to do a follow up article to see what I was missing. After performing further due diligence, I discovered the company has four core success factors driving the stock higher. The factors are increasing revenues, decreasing costs, improving cash flow and a focus on R&D. Furthermore, based on the investments in R&D, a slew of new contracts were recently signed by Alcatel. Even so, the question remains, has all the upside been priced in to the stock at this point?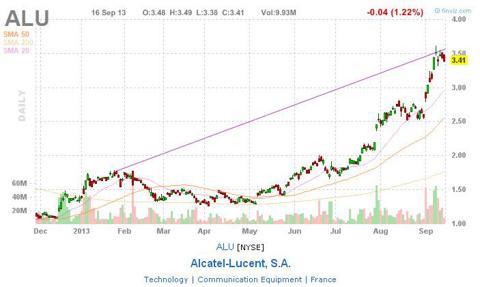 Increasing Revenue Growth
Alcatel saw a quickening of revenue growth in the second quarter. The continued revenue growth served as confirmation of a trend started in the previous quarter. On a regional basis, North America led the way with a 19% year over year increase in revenue. By business division, IP Routing grew 26% year over year with growth across all regions. North America lead the way for the unit with 40% year over year revenue growth while the Asia Pacific region came in with over 18% year over year revenue growth led by Japan. Europe, the Middle East and Africa which all improved revenue growth by 6%. Furthermore, LTE technology represented the largest revenue share in wireless for the company for the first time ever with greater than 22% year over year revenue growth.
Cost Reduction - The Shift Plan
The implementation of the Shift Plan is a top priority for the management team. The company laid out the reorganization plan in mid-June and expects to complete the process by the end of September. Fifty percent of the 2013 fixed cost saving target of 300 million euros or $399 million has already been achieved. The company has had a total fixed cost savings for 2013 of 175 million euros or $232.75 million as of the end of June. The company is confident of achieving its goal. I like how the company is attacking the profitability from both sides of the equation. The restructuring plan is an essential part of Alcatel's future success.
Focus On R&D
The rebalancing of R&D from legacy technologies to next generation technology led to an increase in R&D spending in the short-term. The rise in R&D was in order to accommodate advances needed in LTE. These higher R&D outlays in the near term should continue to provide positive impacts in the future. The focus on R&D has led to several recent contract wins. This is essential for the company to stay on top and on plan. I commend Alcatel for staying on the cutting edge.
New Technology Contract Wins
Alcatel secured 12 contract wins recently, four vectoring and six fiber, bringing the total to more than 45 new contracts secured in the last three quarters. Alcatel's vectoring solution is extremely successful and seems ahead of the competition technologically. The company has a definite time to market advantage.
A Major Collaborative Deal
A major collaborative deal to develop multi-mode small cell base stations that enhance Wi-Fi, 3G and 4G networks which improves wireless connectivity in residential enterprise environments has been signed with Qualcomm (NASDAQ:QCOM). These next-generation small cell base stations will combine Alcatel Lucent's proven expertise in small cell applications with Qualcomm's industry mobile and networking technology to enable ultra-broadband wireless communications. This is a huge win for the company.
Cash Flow Positive by 2015
Stakeholders shouldn't take too lightly the new CEO Michel Combes' challenge to get the company free cash flow positive. The company has been cash flow negative since the 2006 buyout of Lucent Technologies. Alcatel's recent contract successes have increased the demand for working capital in the near term. At the same time, the company is expected to incur restructuring charges over the next couple of years. Hopefully, Alcatel will be free cash flow positive by 2015. The new CEO recently stated he was committed to becoming cash flow positive and willing to do whatever it takes to make it happen.
Conclusion
The communication equipment industry is currently on fire. Trends for the industry are promising. Major projects are being launched across the globe. Alcatel seems to be heading in the proper direction with its recent contract wins and restructuring efforts. Nevertheless, the company has significant challenges ahead as it attempts to morph from a one stop shop into a highly specialized communications company. Moreover, Cisco (NASDAQ:CSCO) leads the way in this highly competitive industry and applies significant pricing pressure on all competitors. Yet, with the stock trading at a price to sales ratio of 0.41, it still seems undervalued and trades at a significant discount compared to its peers. See chart below.

Even though the stock has had a significant run over the past year, it appears to still be undervalued. I'm beginning to think the elusive pullback I was hoping for may not materialize after all. Alcatel is a highly speculative stock. If you chose to start a position, I would definitely layer in over time and keep the position to a small percentage of a portfolio.
Disclosure: I have no positions in any stocks mentioned, but may initiate a long position in ALU over the next 72 hours. I wrote this article myself, and it expresses my own opinions. I am not receiving compensation for it (other than from Seeking Alpha). I have no business relationship with any company whose stock is mentioned in this article.