"Global oil balance is far more stretched than consensus would have you believe." Jan Stuart - Global Head of Energy Research at Credit Suisse
During the early 1960s a group of professors at MIT Sloan School of Management created a simulation game to demonstrate some salient features of multi-stage supply chain dynamics, they called it the "Beer Game".
Players, who can see each other's inventory but have no clue regarding total market demand, are involved in distributing a single item, cases of beer. Due to natural time lags in multi-stage supply chain systems a sorcerer's apprentice scenario develops where bullwhip effects emerge.
I believe a bullwhip effect is currently taking shape in the oil industry's supply chain with the potential of producing interesting arbitrage opportunities in trading volatility for discerning investors.
Despite the shale oil revolution taking shape in the U.S., Saudi Arabia, Kuwait and the United Arab Emirates are pumping out crude at record levels. Disruption to supplies from Libya, where striking workers and militias have reduced exports to a trickle, has been the main trigger for increasing oil production in the Gulf.
Saudi Arabia, which is currently generating more than $1 billion a day in export revenues, responded by pushing output to 10.2 million barrels a day in August, the most in the International Energy Agency‌'s (IEA) records.
The UAE and Kuwait have also set output records this summer, at about 2.8 million barrels a day. Production has been huge, in August, the three large Gulf producers met 17% of global demand. Saudi Arabia has also been slowly bringing online its giant offshore Manifa oilfield, which should eventually be able to produce 900 thousand barrels a day.
Iraq, which currently produces around 3.3 million barrels per day, has invited China, which already buys nearly half the oil that Iraq produces, to develop the lucrative West Qurna oil field. The country has also signed a letter of intent with BP (NYSE:BP) to help revive its giant Kirkuk oil field in Northern Iraq in an effort to boost its oil production over 9 million barrels per day by 2017.
Meanwhile, in Kazakhstan, the largest oil field outside the Middle East has gone into production mode. The first oil to flow from the Kashagan field was just a trickle, however, a consortium of oil companies, including Exxon Mobil (NYSE:XOM), Shell (NYSE:RDS.A) and ConocoPhillips (NYSE:COP), have ambitious plans to increase production over the next several years.
While they have drilled scores of wells, the initial production is just 26,000 barrels a day, a mere drop in the global oil bucket. However, the project, which is already five years behind schedule and has cost $41 billion, could eventually add about 1.5 million barrels of oil a day to global output; roughly the amount Libya produces.
The mere fact that these countries need to pump that hard is an indication that global oil supplies are stretched. However, despite all this oil being pumped into the system global supply has actually fallen in August, with both non‐OPEC and OPEC registering declines.
A profound, but easily overlooked trend in the global oil market, is starting to emerge and the consequences for the global economy, and the world's biggest oil companies, are significant.
Years of investing in new technologies, like shale, and in new fields, like Kashagan and Manifa, are coming to fruition while global oil demand is expected to rise in 2014. Two trajectories that will usher in windfall gains to oil giants that are already solid earners and generous distributors of dividends.
However, if we can learn only one lesson from the beer game metaphor it would be the fact that an economic bullwhip effect produces high volatility. Volatility moves in both directions due to the inability of commodity traders to determine a fixed fair value of crude oil based on its market price, which is determined by many variables including currency exchange rates inventories and total global demand.
Already, currency markets are behaving weirdly these days and current geopolitical conditions are highly uncertain. Geopolitical concerns are not predictive in nature but simply add to uncertainty.
There are instruments available that allows exposure to both the upside and volatility in the oil market. The United States Oil Fund (NYSEARCA:USO) and the Crude Oil ETF Volatility Index (OVX) are some of the most cited by practitioners.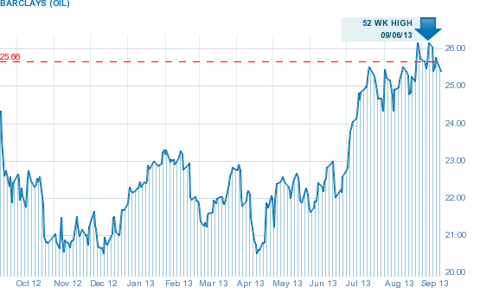 A simpler approach would be a long bet on (NYSEARCA:OIL) which is already up 15% for the year. You can also pick and choose among the stocks of individual oil giants.
| | | | | |
| --- | --- | --- | --- | --- |
| Company | Ticker | P/E | P/S | Yield |
| Exxon | XOM | 11.2 | 0.8 | 2.8 |
| Shell | RDS.A | 10.1 | 1 | 3.5 |
| Conoco | COP | 11.2 | 1.4 | 4 |
Personally I like Exxon, this dividend champion has paid dividends since 1911 and increased distributions on its common stock for 31 years in a row.
Exxon's last dividend increase was in April 2013 when the Board of Directors approved a dividend of $0.63 per share, a 10.5% increase. The company has already distributed $6.8 billion to shareholders, in the second quarter, through dividends and share purchases to reduce outstanding shares.
Disclosure: I have no positions in any stocks mentioned, and no plans to initiate any positions within the next 72 hours. I wrote this article myself, and it expresses my own opinions. I am not receiving compensation for it (other than from Seeking Alpha). I have no business relationship with any company whose stock is mentioned in this article.