In the battle for Organovo's (NYSEMKT:ONVO) valuation, the bears are winning. When I last wrote about Organovo on May 14th, ONVO was trading at $5.02/share on the OTCQB. Despite meaningful advances by the company, including uplisting to the NYSE and significant reduction to financing risk, its share price has continued to slide down from the post-uplisting high of $8.50/share to its current price of $5.08. In my opinion, this is an irrational depreciation of 40%.
It's my opinion that Organovo is extremely oversold. The current decline of ONVO shares can be attributed to the investors' outlook on the following three points:
Organovo's recent financing was "dilutive"
The current legal battle with Spencer Trask Ventures (STV)
Organovo is far from revenue
On all three points, I believe Mr. Market's reaction were overdone, if not downright illogical. In the past year alone Organovo has made strides nearly identical to Inovio. In addition, in terms of core operations and financing history, Organovo displays a remarkable similarity to Inovio (NYSEMKT:INO), and as such, I believe fair value for ONVO lies above $8.00/share in light of recent progress.
Organovo Background
For those of you who haven't been watching the Organovo story play out, here's a short primer from my previous article:
"Organovo is a biotech company in the 3d bioprinting space. The company's 3d bioprinting technology allows for the printing of living tissues and cells, resulting in major implications for the future of drug development, biological research, and tissue transplantation.

Organovo's bioprinting technology carries the potential to revolutionize current standards of healthcare research and development. The ability to print 3-dimensional models of living tissue would present the ladder able to bridge the gap between animal testing and human trials, easily accelerating the development of various drugs, and breakthroughs in biology. Moreover, as Organovo's technology continues to develop, the science fiction-esque concept of organ printing may become a reality."
The expansive possibilities of the company's 3d bioprinting platform naturally allows for an expansive pipeline of opportunities for the next decade. Organovo's closest market opportunity lies in its ability to forecast the potential toxicities in the human body. Although difficult to gauge, the current trend in drug approvals by the FDA appears to indicate a potentially massive opportunity.
Near-term Market Opportunity lies in Improving The Drug Development Process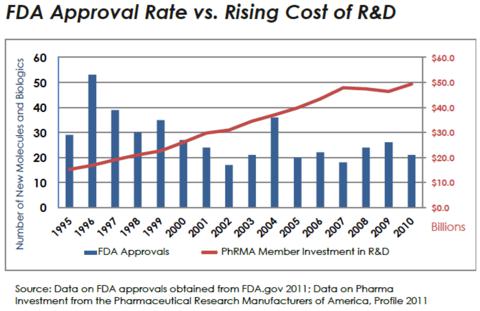 (Sourced from Organovo's Investor Presentation)
As shown in the graph above, standards on FDA approval of new pharmaceuticals have become increasingly stringent, and unfortunately cost of drug R&D has grown increasingly. Using 2010 figures, the average cost of bringing a drug to market, not including substantial marketing costs, lies in the ballpark of $2.38 billion. This is substantially more than the figure listed in my last article, where I used the Forbes article's statement, "the average cost of bringing a new drug to market is $1.3 billion."
This figure, created from data from the years 1997-2011, demonstrates the ballooning cost/approval ratio in the pharmaceutical space. Organovo's technology holds the promise of acceleration and cost-reduction of this time-consuming and illogically expensive drug approval process. Subsequently, further demonstration of progress of the technology's efficacy should open the door for multiple partnerships with pharmaceutical companies looking increase their bottom line. Given that partnerships are the current paradigm for drug development for large healthcare companies, I expect these future partnerships to be royalty-based on future sales, if we assume that these royalties will be on the order of 2-4% of the >$50 billion spent on R&D currently, Organovo's drug development opportunity should stand in the order of $1-2 billion/year.
Despite Developments Similar to Inovio's, ONVO Continues to Trade Lower
Given the dearth of articles on Organovo, the purpose of this article isn't to rehash the plentiful bull and bear theses already in the public. To demonstrate the undervaluation of Organovo, I plan on addressing the three points stated in the introduction, drawing parallels to Inovio when germane.
1. Organovo's recent financing was "dilutive"
Development stage biotech companies, by their very nature, almost always have dilutive financings. The salient question when it comes to biotech financings is "Was it a prudent financing?" In other words, was the financing toxic to investors in the long run? It wasn't. The hallmark of a great financing is that it staves off the need for future financings in a meaningful manner at terms that do not materially affect shareholders in a significantly adverse manner.
If you recall, the majority of short pieces on Organovo centered on the company's then-recent S-3 registration filing for $100 million of new shares/warrants. Investors, scared of the potential dilution, exited the security en masse. These S-3 registrations are common within the biotech sector, but more importantly, are not all-or-nothing financings. If desired, Organovo could've conducted a financing with its registration by selling only one share (No company in its right mind would ever do this, but the point remains.). Organovo, despite downward pressure on share price, appropriately conducted and closed a $46.6 million public offering by selling 10,350,000 shares (9 million initial + 1,350,000 overallotment) at $4.50/share, netting $43.3 million in the process.
What does this mean for Organovo and its shareholders? Other than the obvious answer of "increased cash by $43 million", the 15.6% dilution has essentially eliminated the need for future financings, thereby halting the possibility for future dilution. This conclusion results from the following logic:
Organovo's burn rate is typically $3 million/quarter. For the sake of robustness, let's assume this figure is actually $4 million/quarter, or $16 million/year.
Organovo now has roughly $50 million in cash. Assuming burn rate of $16 million/year, this ensures Organovo will be able to operate for at least three years.
Organovo is expected to roll out its platform for liver toxicity (drug development platform discussed above) by the end of 2014. This is 15 months from now, even if Organovo took an additional year to reach market, Organovo would still have roughly $14 million in cash remaining.
It appears to be logical that once Organovo is able to reach commercialization, growth can be organically sustained without outside financing.
The financing is quite reminiscent of Inovio and its March financing. In stark contrast to its current valuation of $463 million, Inovio was then valued at roughly $80 million. Despite its valuation, Inovio pulled the trigger on a massive (relatively speaking) financing,
"Inovio Pharmaceuticals, Inc. (NYSE MKT: INO) today announced that it has closed an underwritten offering of 27,377,266 shares of its common stock and warrants to purchase up to 13,688,633 shares of common stock at a combined price of $0.55 per share and related warrant for gross proceeds of $15.1 million. The warrants are exercisable at an exercise price of $.7936 per share and will expire, unless exercised, on the date that is 180 days after the fifth anniversary of the date of issuance. The net proceeds from the sale of the shares and the related warrants, after deducting the underwriters' discounts and other estimated offering expenses payable by Inovio, was approximately $14.0 million, which does not include any potential proceeds from the cash exercise of any warrants."
In consideration of both shares and warrants, this essentially introduced a massive 41 million shares to Inovio's then outstanding 150 million shares, diluting shareholders by 27.5%. Despite this, shares continued to trade higher after the financing, why was this? It's because shareholders realized the value of the financing, demonstrated by the following statement by CEO Joseph Kim after the closing,
"We are pleased to secure this investment to further advance the development of Inovio's synthetic preventive and therapeutic vaccines. As of February 28, 2013, we had approximately $16.9 million in cash, cash equivalents, and short-term investments. With this transaction, we believe we will have capital to fund the company through 2014. This would take us through multiple important milestones including the release of unblinded efficacy data from our phase II cervical dysplasia clinical study, which we are now targeting for the first quarter of 2014."
By taking an upfront hit of 27.5%, INO shareholders prevented the possibility of further dilution for the next 21 months. This has paid off handsomely for early investors who realized the value of the financing, easily netting over 250% in gains as the cash allowed the immunotherapeutic company to reach significant catalysts. Let's not forget, the shorts also tried to make the same case for Inovio.
2. The current legal battle with Spencer Trask Ventures
Fellow contributor Richard Pearson is easily one of the most outspoken bears on Organovo. In his most recent short piece on ONVO, he wrote about the current legal action between the company and its former early investor and placement agent Spencer Trask Ventures. The details of the proceeding can be read in his article. Having read the documents hosted on Richard Pearson's own website, moxreport.com (this is made quite clear upon viewing the site), it is my own opinion that Organovo's liability from the legal battle has been largely overblown, credits due to Pearson's subtle use of hyperbole and logical fallacies.
His article's section on the matter fails to mention any legal precedent that would further clarify Organovo or STV's position, instead relying on misleading vividness to paint a negative portrayal of Organovo and its management. Although I may not be a lawyer, my research (and a law course I took in college) leads me to believe that STV's case is invalid. STV's rescission appears to in be bad faith, especially in consideration of the fact that STV continued to accept payment after the so called "rescission email". In my opinion, the worst case scenario for Organovo and its shareholders will be a settlement outside of court for no more than $1 million, which given its current cash position, should not meaningfully impact its operational outlook.
The following is the company's details on the matter on its 10-k, I don't recommend reading it, but for those of you who do:
"Spencer Trask Matter. On June 28, 2013, the Company filed a lawsuit for declaratory relief in the Supreme Court for the State of New York (case # 652305/2013) against Spencer Trask Ventures, Inc. ("STV") in connection with a Warrant Solicitation Agency Agreement (the "WSAA") that the Company entered into with STV in February 2013. In this action, the Company is seeking a declaration that the WSAA remains a valid and enforceable agreement. Over the course of several weeks in February 2013, Organovo and STV, through their respective attorneys, negotiated the WSAA pursuant to which the Company engaged STV as the Company's warrant solicitation agent in connection with the Company's efforts to solicit the exercise of outstanding Organovo warrants during the first quarter of 2013. STV's President signed the WSAA on behalf of STV, and the Company's CEO executed the agreement on behalf of Organovo. Spencer Trask provided services to the Company pursuant to the WSAA, and the Company has paid STV for those services.

The Company's dispute with Spencer Trask arose in March 2013 after the Company approached Spencer Trask about exercising their outstanding warrants to help the Company qualify for up listing its common stock on the NYSE MKT. Previously, Spencer Trask had not asserted any claims for additional compensation as a result of the warrant tender offer the Company completed in December 2012. In March 2013, the Company received two demand letters from STV, and a demand for arbitration notice in June 2013. In the first demand letter, STV alleges that it is entitled to compensation (including a cash fee and warrants to purchase common stock) as a result of the warrant tender offer the Company completed in December 2012 and as a result of the notice of warrant redemption the Company completed in March 2013. In the second letter, STV alleges it is entitled to damages because the Company allegedly violated confidentiality provisions in the Placement Agency Agreement (the "PAA") the Company had previously entered into with STV in December 2012 in connection with the private placement financings the Company completed in February and March 2012 (the "Private Placements"), by contacting the warrant holders who participated in the warrant tender offer. In response, on June 28, 2013, the Company filed a lawsuit for declaratory relief in the Supreme Court for the State of New York against STV. The Company's tender offer was made to warrant holders of record relating to warrants already owned by them and whose identity was public information via a Registration Statement on Form S-1 the Company was required to file to register the resale of the shares underlying their warrants. For these and other reasons, including applicability of the WSAA, the Company believes STV is not entitled to compensation under the PAA and there was no violation of confidentiality. The Company received notice on August 5, 2013 that STV had filed its arbitration demand with the arbitrator.

The Company believes that the assertions made against it by STV are without merit and the Company intends to continue to vigorously defend against the claims made by STV, including any arbitration matter filed by STV. The Company has not established a loss contingency accrual for these claims because any potential liability is not probable or estimable. Nonetheless, an unfavorable resolution of these claims could have a material adverse effect on the Company's business, liquidity or financial condition in the reporting period in which such resolution occurs."
3. Organovo is far from revenue
Far and away the most commonly used trope for bear cases against Organovo or most any other development stage biotech for that matter, this is simply just not true. I made the case earlier in the article that the company is close to generating revenue, relatively speaking, but more importantly, will not require any further foreseeable financings in order to reach said revenue. However, dev. stage biotechs have access to another form of revenue that helps to validate their technology long before reaching the market: revenue from development partnerships.
Development partnerships is an area Organovo has shined in, and Inovio recently joining the partnership party. Partnerships have a three-fold effect: they reduce financing risk, validate the company's technology/products, help clarify the market opportunity. The following is a brief recap of Organovo's partnerships, "The company's 3D bioprinting technology quickly garnered interest amongst both investors and other entities, resulting in a series of high-profile partnerships with entities such as Pfizer (NYSE:PFE), United Therapeutics (NASDAQ:UTHR), Autodesk, Inc. (NASDAQ:ADSK), and the Knight Cancer Institute at Oregon Health & Science University." Organovo has recently inked an agreement with the Michael J. Fox Foundation, a non-profit group that addresses Parkinson's disease that has invested over $350 million in research to date. Organovo seems to ink partnerships like clockwork, and this appears to indicate management's strategy to continue company growth via additional collaboration agreements. What's interesting to consider is the possibility of a second collaboration agreement with Pfizer for Organovo's drug-development assays. If Organovo's platform can be shown to meaningfully benefit the drug development process, it stands to reason that the company can be expected to sign many similar agreements with other members of large pharma.
Inovio has benefited from meaningful share price appreciation from its recent partnership with Roche. Although many expected the partnership to be inked with Merck, this has largely been forgotten by the extremely favorable economics for Inovio.
"Roche and Inovio have entered into an exclusive worldwide licensing and collaboration agreement to develop and commercialize Inovio's DNA immunotherapies targeting prostate cancer and hepatitis C. Roche has licensed these DNA-based products and the use of Inovio's electroporation technology for delivery of these products.

All products in this agreement are at a near clinical stage. Our prostate and hepatitis C DNA immunotherapies have each generated robust T-cell responses in those small and large animals, signaling their potential to treat disease in humans. Apart from the license for INO-5150, Inovio's immune therapy for prostate cancer and INO-1800, our hepatitis B therapy, Roche has also secured an exclusive license to any further immunotherapy candidates resulting from this collaboration in these two disease area. Under the terms of the agreement, Roche will make an upfront payment of $10 million to Inovio. Roche will also provide pre-clinical R&D support and payments for near-term regulatory milestones as well as the payment upon reaching certain development and commercial milestones potentially up to a $412.5 million."
The main takeaway from the Inovio-Roche partnership is that it was for two pre-clinical assets (far from market). In other words, for companies with efficacious technology that are still "far from revenue", partnerships allow for growth and revenue until commercialization.
Conclusion
Bearish sentiments are running quite high for Organovo, and I believe I've made their case quite clear. However, consider the following points:
Organovo is fully funded for the next three years
Has completed uplisting to the NYSE from OTC
Has Presented data on its fully cellular 3D Bioprinted Liver Tissue
Has multiple partnerships resulting in revenue
Should have a favorable ruling regarding the legal battle
Despite these meaningful advances, Organovo has failed to see its share price appreciate in the past five months. Meanwhile, Inovio which has gone through similar strides has seen its share price handsomely appreciate in return.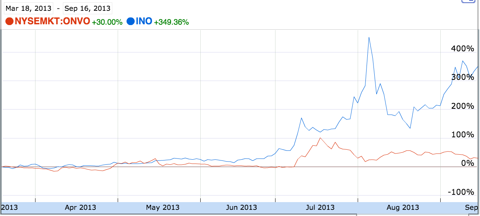 Disclosure: I have no positions in any stocks mentioned, but may initiate a long position in ONVO over the next 72 hours. I wrote this article myself, and it expresses my own opinions. I am not receiving compensation for it (other than from Seeking Alpha). I have no business relationship with any company whose stock is mentioned in this article.