Back in March, I wrote the article KOG: New Completion Procedure Could Yield Much Improved Results. The article discussed how Kodiak Oil & Gas (NYSE:KOG) was implementing array fracking completion techniques in the Polar and Smokey pilot test programs. It's now time to take a look at the Polar results and see how things are going so far. The data is very encouraging and a positive catalyst for KOG going forward. A surge in production recently, partly as a result of the Polar results, was coincident with nicely higher WTI pricing. As a result, KOG looks poised to deliver much higher year-over-year Q3 & Q4 numbers.
Array Fracking to Enable Bench Communication
As explained in the first article, the Polar project was designed to drill 12 wells in the Three Forks based upon an alternating sequence between the upper and middle benches. With this staggered downspacing approach, KOG hoped to enable bench communication and open up the entire 1,280 acre drilling unit. The goal of the project was to increase the amount of oil in place per unit area that would ultimately be recovered. The project is shown pictorially below. Notice four wells were drilled off of three pads.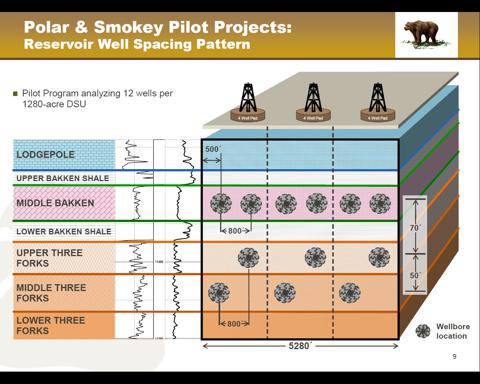 Polar Project Results
At the recent Barclay's Energy Conference, Kodiak's presentation included some slides summarizing the Polar project's results to date. As can be seen from the slide below, the twelve wells averaged 24-hour IP rates of 2,549 bod/day. 30-day productions rates averaged 977 boe/day. In the Seeking Alpha conference transcript, Kodiak CEO Lynn Peterson commented on the results: "So, I think we're really consistent with what we've seen on previous wells in the area before we started going to the tighter spacing."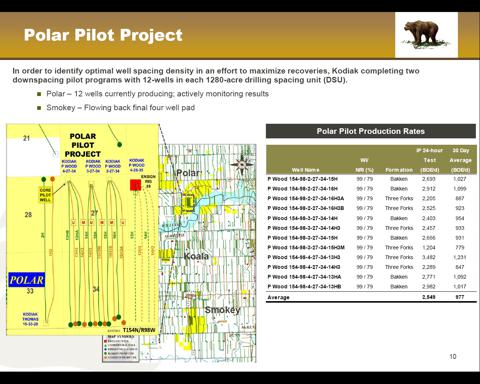 Peterson continued:
We didn't see a lot of communication when we were fracking these wells. We were looking for pressure in offsetting wells, we didn't see a lot of that. As we've gone through first 30 or 60 days of production, we continued to shut wells in here and there to see if we see an impact on an offsetting well. To date again, we have not seen anything that makes us very nervous at this point.

So we're pleased to date, we've got a rig running just to the east of this pad, the square -- red square you see on this map. We're actually tightening it up a little bit. We're going to do about 600 foot spacing in these wells. Again, there will be two in the middle Bakken, two in the Three Forks, and they're going to be between 600 and 700 feet, and really that would allow us to probably put one more well in these DSUs.
The company presented the results to date on the following cumulative production slide. Generally the Bakken wells are slightly outperforming the Three Forks wells. The Bakken wells appear to be trending toward the 750,000 EUR-type decline curve while the Three Forks wells are trending toward the 650,000 barrel curve.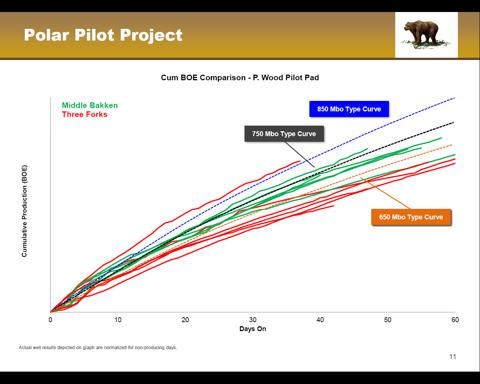 The bottom line is this: KOG is excited because the Polar results imply the company can move beyond seven and eight wells per DSU in this area. This will ultimately lead to more oil lifted per DSU and should mean higher proven reserve estimates will be coming.
Production
KOG also presented an interesting and informative slide comparing Williston Basin production by operator: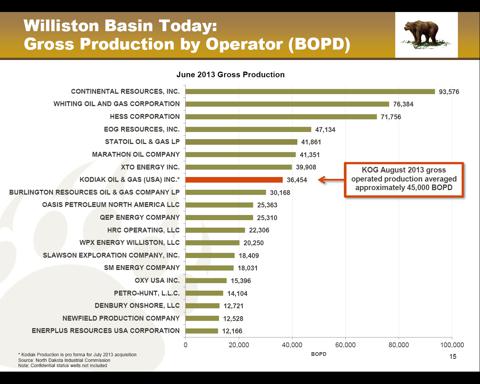 Aside from the nice overview of the Williston producers, the most interesting takeaway from this slide was the note on KOG's gross production:
June: 36,454 bopd
August: 45,000 bopd
That is a quite amazing jump of 23% in two months. Better yet, KOG's surge in production was coincident with the recent rise in WTI. Talk about a one-two punch! Looking at the chart below, prices in July and August have averaged roughly $20 more than the prior year.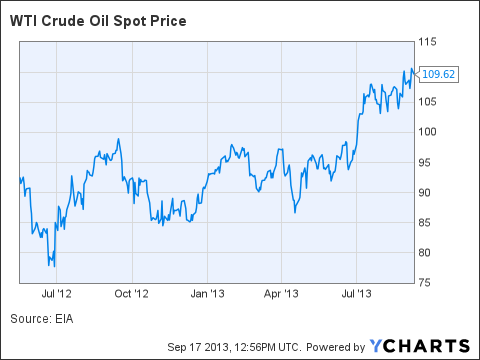 WTI Crude Oil Spot Price data by YCharts
Summary & Conclusion
While some of the good news is already baked into the stock (the P/E is now~30), and debt levels continue to be a concern in my opinion, the Polar project results are very encouraging. Significantly higher production coincident with stronger oil prices should enable KOG to shatter year-over-year results. From the transcript, Peterson said KOG is currently averaging between 36,000 to 38,000 bopd. That compares to Q3 2012 production of only 15,855 boe/day. Tack on a WTI oil prices ~$20/barrel higher than the year ago, and KOG's Q3 earnings report should be awesome. If July/Aug/Sept production averages 37,000 boe/day, and realized prices average say $100/barrel, KOG could post Q3 revenues approaching $335 million. Considering total revenues in the year-ago quarter were only $112.1 million, KOG is likely to see a nice pop.
I would be a buyer of KOG on any pullback to the $10.50 area and would back the truck up if overall market weakness took the stock under $10.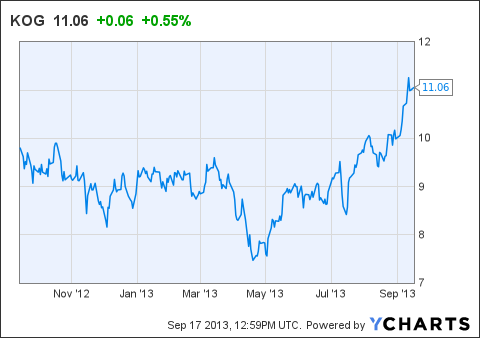 Disclosure: I have no positions in any stocks mentioned, and no plans to initiate any positions within the next 72 hours. I wrote this article myself, and it expresses my own opinions. I am not receiving compensation for it (other than from Seeking Alpha). I have no business relationship with any company whose stock is mentioned in this article.
Additional disclosure: I am an engineer, not a CFA. The information and data presented in this article was obtained from company documents and/or sources believed to be reliable, but has not been independently verified. Therefore, the author cannot guarantee its accuracy. Please do your own research and contact a qualified investment advisor. I am not responsible for investment decisions you make. Thanks for reading and good luck!