Avista Corporation (NYSE:AVA) is a small energy company, involved in the production, transmission, and distribution of electricity and energy services. As usual within the utilities sector (NYSEARCA:IDU), Avista offers an attractive dividend yield of 4.7% which may represent a good opportunity for income investors as it seems to be more sustainable than dividends at major utilities, such as Exelon (NYSE:EXC), or American Electric Power (NYSE:AEP). Avista has a market capitalization of $1.55 billion and is listed on the New York Stock Exchange.
Company Overview
Avista operates in the utilities business and energy management solutions. The company was founded in 1889 and currently has almost 700,000 customers. It provides electricity and natural gas to customers in eastern Washington, northern Idaho and parts of southern and eastern Oregon. Its core business is regulated utility operations, providing over 90% of its earnings. Avista's primary, non-utility subsidiary is Ecova which is 79% owned by Avista, offers strategic energy management solutions to its customers. This business segment has been growing rapidly over the past few years, doubling its revenues from 2009 to 2012. However, its weight on the company's total revenues is still relatively small at about 10%.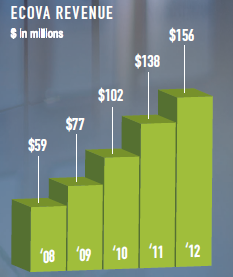 Avista's generation fleet is heavily based on renewable resources. Its hydroelectric resources provide about 50% of its generation capacity, with six plants on the Spokane River in Idaho and Washington, and biomass and wind represent 8% of its electricity generation capacity. Natural gas is the second-largest source of electricity generation, with a weight of 35%. Coal only represents about 9% of the generation mix. Thus, Avista is very well positioned to address 'green legislation' that can hurt some of its peers over the next few years, which can be a competitive advantage providing more stable earnings over the long-term.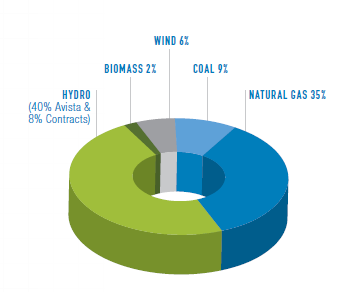 In 2012, Avista's financial performance was quite weak, hampered by weather conditions at its utilities business. In its non-regulated business, its results were also lower than expected, due to slower adoption than expected of its new services. Avista's revenues amounted to $1.55 billion in 2012, a decrease of 4.4% from the previous year. Its EBITDA stood at $316 million, or a 20% EBITDA margin. Net income was $78.2 million for 2012, a decrease from $100.2 million for 2011. Its earnings per share decreased by 23% to $1.32, from $1.72 for 2011 and way below its guidance of $1.65-$1.85.
For the six months ended June 30, 2013, Avista's revenues increased by 4.9% to $834 million. The company's net income was $68 million, or $1.13 per diluted share, compared to $56.6 million, or $0.96 per diluted share during the same period for 2012. In the full year 2013, the company expects EPS to rebound and to be in the range $1.70-$1.90, assuming normal weather conditions. Over the long-term, Avista expects to grow its earnings by 4% to 5% per year, supported by its stable regulated activities and growth from its Ecova business.
Dividends
Avista's dividend history is very good, as the company has raised every year its dividend over the past 10 years. From 2008 to 2012, the company's dividend growth was 13% CAGR, which is quite impressive within its sector. In 2012, Avista paid $1.16 per share to its shareholders, an amount that should rise to $1.22 in 2013 given the current quarterly dividend of $0.305 per share, which represents dividend growth of 5.2% from the previous annual dividend.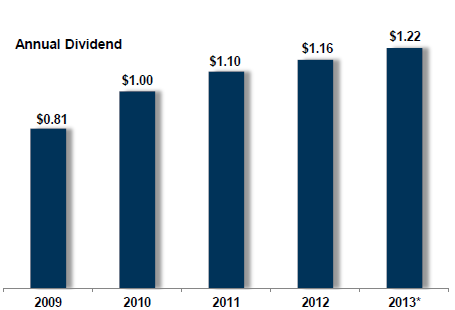 Its dividend payout ratio was between 50% to 65% from 2008 to 2011, but in the past year increased significantly to 88% due to lower earnings. This increased payout ratio is a yellow flag, but if earnings do recover as the company expects it should not be a cause for a dividend cut. The company's target is for a 60% to 70% payout ratio, which is in-line with the majority of its peers. Over the long-term,
Avista is investing primarily to maintain and upgrade its transmission and distribution network. In 2012, the company's capital expenditures [capex] amounted to $271 million, an increase of 11.5% from 2011. These investments were fully covered by the company's cash flow generation from operating activities, which amounted to $317 million in 2012. Its capex should be about $260 million in each of the next two years, which given the company's good cash flow generation should be completely funded organically. Moreover, the company's free cash flow was almost enough to fully finance its dividend cash outflows, as the company distributed $68 million during 2012 to its shareholders.
Regarding the company's balance sheet, like many of its peers its debt load is considerably high give its net debt of $1.4 billion at the end of the second quarter of 2013. Its net-debt-to-EBITDA ratio was 4.2x which is considerably high, but should decline over the next few years as the company does not has any significant amount of debt maturing until 2018 and can use part of its cash flow generation to reduce its debt level.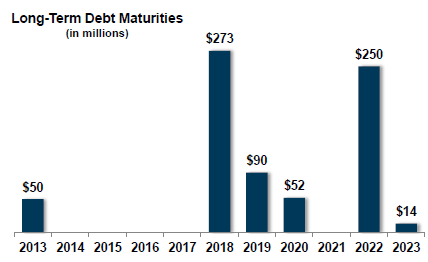 Conclusion
Avista Corporation offers an interesting dividend yield of 4.7%, which is above its sector average and appears to be sustainable over the next few years. Its dividend is supported by the company's heavily regulated operations, its greener electricity generation fleet than most of its peers, and good cash flow generation capacity. Even tough its indebtedness is relatively high, the company does not have any maturities over the next four years so its should not be a problem for its dividend policy.
Disclosure: I have no positions in any stocks mentioned, but may initiate a long position in AVA over the next 72 hours. I wrote this article myself, and it expresses my own opinions. I am not receiving compensation for it (other than from Seeking Alpha). I have no business relationship with any company whose stock is mentioned in this article.