It's pouring dividends out there! As written in this article, September continues to be a good month for Dividend Growth Investors [DGI]. Another well known dividend paying stock has just announced a dividend increase. We are talking about Microsoft Corporation (NASDAQ:MSFT). Here are some quick recaps from the announcement:
This is Microsoft's 4th consecutive dividend increase. Though it has been paying dividends since 2003, only in the last four years has Microsoft gotten into a pattern that income investors usually look for.
The new quarterly dividend per share stands at 28 cents, up almost 22% from the previous 23 cents a share.
The new dividend will be paid to investors on 12/12/2013, with an ex-dividend date of 11/21/2013.
As an icing on the cake, the company also announced a $40B buyback. Yes, you read that correct. $40 billion.
We wrote this article at the same time last year when Microsoft announced its dividend increase for 2012. With this massive increase today, it is time to look at the numbers again.
New Yield: With an annual dividend per share of $1.12, the new yield is a rosy 3.4% at the current share price of $33. While this is lower than, say Intel (NASDAQ:INTC), Microsoft is setting itself up for the yearly increase pattern that income investors so dearly seek. Intel has been sporadic in that aspect.
Payout Ratio: The payout ratio based on trailing 12 months earnings per share stands at a very comfortable 43%. That is a pretty comfortable number in the sweet spot between being generous and still having sufficient change left in the pocket. Moreover, the payout ratio has actually come down since the original article linked above, in spite of the dividend increases.
Five-Year Dividend Growth Rate: With this recent increase, the 5-year dividend growth rate (accounting for the fact that there was no increase in 2009) stands at an impressive 20%, up from the 18% at the time of the previous article.
Cash Strength: One cannot talk about Microsoft's investment thesis without bringing that huge cash pile into the picture. Talking about pictures, the one below is worth taking a look at.
(Cash and Short term investments: click to enlarge)

Click to enlarge
(Source: Ycharts.com)
Dividend Extrapolation: The table below assumes a conservative 8% annual dividend growth rate, down from the 10% used in the original article. This is to acknowledge the fact that things aren't getting any easier for Microsoft in terms of growth. But investors should still be comforted by the recent dividend increases, management's readiness to reward investors, and cash on hand.
Just for the record, if Microsoft does the unimaginable, increasing dividends at 10% a year for 10 years, the yield on cost will go up to more than 8%. There is a world of difference between a yield level reached from below (reliable, periodic increases) and one that might come crashing down from digging heights. [Hello, Century Link (NYSE:CTL)].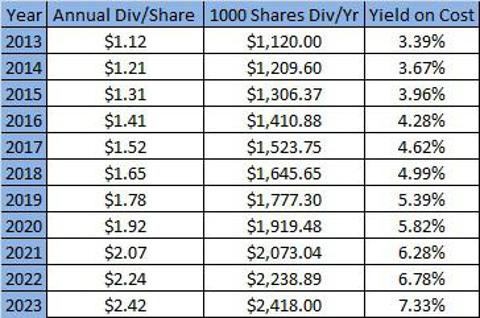 Click to enlarge
Conclusion: Microsoft is going through a metamorphosis in more ways than one, from Steve Ballmers' upcoming retirement to the much criticized Nokia (NYSE:NOK) deal. But what is forgotten in this whole negative sea of thoughts is that the company appears to be on track to be the reliable dividend growth stock that many expected Intel to be. This is not to write off Intel completely but the fact is Microsoft has stuck to a more reliable pattern so far. In addition to Apple (NASDAQ:AAPL), we expect Microsoft to be one of the few technology stocks that will increase dividends periodically, and also have the cash and revenue power to do so without overstretching.
Disclosure: I have no positions in any stocks mentioned, and no plans to initiate any positions within the next 72 hours. I wrote this article myself, and it expresses my own opinions. I am not receiving compensation for it (other than from Seeking Alpha). I have no business relationship with any company whose stock is mentioned in this article.