Bonds - the asset everyone seemingly loves to hate. Yet through the recent rate volatility and somewhat benign economic environment, there appears opportunity in a somewhat esoteric corner of the fixed income market. Many closed-end high-yield bond funds currently trade at undeserved discounts to their net asset values, presenting a total return opportunity in the neighborhood of 20% over the next year. Western Asset High Yield Defined Opportunity Fund (NYSE:HYI) is a fund that has the potential to achieve such results.
Why HYI?
HYI aggressively focuses over 85% of its assets on B and CCC paper. It also maintains a relatively low average weighted maturity of about five years. And, unlike many of its closed-end peers, Western Asset employs no leverage in this product. Effective duration stood at about 3.35 years, implying somewhat low comparative interest rate sensitivity.
| Credit quality allocation (%) | As of Jun-30-2013 |
| --- | --- |
| A | 0.12 |
| BBB | 1.90 |
| BB | 9.16 |
| B | 44.47 |
| CCC | 38.96 |
| CC | 0.23 |
| D | 0.22 |
| Not Rated | 4.93 |
The fund's profile of lower quality paper at short maturity is a prudent strategy for the current high yield market in my view. While odds lean toward a heightened rate scenario, it appears for the very near-term that long rates are peaking and that any moves by the Fed will likely be dovish rather than hawkish in nature. And though economic fundamentals appear far from robust, high-yield defaults do not appear to be spiking.
HYI managers appear to be doing a solid job of managing the endemic elevated credit risk in the current environment. With around 300 total positions and little issuer concentration beyond 2% of net assets, the fund is well diversified through the high-yield market. While the vast majority of its assets are in corporate paper, HYI does have negligible exposure to emerging markets and investment grade credit.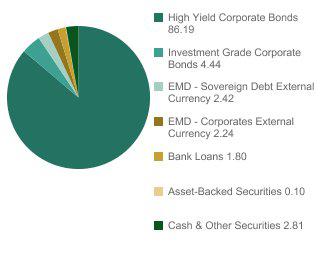 Getting To 20%
The beautiful thing about closed-end funds is that they tend to exacerbate strengths and weaknesses in the marketplace, which makes them a boon for opportunistic investors. When things are going well, investors bid them up to unreasonable premiums and when perception or performance is poor, discounts appear. HYI currently trades at an 8.36% discount to net asset value and possesses an 8.84% distribution at market. I believe the severity of the discount is certainly unwarranted for this fund.
HYI actually traded at almost a 7% premium to net asset value over the course of the past year, so with an 8% discount, the market price has swung 15% around NAV, despite the fact that NAV is only 3% off its 52-week high. Investors have clearly overreacted to the downside, which currently spells opportunity.
The below chart shows the percentage divergence between NAV (in green) and market price (in blue).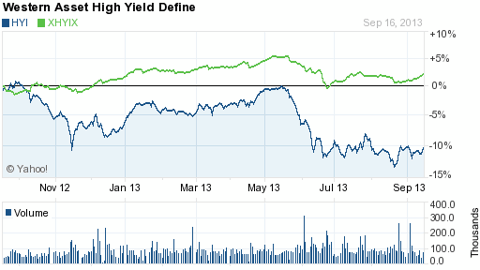 Assuming one invests at today's price, I believe it's reasonable to believe that you can see 20% over the next year as three things occur:
You receive the current 8.84% yield and perhaps garner a small dividend increase due to the recent rate spike.
The discount to net asset value narrows or disappears (another potential 8.4%) as investors stop envisioning the worst in high-yield credit markets.
High-yield spreads generally narrow and/or bond prices rise mildly over the course of the next year, leading to NAV appreciation within the portfolio, presumably lifting the market price at least another few percent.
Thesis Risks
While I believe 20% is certainly attainable given alignment of the three points above, obviously there are some pitfalls to the scenario:
Interest rates spike quickly, dropping the value of the bonds in the portfolio, leading to NAV and presumably market price destruction.
Even with stable NAV, investors do not move to narrow the market price discount.
The fund does not increase the distribution and in fact decreases it. HYI has decreased its distribution 3 times over the past year, although given current UNII and near-term rate movement, I suspect that trend to discontinue.
Why HYI and not HYG or JNK?
Most high-yield investors are familiar with HYG, iShares High-Yield ETF, and JNK, Barclays SPDR High-Yield ETF. Let's take a look at some of the comparative vitals to develop a rationale for why I believe HYI is the better risk-adjusted total return play at the moment.
| | | | | |
| --- | --- | --- | --- | --- |
| Fund | Yield (9/17) annualized based on last payment | Avg. Maturity | B/CCC paper % | Expenses |
| HYI | 8.84% | 5 yrs. | 84% | .89 |
| JNK | 6.17% | 6.8 yrs. | 63% | .40 |
| HYG | 6.28% | 4.85 yrs. | 49% | .50 |
While it's pretty obvious that JNK and HYG represent the more conservative high-yield play due to less exposure to B and CCC credit, HYI's discount and better than 250 basis yield advantage are more than compensatory in my view. Though you will pay around double the expense to own this managed closed-end, I believe the potential downside here owing to the discount would be no worse than JNK or HYG, with the potential upside much greater over the next year.
Thus, unless you think defaults will rise precipitously in B/CCC land over the next 12 months, in which case you should just avoid high-yield altogether, I think you are better off buying HYI as opposed to the more passive JNK or HYG.
Conclusion
Given the well diversified nature of its portfolio, unreasonable discount at which it trades, and attractive comparative current distribution rate, I think HYI represents an attractive total return play for today's aggressive bond investor. I don't think 20% return is out of the question over the next twelve months, assuming a fairly stable rate/economic environment and investor realization of the value in owning the fund.
Disclosure: I am long HYI. I wrote this article myself, and it expresses my own opinions. I am not receiving compensation for it (other than from Seeking Alpha). I have no business relationship with any company whose stock is mentioned in this article.
Additional disclosure: Disclaimer: The above should not be considered or construed as individualized or specific investment advice. Do your own research and consult a professional, if necessary, before making investment decisions.