Teva (NYSE:TEVA) is never an easy company to understand. Israeli heritage but most investors know the New York listing and perceived as a generics company but with a revenue generating base far more complicated than that. The company has also gone through fairly recent management change with Jeremy Levin joining as CEO during 2012.
Upon Mr Levin joining, there were great hopes for the company but, as the share price graph below shows, life has remained difficult for Teva. This is one unusual two year share price chart and should interest the stockpicker: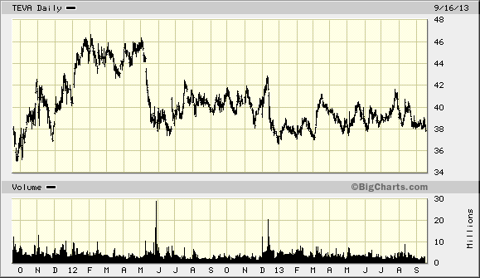 Mr Levin has espoused a strategy, which is nicely summarized by this graphic: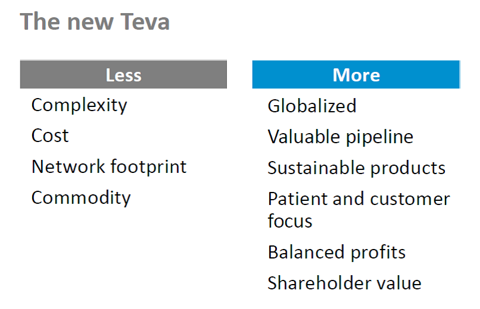 What caught my eye though - and why I wrote this posting - is the anticipated cashflow by the company. With a market cap of US$32bn and an EV of US$43.6bn this is good levels of cashflow to return to shareholders/pay down debt as well as develop the business. This should give Teva options.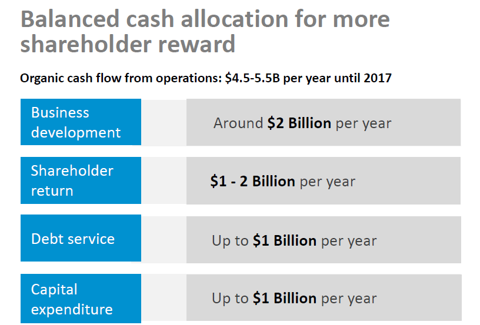 And it is not as if the company has no products within its pipeline either: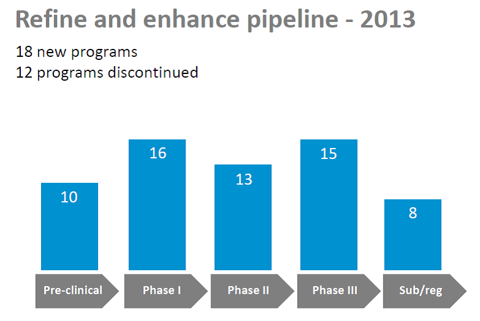 That is not to say that the company does not have issues. The share price and the reasons behind Mr Levin's appointment show this. The most recent quarterly numbers (Q2 2013) show that some parts of the business are continuing to see negative growth, especially in the generic franchise and overall the revenue growth year-on-year for the company was essentially flat: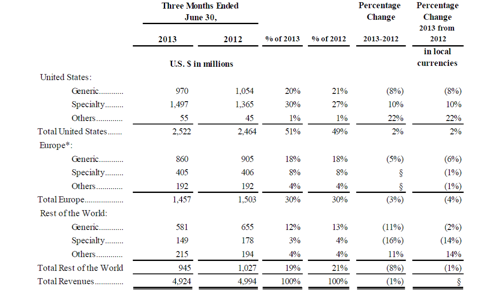 Generics is well-known as a tough business, where the importance of being 'first-to-file' i.e. having the first generic on the marketplace, is high. Additionally legal and technical chemical formulation skills to gain the required regulatory/clinical boundaries are important.
By contrast, the speciality business (outside the small RoW business) continues to perform well and this is true at the margin level too versus the more competitive generic business, as shown below:

Now this is no surprise, 'unique' rather than 'generic' products are always going to be higher margin. Ironically, Teva is facing a threat they are be familiar with; competition for their lead specialty product, Copaxane (a treatment for multiple sclerosis or MS) with a generic getting legal clearance for May 2014 launch. Additionally there are new-style treatments as this link puts it:
Copaxone is already operating in an increasingly busy category with stiff competition from other injectable drugs, but will face a tougher time in future with the advent if orally-active MS drugs, notably Novartis' already-marketed Gilenya (fingolimod) and Biogen Idec's BG-12 which is tipped to be a big earner in future.
The Copaxone debate is hugely significant for the company as the product accounts for getting on towards 20% of the company's revenues. At a recent conference, Teva talked about some of their innovations for the product from which they hope to retain users:
In 17 years as COPAXONE has grown from this little daily molecule to the market leader globally, a lot of positives come out from the efficacy, the safety, the tolerability. The one area that patients have asked and asked and asked is make it more convenient for me to take. And so this is really with a three times a week addressing the one kind of remaining thing that patient wanted, short of putting this in a pill. But that profile of COPAXONE now in three times a week going from seven injections a week to three times a week I think is going to be real boon in the marketplace.

We have said that we are modeling right now anywhere from 30% to 50% of that patient population is going to be interested in going over to the three times a week, might it be higher, might it be lower. I doubt if it's going to be lower, the numbers are consistently growing to where we've kind of moved it from that 30% to 35% to possibly a 50% conversion. There are some indicators that it maybe a little bit higher than that.
Teva is also developing - for launch in c. 2017 - a new generation MS product called Laquinimod to further protect their MS franchise/profits.
Teva is a frustrating company to invest in or even look at. Recent legal settlements - an occupational hazard in some of the areas that the company operates in - have further blurred the results. Excluding these, the company is on track for around a US$3.8-4bn operating profit this year. Given the US$43bn EV, that puts the company's EV/ebit at over x10. That just is not compelling enough; even with the aforementioned cashflow generation, 3.4% dividend yield, pipeline and turnaround hopes. There are just too many other unknowns which ultimately could, impact profitability.
A single digit EV/ebit ratio would be around US$35 a share. That is the level to re-review the share.
Disclosure: I have no positions in any stocks mentioned, and no plans to initiate any positions within the next 72 hours. I wrote this article myself, and it expresses my own opinions. I am not receiving compensation for it. I have no business relationship with any company whose stock is mentioned in this article.