When I was young, there was a rollercoaster that I always wanted to ride. My parents said I was too young and maybe I could ride it next year. Finally, I got to ride that rollercoaster with two friends over the summer; afterwards, behind a bush, feeling very queasy, I got to revisit the hotdog I'd had for lunch. After that experience, I decided that I didn't want to ride rollercoasters anymore. Fast forward several years, and with those memories fading, I stepped onto a different kind of rollercoaster; this rollercoaster I will call The Nokia (NYSE:NOK) express, and it delivered just as thrilling a ride as anything of my youth. Sometimes I was elated, sometime queasy - it was always exciting, never a dull moment.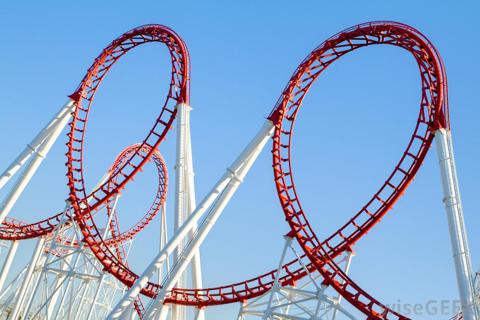 The ride appears to be over
The Nokia Express has taken many ups and downs over the past year or two, with a low of $1.70, and recent highs over $6. Depending on your entry point, you could be sitting on some very healthy profits, and with the recent sale of the Devices Division to Microsoft (NASDAQ:MSFT), those peaks and troughs should be a lot shallower from here on out.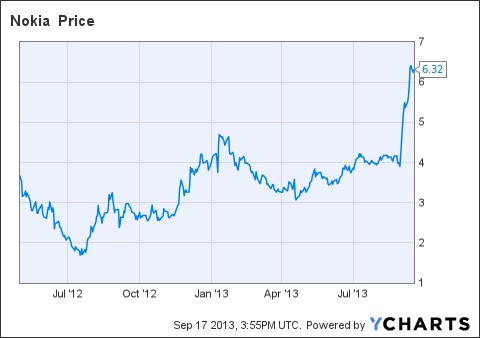 Green Shoots
During this time, most of the hope for explosive growth was for Windows Phones to catch on and start grabbing market share. This has been slow going with both Nokia and Microsoft throwing money and resources at the problem.
After several false starts, Windows Phone has slowly been gaining momentum, and there are many positive signs in a short space of time.
Some of the recent highlights are:
· 8.2% share in Europe
· 11% share in France
· 15% share in New Zealand
· Number 2 in India
· 270 million transactions per month
· 3rd most popular platform in the US
Taken individually, each of these news items are reason for cheer. Taken in totality, it points to a momentum shift worldwide in all major markets - Windows Phone is finally catching on.
For anyone who's used it, this shouldn't come as a surprise, it has excellent customer satisfaction scores, and a quick glance at reviews on popular sites, such as Amazon (NASDAQ:AMZN), shows overwhelmingly positive reviews.
Taking over the reigns
Now that Microsoft has bought Nokia's phone division, it will be driving the growth from here on out. The opportunity for shareholder growth is not as spectacular at Nokia. At current prices, Nokia is a $20 billion dollar company, and Microsoft is north of $200 billion. Windows Phone can still add significantly to Microsoft's bottom line, but it can't reach the peaks that Nokia could.
Momentum
As I've demonstrated, Windows Phone has great momentum and is gaining in many markets worldwide. The question is, can Microsoft transition the goodwill that Nokia has created and continue to drive sales forward? I believe it can; the Nokia division comes with 32,000 staff, a big resource. It is unlikely this number of new employees will just be swallowed up within Microsoft, and hopefully, they will be given enough freedom to work to their strengths. Nokia has produced some of the most beautiful phones to hit the market in recent times, and if the continued fevered calls for an Android version are anything to go by, a lot of people have taken note of what has been coming out of Finland.
With Microsoft running the show, a lot of doubts are removed; there will be no cash flow problems, it will be committed for many years to come, and it will not change strategy mid-stream and produce an Android version.
With Nokia's capabilities in-house and the software more aligned with the hardware, there is no reason why Microsoft cannot continue the good work that Nokia has started.
Headwinds
I would be remiss if I didn't consider some of the headwinds that may scupper the continued growth, Microsoft has a spotty record, with major purchase and with divisions run as individual fiefdoms. Sharing has been as difficult as two brothers trying to play nice together. Hopefully Microsoft has learned from its mistakes, and with recent changes, it looks like it is trying to have its units more closely aligned going forward.
Google (NASDAQ:GOOG) has seen the threat that Windows Phone presents and has been trying to strangle the operating system almost since birth. Some of these tactics are close to anti-competitive, but with no major investigations pending, it seems that Google can continue with this tack. Google still hasn't published an updated advertising SDK, despite promises, for Windows Phone 8, resulting in a lack of ads for growing app sales on the platform. If the platform continues to grow, Google may have to rethink its position lest it misses out on potential profits.
Conclusion
If, like me, you have followed the Windows Phone story over the past couple of years, you should come to the conclusion that, barring any serious missteps, it will continue to grow from here on out with Nokia in the Microsoft fold. Taking some profits from recent Nokia gains and investing them in Microsoft could give rise to some healthy gains in the next year or two, and in this case, a sick bag will not be required for those hair-raising swings that Nokia shares have so often delivered.
Disclosure: I am long NOK. I wrote this article myself, and it expresses my own opinions. I am not receiving compensation for it (other than from Seeking Alpha). I have no business relationship with any company whose stock is mentioned in this article.