Year to date, Nike's (NYSE:NKE) share price has gone up by 32%. NKE is now more expensive than it has ever been. Can this high price be justified or should investors steer clear of NKE at these price levels? In this article, I will look at NKE's revenue, earnings, dividends and valuations in an attempt to discover whether or not right now is a good time to buy NKE.
Revenue and earnings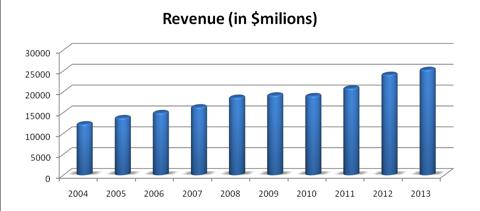 Between 2004 and 2013, Nike's revenue has gone up from $12.25 billion to $25.31 billion, giving it a very decent average annual revenue growth rate of 8.4%. In the 2009-2013 period, revenue has grown 7.2% per year on average. For fiscal year 2014, revenue is expected to grow to $27.56 billion, which is 8.9% higher than in 2013.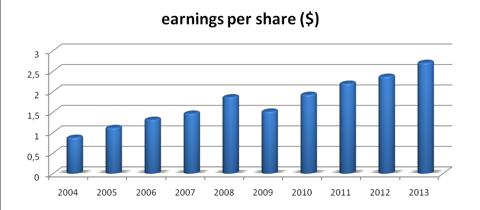 Earnings per share dropped to $1.52 in 2009, but have grown at a very decent rate since then, reaching $2.71 in fiscal year 2013. This gives NKE an average yearly EPS growth of 15.55% between 2009 and 2013. Analysts expect EPS to reach $3.02 in 2014 and $3.46 in 2015. The next graph shows the change in revenue and EPS compared to the previous year. It clearly illustrates the amazing growth Nike has been able to archive over the past decade.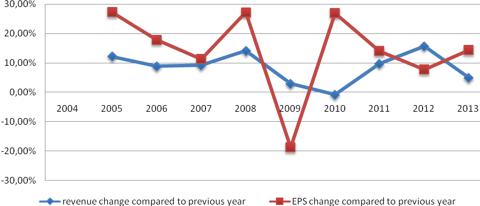 Dividends and share buy-backs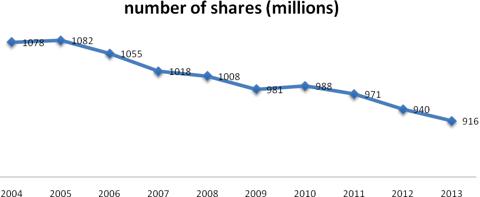 Nike returns a lot of money to its shareholders by share buybacks. Nike's board of directors approved an $8 billion share buyback program in September of 2012. In fiscal year 2013, Nike repurchased 33.5 million shares for $1.7 billion, paying an average price of $50.75 per share.
Over the years, NKE's dividend has steadily grown, going from just $0.17 in 2004 to $0.81 in 2013, an average yearly increase of just under 19%. In recent years, NKE's payout ratio has been around 30%, leaving plenty of room to grow. Nike's dividend is protected by a great financial position - NKE's most recent quarterly report shows it has just over $6 billion in cash and short-term investments. Over the past 5 years, Nike's current ratio (current assets divided by current liabilities) has gone from 2.97 to 3.47.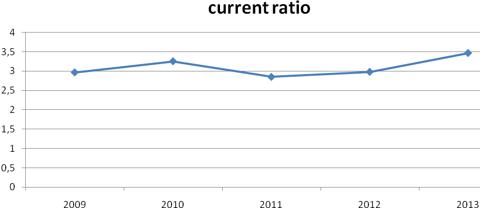 Valuation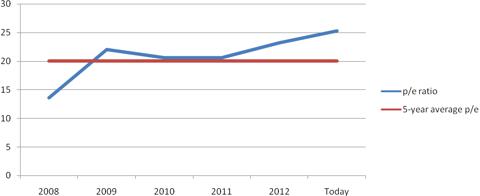 Nike is pretty expensive at the moment, with a price to earnings ratio of 25.3, compared to its 5-year average of 20.0. At the current price of $68.16 per share, Nike is now valued at 22.6 times this year's expected earnings and 19.7 times expected earnings in 2015.
On a price to sales ratio, NKE is also valued a lot higher than in recent years. The recent growth in NKE's share price has pushed the p/s ratio to 2.5, while its 5-year average is at 1.8.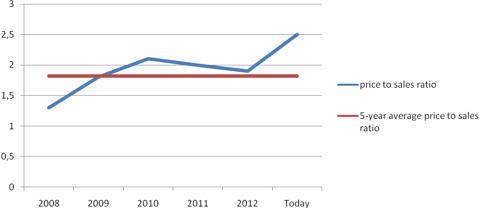 Conclusion
Nike's large yearly dividend increases and its extensive share repurchases make it an interesting stock for dividend growth investors. However, in the past 12 months, its price per share has increased by 39%. It's now very close to its 52-week high of $68.67. Both on a price to earnings ratio and on a price to sales ratio, NKE is now a lot more expensive than in recent years. If NKE's p/e goes back down to its 5-year average, I will consider adding it to my portfolio. Earnings for the current fiscal year are expected to reach $3.02. With the 5-year average p/e at 20.0, NKE looks like a good buy at $60 or lower.
What's your opinion on NKE? Please comment below!
Disclosure: I have no positions in any stocks mentioned, and no plans to initiate any positions within the next 72 hours. I wrote this article myself, and it expresses my own opinions. I am not receiving compensation for it (other than from Seeking Alpha). I have no business relationship with any company whose stock is mentioned in this article.