"Robots On The Move"
Recent Developments at Robot Makers iRobot (NASDAQ:IRBT) and Adept Technologies (NASDAQ:ADEP) Represent Undervalued Opportunities in the Robotics Market
Over the past 10 years, robots have started to make commonplace appearances in the everyday workplace and more controversially, on the battlefield. Robots are now performing many hazardous, repetitive and thankless jobs, which range from bomb disposal in Afghanistan to exploring the damaged Fukushima nuclear power plant in Japan, to vacuuming mounds of pet hair in the home or mopping the floor after a spill.
With robot designs becoming ever more advanced, such as DARPA's Atlas or Honda's Asimo, the notion that robots are typically cumbersome, expensive big ticket items is fast becoming a thing of the past. Much like personal computers, cell phones and other technology, robots will benefit not only from being designed and refined for everyday use but also from other innovations, such as 3-D printing.
But what this also proves is that robots can indeed be commonplace and cost effective. The pioneer of the robot in the home, iRobot (IRBT $37.48 +$1.25) is currently the best-known standout in the space. First having introduced the Roomba robotic vacuum back in 2002, the company now stands out for being one of the premier domestic and commercial robot manufacturers.
Recently, very interesting news has started to come out on iRobot. On September 9, Susquehanna Investment Group initiated coverage on iRobot, setting a price target of $40. This coverage has been no doubt spurred by what has been a very busy summer for the company.
iRobot introduced two new robots, a floor mopping robot and a video teleconference aide robot. It also announced that a key preliminary injunction was filed in a German court against two Chinese robotic vacuum makers, asserting that five key patents were violated and that their products were too similar to iRobot's Roomba.
"iRobot has made significant investments to protect its intellectual property. The company has sold more than 10 million home robots worldwide and intends to protect its patent portfolio by the appropriate means available domestically and abroad," said Colin Angle, chairman and chief executive officer of iRobot in a statement regarding the injunction.
iRobot's patent portfolio contains more than 200 U.S. patents and 195 non-U.S. patents. The injunction also comes on the heels of key contract wins for the company to supply robots for military and law enforcement authorities in the U.S. and Brazil, which will be worth over $37 million dollars.
iRobot provided guidance for the rest of the year that provided an estimate for earnings at around $.80-$1.00 per share for 2013, up over 25% from last year's $0.57 - $0.72. The company estimated that revenue would grow in the neighborhood of 5% and that the still-expanding international market for iRobot will play an important part in revenue going forward. International markets comprised 66% of the company's Home Robot revenue and will continue to garnish numerous international military and security robot orders as much as they will for household robots.
iRobot also noted that Defense Department orders for spare parts, service and training to support the fleet of 5,000 iRobot unmanned ground vehicles currently in service also helped to move defense & security revenue higher. Most importantly, what this does is set the stage for iRobot to become a major contractor to serve military and security robots with a suite of parts and services in the future.
Technical Analysis by Harry Boxer (thetechtrader.com)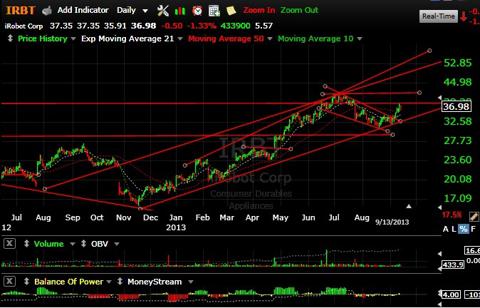 iRobot experienced a very strong run from the November lows near $16 to a nominal new ALL TIME high over $41 at the end of June, a run of over 150% in just 7 months. At that point it experienced a substantial retracement to retest support near the $31 level and snapped back from that level to near $38 last Thursday. It is our belief that once & if the resistance zone & multiple highs near $40-41 are taken out with a price/volume surge we estimate IRBT's next targets near $44-$48 then beyond the $50 mark.
Although not nearly as groundbreaking or as well-known as iRobot, Adept Technology (ADEP $5.81 +$0.01) produces a suite of robots that specialize in production and manufacturing, which differs from iRobot's more eclectic suite of robots. Adept opened a new automated application and testing center in New Hampshire early in September, this allowed the company to have a key selling point that borrowed from iRobot; the ability to see its line of robots in action firsthand and for customers to see what a robot can do in everyday life.
"We are very excited to have this demonstration center in Amherst for our customers located on the east coast of the United States," said Merrill Apter, vice president of North American sales. "It is an ideal location within close proximity to many Adept end-users and system integrator partners accessible from several airports. The facility has all the capabilities of our other technical centers and is staffed by Adept Application engineers who have extensive expertise in flexible manufacturing, primary and secondary food packaging."
What makes Adept Technology unique in this space is that much like iRobot it is looking to transform its company by trying to make its business model more contractor-like for steadier revenue. With robotics companies only beginning to adopt a contractor-like business model with their clients to not only be profitable but consulting services to help customers grow their business with the use of robots, an additional service feature that helps foster goodwill with customers.
Recently, Adept Technology has also shown improvement in revenue. Although the sector has slowed due to the global economic slowdown, there seems to be a renaissance of robot stocks on the horizon. While Adept Technology's concentration focuses on industrial production robots, it should be noted for its move into robot control software systems with the release of the ePLC Connect Server. PLC-based robot control software product enhances efficiency and productivity for robots, which gives Adept Technology another potential revenue stream.
Q4 Revenue of $13.7 million increased 25% as compared with $10.9 million in the 2013 third quarter and was down 19% compared to $17.0 million in the fourth quarter of 2012. Gross margin of 46.0% expanded 3% over 42.7% reported in the 2013 third quarter and 5% over the prior-year's 41.5% fourth quarter. Operating loss was $242,000, a $1.6 million improvement over the 2013 third quarter operating loss of $1.9 million and $0.3 million better than the fourth-quarter 2012 operating loss of $531,000.
Commenting on fiscal 2013 fourth-quarter results, Rob Cain, President and CEO, noted, "Fiscal 2013 was a year of transition for Adept, in which we embarked on a major restructuring. Our efforts have yielded initial favorable results, as we begin to stabilize and grow the business."

"By partnering with our key suppliers on a cost reduction program as well as focusing on higher margin products and services, we increased fourth-quarter revenue, gross margins, adjusted EBITDA and our net operating results on a sequential basis."
Adept's cash and cash equivalents at the end of the 2013 fourth quarter totaled $6.3 million, compared to cash and cash equivalents of $6.7 million at the end of the 2013 third quarter. The decline in cash was predominantly due to increases in accounts receivable and inventories, which were partially offset by an increase in the company's accounts payable. For the fourth quarter, accounts receivable increased to $10.8 million from $8.9 million in the 2013 third quarter.
Technical Analysis by Harry Boxer (thetechtrader.com)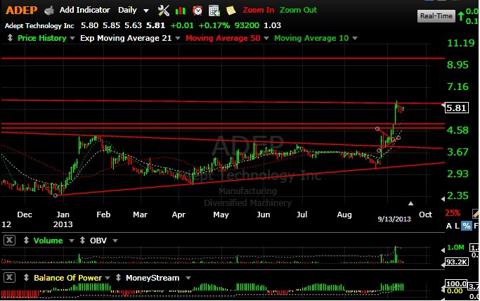 Adept Technologies experienced a strong price /volume surge in August that exploded it out of its year-long coiling type base pattern, as it surged more than 100% in just two weeks to test the April 2012 yearly high before backing off to consolidate last week. We feel the current consolidation may be just the pause that refreshes and that ADEP is destined to go past the KEY short-term resistance near 6.25-.50 & head substantially higher. Our targets are set at $9 shorter term, then 12 on an intermediate basis, followed by a longer-term move to over $16+
As more of today's manufacturing and security functions are performed by autonomous robotic entities, companies such as iRobot and Adept Technology stand to benefit from being the pioneers in this field. More importantly, the fact that investors can look to get into the pioneers of this field at these price levels should appeal to investors who want exposure to a sector that is looking to grow to as much as $37 billion by 2018, and has yet to scratch the surface as far as international growth.
That is why we believe that one of the hottest areas that will experience positive growth in the future will be the robotics field. We also believe that other private and publicly traded robotics companies will also participate in securities offerings, especially with Title II of the JOBS Act being finally implemented later this month.
Compared to privately owned robotic companies such as General Atomics, iRobot and Adept Technology should be seen as case studies of how the robotics market will unfold in the public markets, along with being two of the prime, underpriced publicly traded opportunities in this growing market.
Disclosure: I am long ADEP. I wrote this article myself, and it expresses my own opinions. I am not receiving compensation for it. I have no business relationship with any company whose stock is mentioned in this article.
Additional disclosure: I was assisted by my Associate Editor Anthony Orbanic