Lorillard Inc. (NYSE:LO) is the market leader in the e-cigarette business and is trying to expand this market with innovative products. It has launched a new rechargeable kit for e-cigarette users and also is planning to expand its e-cigarette distribution to Canada. The company also has performed well on the volume front due to its Newport brand. Newport is a premium menthol cigarette brand, which is now launching new non-menthol products that will help volume further. The company will face the major risk of a Food and Drug Administration decision regarding menthol regulation that easily can affect its future sales.
Blu e-cig: new rechargeable kit and entry into new market is expected to lift sales
Lorillard Inc. acquired Blu e-cig, an e-cigarette maker, in April 2012 for $135 million. E-cigarettes are an alternative to traditional cigarettes and a fast-growing category. Lorillard is the market leader in this category with a 40% market share.
Lorillard has expanded Blu's distribution to an additional 30,000 retail outlets in the second quarter. The company has reported $57 million in sales and $2 million in operating margin in the second quarter 2013. Because the company was planning to launch a new rechargeable kit for e-cigarette users, it had stopped shipment of the old rechargeable kit to wholesalers in order to reduce inventory. Therefore, sales of e-cigarettes were flat in the second quarter.
Altria Group (NYSE:MO), one of the competitors and another big player in the tobacco industry, has entered the e-cigarette market by launching MarkTen. Lorillard's new rechargeable kit will be competing against these new products. In addition to a new rechargeable kit, the company signed a distribution agreement and is expanding Blu's distribution in Canada in 3Q13.
Volume performance continues to outperform peers and industry
The company reported volume decline of -1.9%, compared to -3.5% a decline in Altria Group and -4% decline in the industry overall.
| | | | |
| --- | --- | --- | --- |
| Company | LO | MO | Industry |
| Volume | -1.9% | -3.5% | -4% |
Volume performance was driven by the Newport brand. Newport is the menthol-flavored premium cigarette brand that accounted for more than 80% of the company's share.

Source: Lorillard Investor Day Presentation
The company has major business in the menthol segment, but it is moving into the non-menthol segment, also. It has received U.S. Food and Drug Administration [FDA] authorization for launching its new Newport "Non-Menthol Gold Box" and "Box 100" products. Lorillard is the first company to get authorization for a new tobacco product through the FDA substantial equivalence [SE] pathway. Newport volume growth will be accelerated further by these new products.
FDA results will affect sales negatively
The FDA has been investigating and reviewing menthol cigarettes for some time. A recent development in this investigation is an FDA Advance Notice of Proposed Rulemaking [ANPRM], a scientific assessment of menthol. ANPRM has not indicated any big evidence that menthol cigarettes are riskier than non-menthol. The ANPRM is available for public comment for 60 days. The FDA will make a decision after reviewing all data, comments, reviews, etc. Strict action on menthol will affect Lorillard sales because the company has the highest exposure to this segment.
Compared to the company's peers, Altria Group and Reynolds American (NYSE:RAI), Inc., Lorillard has more than 80% of its sales coming from the menthol segment.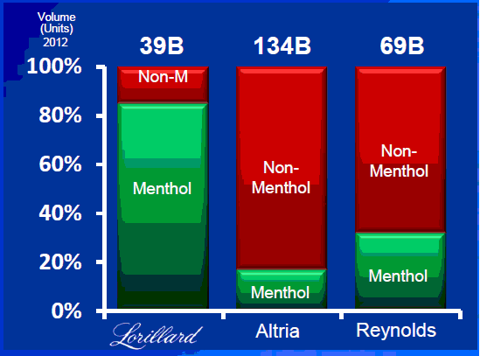 Source: Lorillard Investor Day Presentation
Peer analysis:
| | | |
| --- | --- | --- |
| Company | P/E ratio | Dividend yield |
| LO | 12.51x | 5% |
| MO | 13.61x | 5.6% |
| PM | 14.53x | 4% |
Lorillard is trading at a very low P/E of 12.51x, compared to its peers Altria Group and Philip Morris (NYSE:PM). Its dividend yield is also moderate, which is a good sign. Altria Group has the highest dividend yield of 5.6%. Philip Morris is not a very good option, with the highest P/E of 14.53x and lowest dividend of 4%.
Conclusion:
E-cigarettes are a great opportunity, and Lorillard is trying to exploit it. Its Blu e-cig, e-cigarette brand has added $57 million in sales this quarter, and it has launched a new rechargeable kit in this segment that will help to increase same-store sales. The company also has launched a new non-menthol product that will help the company lift volume. Another important thing is the FDA's decision on menthol, but the FDA has not given any information regarding menthol regulation. Although the new rechargeable kit and the new non-menthol product will uplift sales, any strict action by the FDA will affect sales negatively. I recommend hold.
Disclosure: I have no positions in any stocks mentioned, and no plans to initiate any positions within the next 72 hours. I wrote this article myself, and it expresses my own opinions. I am not receiving compensation for it (other than from Seeking Alpha). I have no business relationship with any company whose stock is mentioned in this article.