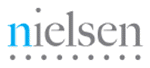 The average online American visited 87 web domains, had 53 internet sessions, surfed 2,645 pages and spent 57 seconds per page in September 2009, according to data from The Nielsen Company.
click to enlarge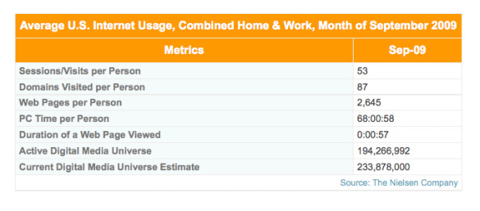 This data remains relatively unchanged from the number of sessions (51) and domains (88) visited in June, the last 30-day month for which Nielsen reported web-use statistics. During that period, the average US web user had 51 sessions and visited 88 domains. The number of pages surfed is up slightly in September.
Top 10 Parent Companies/Divisions
Nielsen also provided September data for the top parent companies/divisions and top web brands.
Not surprisingly, Google(NASDAQ:GOOG) remains the top parent company, with 153.9 million home and work visitors to at least one of its sites or who launched Google-owned application during the month. Each person spent, on average, a total of 2 hours and 36 minutes at one or more Google site or applications.
Microsoft (NASDAQ:MSFT), Yahoo (NASDAQ:YHOO), Facebook, and AOL round out the five. News Corp. (NASDAQ:NWSA), which ranks at #6, was recently supplanted by Facebook on this list.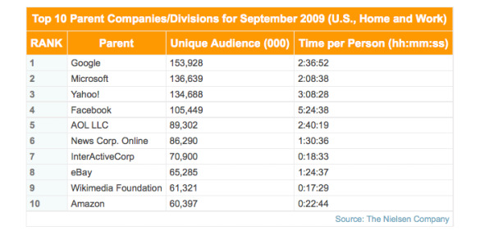 Top 10 Web Brands
Google also continues to top the list of web brands with the largest unique audiences. Google saw 144 million unique visitors in September 2009, each of whom spent an average of 1 hour and 53 minutes the site. These visitor numbers are down from June 2009, though the time spent on Google sites has increased. Google saw 147 million uniques in June, with each visitor spending more than 1 hour and 40 minutes.
Yahoo, MSN/Windows Live/Bing, Facebook and YouTube round out the top five.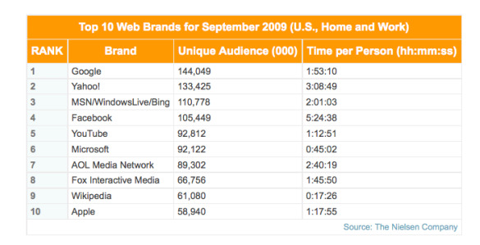 Facebook which now ranks at #4, had 105.4 million unique visitors in September, each of whom spent an average of 5 hours and 24 minutes on the social network. This is up significantly from June, when Facebook ranked at #7, with 87.2 million visitors and average monthly time spent at 4 hours and 39 minutes.