By G.C. Mays,
The stocks of North American fertilizer producers Potash Corp. (NYSE:POT), Mosaic (NYSE:MOS), and Agrium (NYSE:AGU) have surged recently, amid the a sale of a large stake by Investor Suleiman Kerimove to investor Vladimir Kogan for $3.7 billion. Investors believe this marks an end to the fall in potash prices. However, potash inventories continue to pile up as dealers express a continued reluctance to take on risk given the decline in crop prices. As Figure 1 illustrates, potash inventories in North America are above year-ago levels and the five-year average.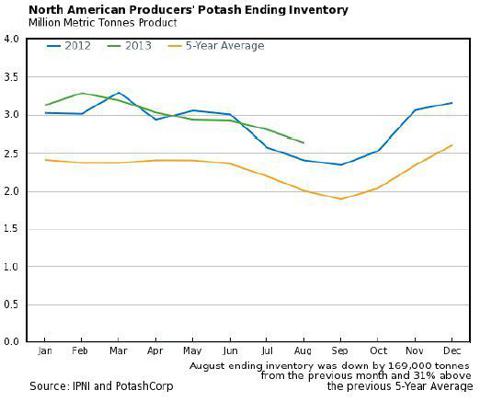 Additionally, Mosaic has lowered its potash sales estimates for its calendar third quarter to 1.45 to 1.65 million metric tons. Original estimates for the quarter were for 1.8 to 2.1 million metric tons. The company lowered its average sales price and gross margin estimates as well. The company narrowed its average price range from the high end as it lowered its 3rd-quarter estimate to $330 - $340 per metric ton from the $330 - $360 per metric ton originally announced. Gross margin estimates went from the mid-to high 30s to the low-to-mid 30s.
The company cited slack demand from dealers caused by the breakup of the Belarusian Potash Company, the joint venture controlled by OAO Uralkali (OTC:URALL) and Belaruskali. However, we can trace dealer reluctance to take on inventory back to the calendar fourth quarter of 2011. I reported this as a part of my analysis of Mosaic's fiscal 2012 2nd-quarter earnings in an article entitled "Mosaic's Q2 Yields Higher Earnings, But Q3 Customer Slowdown Looms." At the time, average prices received by Mosaic for potash had jumped more than $100 per metric ton year over year and dealers were becoming afraid to take on price risk as they did in 2008 before the market tumbled.
The last time Mosaic's potash business earned gross margins below 40 percent was in the first quarter of the company's 2010 fiscal year. Prices at that time averaged $354 per ton. In the company's fiscal 2013 year-end press release the company expected to cut production at its Colonsay mine. Potash Corp. also announced potash production cuts with its Q2 earnings release. It planned to cut production for six weeks at its Cory mine as well as run its Lanigan and Rocanville mines at reduced rates for the rest of 2013. Figure 2 illustrates that August production was 12 percent lower than in July and 5 percent below year-ago levels.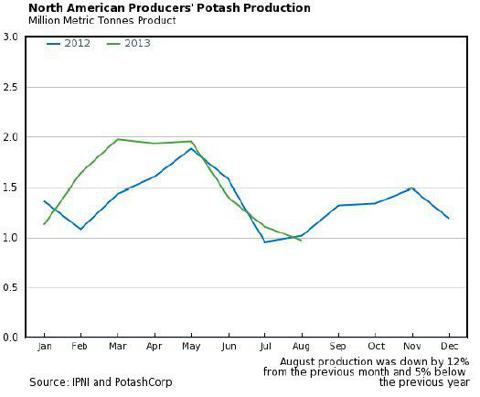 Exports are also down by 48 percent from the previous month and 16 percent year over year as North American producers must also deal with India's ongoing economic problems as well as increased price competition from OAO Uralkali and Belaruskali in the Chinese market.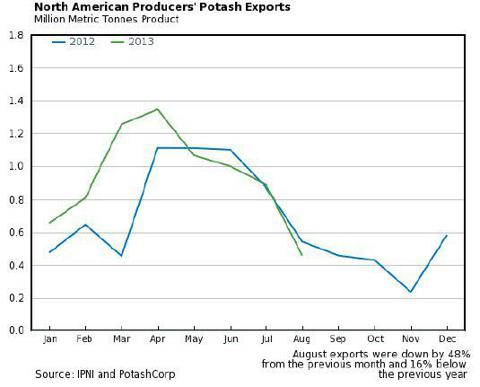 On September 16, in an article entitled "Overall Producer Prices Rise But Prices For Food And Fertilizer Tumble," I wrote that the joint venture breakup and all the rumors that have followed had overshadowed market fundamentals. In my opinion, the most recent data released on North American potash inventories and production illustrate that this bottoming process is not over by far.
Disclosure: I have no positions in any stocks mentioned, and no plans to initiate any positions within the next 72 hours. I wrote this article myself, and it expresses my own opinions. I am not receiving compensation for it (other than from Seeking Alpha). I have no business relationship with any company whose stock is mentioned in this article.