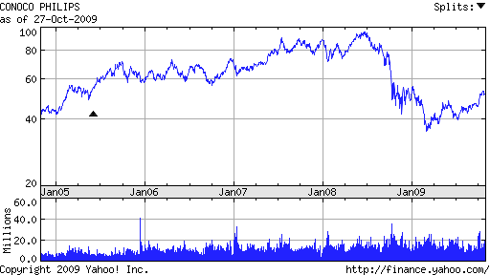 The ConocoPhilips (NYSE:COP) quarterly earnings conference call was noteworthy for a couple of different reasons. First, the company seems to be taking logical steps to address its debt issues in light of new realities. Although several oil analysts suggested COP would sell off its Lukoil (OTC:LUKOF) stake, company executives took any potential Lukoil divestitures off the table:
(Conference call remarks in bold type)
Paul Sankey: Great. And then, if I could just clarify an early question. We are saying that you will not be selling out of any of the Lukoil state? Thanks, I will leave it there. Thank you.

Jim Mulva (CEO): Well, what I said is, we will maintain our strategic relationship with Lukoil.

Sig Cornelius (CFO): I think we said also that the $10 billion in asset sales don't include any of the Lukoil share.
This is good news. The COP/LUKOF relationship has been very beneficial for both companies and is a future production growth vehicle.
Secondly, production is growing. Including LUKOIL, total production was 2.2 million BOE/day - up 40,000 BOE per day over last year.
Next, the company is committed to dividend growth:
Jim Mulva: We think and believe that annual increases in dividends is a very important discipline for our company and is recognized and our shareholders like to see that.
The one issue I still don't understand about the company is Jim Mulva's refusal to be an outspoken advocate and strongly embrace natural gas transportation. Instead, like other international oil company executives, Mulva continues to site "access" as a big issue:
Jim Mulva: … And then the other very important point is access continues and will be an issue for companies like ConocoPhillips and international oil companies.
But what Mulva is talking about here is really access to oil. COP has tremendous access to abundant natural gas reserves in Alaska, the lower 48, and worldwide. The relative underperformance of the company's stock is a direct result of greater exposure to lower natural gas prices than its peers. Further, under Jim Mulva, COP has invested much of its treasure in Burlington Resources and Origin (OTCPK:OGFGF) in order to gain exposure to natural gas.
Since the shale plays have been, and will continue to be, a game changer in this space, why doesn't Mulva join other natural gas advocates like Hefner, Pickens, and McClendon and embrace natural gas transportation in America? Certainly COP will continue to profit from the fundamentals of oil supply/demand and the continuing ramping up of gasoline powered vehicles in China, India and Asia in general. This is validated by a $75/barrel price during a period of brimming oil inventories coincident with the worst financial downturn since the Great Depression.
So, Jim, if you're worried about natural gas transportation hurting your oil profits – don't be. You should be a patriotic American and do the best thing to help turn your country and your company around: support natural gas transportation. It is the best way to save your legacy and increase the return on your natural gas investments. Instead of being criticized for over-paying for natural gas assets, you would instead be viewed as an energy and ecological visionary. Otherwise, natural gas demand in the US will continue to stagnate. Supply is the turn of a valve away, and natural gas prices will remain pressured for years to come.
In the final analysis, COP remains an extremely attractive investment at current levels. With a dividend close to 4%, a wealth of oil and natural gas assets and an extremely bullish outlook for energy in general, Conoco is well positioned for future earnings growth. That said, the company would fire on all cylinders if America got serious about addressing the economic, environmental and national security issues facing it as a result of its imported oil crisis and adopted natural gas transportation. As a patriotic American and in the best interest of shareholders, ConocoPhilips CEO Jim Mulva should embrace that effort.