Although the consumer is still relatively strong, the restaurant sector has been pretty mixed lately. Some companies have been able to do quite well in this environment, and see their share prices surge, while others, such as Ruby Tuesday's (NYSE:RT), have definitely struggled.
Ruby Tuesday's in Focus
Ruby Tuesday's is best known for its lineup of casual dining restaurants under the Ruby Tuesday brand name. The firm has about 800 restaurants in total, including several dozen international locations as well.
Ruby Tuesday's saw strong growth and was a consumer darling leading up to the financial crisis — thanks in large part to their solid menu and salad bar — but it hasn't really recovered from the Great Recession. The stock is flat over the past five years, while competitors like Darden (NYSE:DRI) or even McDonald's (NYSE:MCD) have seen strong gains.
While the others have adapted to changing consumer tastes and have managed to expand operations, Ruby Tuesday's has stagnated and now its earnings picture is in trouble.
RT Earnings in Focus
Ruby Tuesday's has a pretty terrible track record when it comes to earnings season. The company has missed estimates in two of the last four quarters, and both misses were by more than -30%. The last quarter was especially poor, as the company missed expectations and posted earnings that were less than the year ago time frame.
Revenues were also weak for the quarter, as these slumped by about -4.6% (yoy). These also missed estimates, further showcasing the sluggishness in RT lately.
Thanks to this decline and concerns over the company's near term future, analysts tracking the stock have been slashing their estimates for RT's future. In fact, estimates for the current quarter have fallen from seven cents a share 60 days ago to negative four cents a share today. The current year figures aren't any better, as these estimates have slumped from 36 cents a share two months ago, to just eight cents a share today.
Clearly, the prospects are quite poor for RT in both the near term and the long term. Thanks to this, we have assigned Ruby Tuesday's a Zacks Rank #5 (Strong Sell), and are looking for the company to underperform in the months ahead too.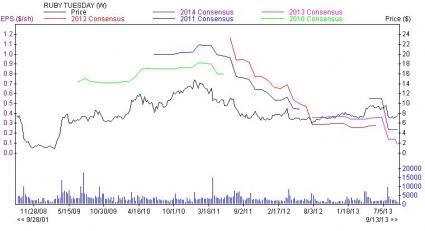 Other Picks
If investors are dead-set on investing in the restaurant sector, there are several better choices available. While there are no #1 Ranked stocks at this time, there are a handful of #2 Ranked securities, any of which could be solid choices in this market segment.
In particular, AFC Enterprises (AFCE), Domino's Pizza (NYSE:DPZ), or Famous Dave's (NASDAQ:DAVE), could be intriguing picks. That is because, not only do all of these have Zacks Ranks of 2, but they have seen their ranks surge from hold ranks (or worse) into buy territory in just the past week, suggesting now could be the time to give these companies a closer look, especially when compared to the chronic underperformer of Ruby Tuesday's.