Avocado consumption continues to grow in the U.S. as the food finds its way into more dishes across the country. However, growers and producers of the commodity have been relatively sluggish as of late, best represented by one of the top names in the business, Calavo Growers (NASDAQ:CVGW).
Calavo in Focus
Calavo is a small-cap based out of California that is involved in a number of farm products. The company has a focus on avocados, and also guacamole, in addition to a small lineup of other perishable commodities like papayas and pineapples.
The firm has a decent long-term performance, as the stock is up by more than 41% in the past two years, though recent trading has been choppier. In fact, until a recent earnings report, CVGW was under pressure after a short string of earnings misses sent the stock price reeling. However, the most recent earnings report sent the stock soaring, and gave new hope to investors to close out the year.
Recent Earnings in Focus
In the most recent report, Calavo crushed estimates reporting earnings of 48 cents a share compared to a projection of 37 cents a share. Revenues were also strong - rising by more than 25% (yoy) - while the company appears well positioned to steal share in the avocado segment going forward.
This solid beat and the decent outlook for the near term are causing many analysts to reevaluate their opinions of the company. Now, analyst predictions for the firm's earnings have skyrocketed, as there is total agreement for the firm in both the current year and next year periods.
Thanks to these changing perceptions, the company is now a Zacks Rank No.1 (Strong Buy) stock. This means that we are looking for the company to continue its recent run higher, and outperform in the coming months as well.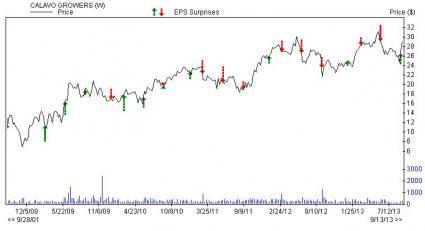 Strong Industry Too
If the positive developments taking place in the company aren't enough, you should consider the firm's industry as well. The agricultural operations segment currently has a Zacks Industry Rank of 14 (out of 260), putting the segment into elite company. So, not only is CVGW a strong play, but there are positive trends developing in the industry as well, suggesting that now could be the time to get in on this space.
Bottom Line
Calavo is a leading producer and supplier of a number of food commodities that are in demand in the U.S. While it was facing some weakness earlier in the year, a strong earnings report put that to rest, and suggested that the company may be poised for more strength in the months ahead too.
After all, estimates have been jumping higher for CVGW as of late, and investors really liked what was said at the last earnings report. So consider now to be a solid time to get in on this small-cap company, which still has plenty of growth opportunities left in the surging agricultural operations market.
CALAVO GROWERS (CVGW): Free Stock Analysis Report (email registration required)