Salesforce.com (CRM) pioneered the use of cloud in Customer Relationship Management, or CRM, software and is continuing that pursuit. Last year the company had a share of 14% in the CRM market, topping the list of CRM vendors. The demand for cloud-based CRM software is increasing this year because of the increased usage of Software as a Service, or SaaS. The areas experiencing the demand for CRM are marketing, sales automation, and social media. Salesforce.com already has a presence in marketing automation through its service offering, Marketing Cloud, and it is strengthening this service offering by increasing the service functionalities.
It looks as if it hit the right target
Salesforce.com completed the acquisition of Exact Target in July this year to strengthen its email marketing services. Exact Target is into digital marketing and generates most of its revenue from e-mail and social media marketing. The email marketing services is a component of the "Marketing Cloud." This acquisition will further strengthen Salesforce.com in the marketing automation business. Exact Target adds digital marketing capabilities like personalized e-mail marketing, and when combined with Salesforce.com's Marketing Cloud, it will better enable the company to penetrate email, social, mobile, and web platforms. More than 6,000 customers worldwide use Exact Target's solutions.
The shift from offline marketing to online marketing is driving companies to spend more on email and social media marketing. The trend in online marketing spending is shown below.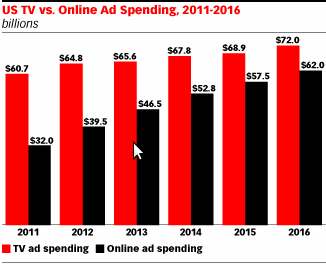 Source: eMarketer
As the online advertisement spending by various companies' increases, Salesforce.com's email customization services will provide additional revenue growth. According Radicati Group, the number e-mails generated per day last year was 144.8 billion out of which 89 billion, or 61.46%, were business emails. The numbers of business e-mails are expected to increase to 143.8 billion by the end of 2016. Emails are more effective than offline advertising mediums since they are easy to customize from customer to customer.
The Marketing Platform
The increasing demand for data analysis has led to the creation of the marketing automation platform. Salesforce's acquired Pardot from Exact Target to leverage the power of data and provide marketing solutions to its clients. Pardot, a marketing automation platform, helps companies execute and analyze sales and marketing decisions. The Pardot platform will create a larger market for Marketing Cloud; it will extend the marketing automation services offered to business to customer, or B2C, companies like Universal Music Group, Coca-Cola (KO) and Nike (NKE), etc. The increase in the usage of social networks, mobile devices and new digital technologies is leading a revolution in marketing spending.
Social media campaigns are becoming an increasingly important aspect in brand building and awareness for these companies. Marketing on social media is becoming a significant part of companies' marketing budgets. According to a survey by The Creative Group, around 62% of advertising and marketing executives are expecting to increase their spending on Facebook marketing over the next 12 months compared to 53% last year. This is the underlying driver for the Pardot platform, which has the ability to provide marketing solutions for businesses.
The competition
The closest competitors of Salesforce.com are SAP (SAP) and Oracle (ORCL). SAP acquired Hybris this year to compete in the CRM space. Hybris designed a platform that can provide various marketing and sales related functions across mobile and web platforms. Hybris served a customer base of around 500 during the time of its acquisition. Through this acquisition, SAP made its entry into the enterprise e-commerce business.
Oracle also made its entry into the marketing automation business through the acquisition of Eloqua in February this year. Eloqua is a marketing automation platform that helps in the implementation of marketing decisions. Eloqua and Pardot differ at multiple points. Eloqua has a built in "Social Suite" that helps extract, analyze and generate results from data available from social sites like Twitter, Facebook, etc. On the other hand, Pardot also scans data available on the social networking websites in its two versions, Pardot Enterprise and Ultimate Edition.
A second point of difference is the way these two software options provide analytics and reporting of data. Salesforce.com collaborates with another company, which develops the software for the analysis and reporting and incorporates it into the Pardot system. This results in a significant cost reduction for the Pardot system since the software development is carried out by another company. On the other hand, Eloqua's software for data analytics and reporting is developed by Oracle. The in-house developed software costs more since the company must employ resources. We find that the social marketing functionalities of both platforms have similarities, which could lead to competition between the two companies, but Pardot has the cost advantage.
Salesforce.com's Pardot platform is an effective tool for marketing automation at effective cost compared to its competitor. Although Salesforce.com has a lead on the development of marketing automation tools compared to SAP, it may receive stiff competition from Oracle.
As we have discussed, Salesforce.com is taking definitive steps toward capturing a large share of the overall marketing automation business. Its early entry will definitely provide the company an advantage over its competitors. According to Raab Associates, marketing automation is expected to reach $750 million by the end of 2013, registering a growth of 50% over last year. Looking at Salesforce.com's marketing automation initiatives, we expect that the company can capture more than 14% market share this year in the CRM business.
What we expect
| | | | |
| --- | --- | --- | --- |
| | PEG ratio | EV/EBITDA | Revenue Growth Rate |
| SAP | 1.33 | 11.67 | 12.00% |
| Oracle | 1.07 | 7.81 | 11.29% |
| Salesforce.com | 5.28 | 423.94 | 27.77% |
Source: Yahoo Finance
The above table shows that the PEG ratio of Salesforce.com is much higher compared to that of SAP and Oracle. Salesforce.com's growth is more than twice that of SAP and Oracle because the company is releasing products that are at par or better than the competition. We have seen how the company is tapping into the growing opportunity of business email. Also, the company's Pardot platform will help organizations automate their marketing functions. The Pardot platform is expected to receive wide acceptability among businesses because of its functionalities in social media data analysis and cost effectiveness. This definitive focus on the marketing automation business will drive the company into a high growth phase.
Disclosure: I have no positions in any stocks mentioned, and no plans to initiate any positions within the next 72 hours. I wrote this article myself, and it expresses my own opinions. I am not receiving compensation for it (other than from Seeking Alpha). I have no business relationship with any company whose stock is mentioned in this article.
Additional disclosure: Fusion Research is a team of equity analysts. This article was written by Rohit Gupta, one of our research analysts. We did not receive compensation for this article (other than from Seeking Alpha), and we have no business relationship with any company whose stock is mentioned in this article.