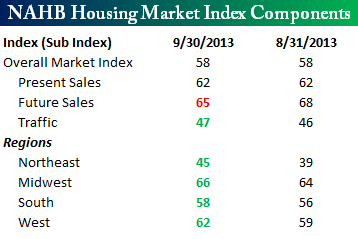 In spite of the fact that mortgage rates are rising to multi-year highs, homebuilder sentiment remained at its highest level since November 2005 this month. According to the monthly sentiment survey from NAHB, homebuilder sentiment was inline with forecasts and unchanged at 58 (anything above 50 indicates growth).
Looking at the individual components of this month's report shows a mixed picture. While present sales were unchanged at 62, future sales dropped from 68 down to 65 as higher interest rates are hurting sales prospects. Traffic, however, saw an increase from 46 to 47.
On a regional basis, sentiment was more positive, with every region showing growth. While the biggest gains came in the Northeast, where sentiment increased from 39 to 45, homebuilders in the Midwest are the most confident (66). In fact, homebuilders in that region are now more confident than they have been at any other point since at least 2005.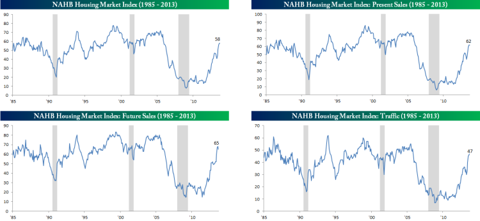 Click to enlarge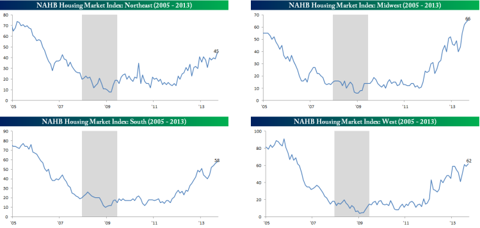 Click to enlarge