I've said it before and I'll say it again, 2013 has been the year of domestic stocks. Small and mid-cap domestic stocks are the hottest places to be in the market this year - for whatever reason.
Why? Sometimes, you just need to shut up and stop asking questions and go where the fish are biting!
This stuff can defy logic, but who cares if you're filling your sack with profits this year in 2013? Who cares if you're going against conventional wisdom, computer models, etc. - either way you're putting fish in your sack!
And they are good tasting fish, too, that are going to come in handy somewhere down the road when you retire or need to live off them.
Here are my top eight ranked asset classes from amongst the 45 that I track on a daily basis: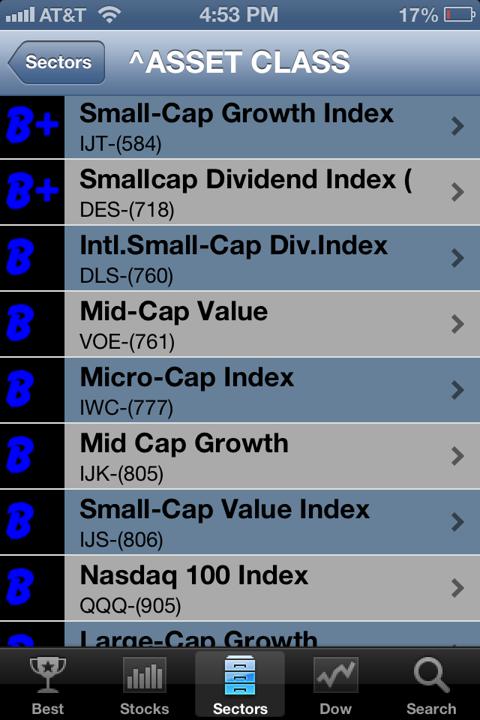 Data from Best Stocks Now App
Again, 2013 has been all about stocks. It has also been all about domestic stocks. It has also been all about small and mid-cap stocks. I have had no exposure to the bond market, the precious metals market, and or the emerging markets.
This has helped my returns tremendously this year. Being out of the wrong areas of the market is as important as being in the right areas.
For this reason, I am not an asset allocator. I believe in being in the best asset classes now, not the worst ones. This takes some extra work on my part, but it is well worth it.
Let me throw you a stock. A stock like Old Dominion Freight Line (NASDAQ:ODFL), another Best Stock Now! ODFL is a $3.9 billion mid cap with headquarters in Thomasville, NC, and a better track record than the Carolina Panthers. Sorry Cam Newton.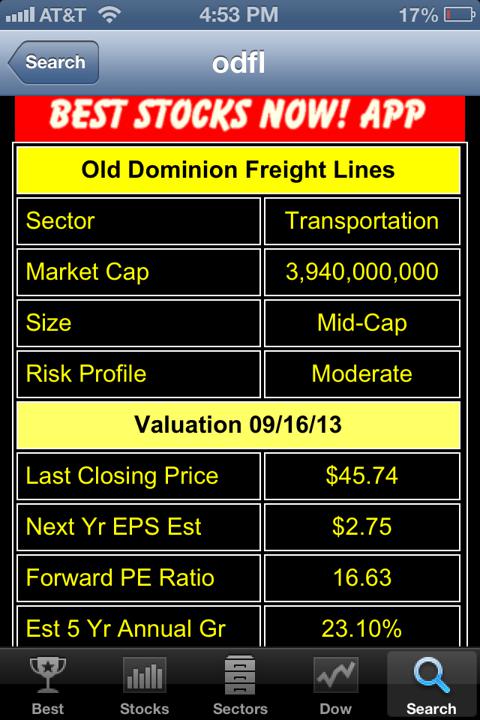 Data from Best Stocks Now App
Performance
Driving ODFL's performance all the while, we have management. How has the management at ODFL done over the years for its shareholders?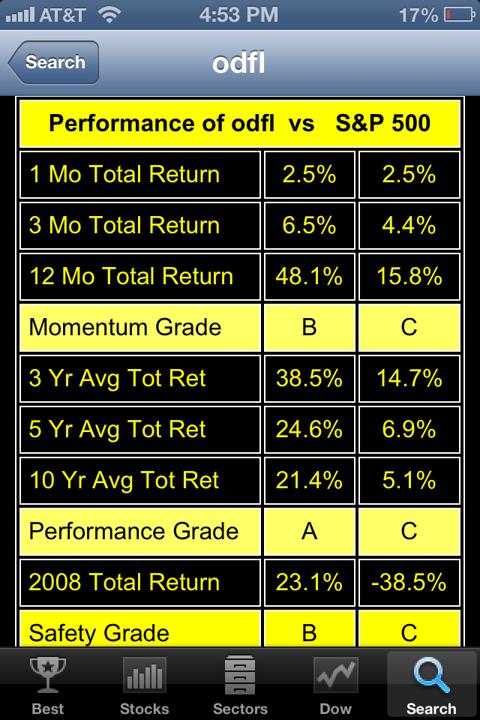 Data from Best Stocks Now App
Over the last 10 years, shareholders have received 21% per year returns on their investment in this trucker. Over the last five years, shareholders have received 25% per year while the market has only delivered 7%. Over the last 3 years ODFL has been trucking along at 39% per year. And over the last 12 months, ODFL is up 48% while the market is only up 16%.
ODFL gets a performance grade of A. The jury is still out on the Panthers this year.
Valuation
Now we move onto valuation because valuation is critical. This is my problem with Tesla (NASDAQ:TSLA). Tesla may have performance, but its valuation when compared against Ford, GM, Toyota, Honda, etc…well, it's rather astronomical! I'll allow you to do that comparison and ask yourself if you feel comfortable with the valuation of the shares.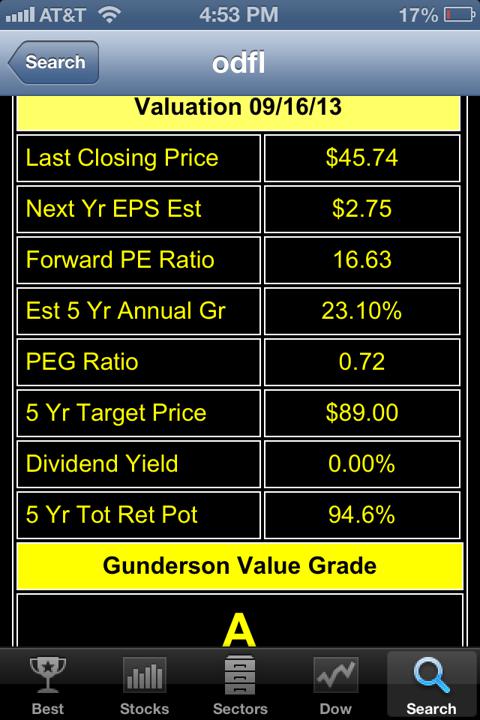 Data from Best Stocks Now App
ODFL is currently trading at 16.7 times forward earnings. It is expected to continue to grow its earnings by 23% per year over the next five years. ODFL is trading at a discount to its growth rate.
ODFL has a PEG ratio of 0.72. When I extrapolate out ODFL's earnings over the next five years, and apply an appropriate multiple, I come up with a five-year target price of $89 per share. ODFL is currently trading at only $46 per share. I give ODFL a value grade of A!
Stock chart
Last is that all important visual test before it goes off the line here and out to the consumers. Just the other day, ODFL broke out of about a three- to four-month consolidation and it has continued onto new all-time highs ever since.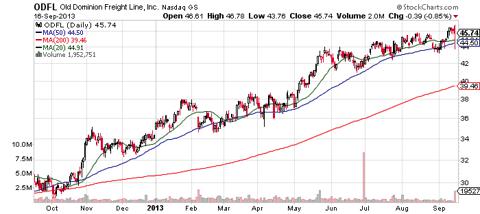 Out of 3,547 stocks I have in my database, ODFL comes in at No. 57 and it is a stock that I own here in my aggressive growth accounts. By the way, the aggressive growth portfolio in my newsletter is currently up over 29% year-to-date.
Old Dominion is not a recommendation, just another good example of a Best Stock Now!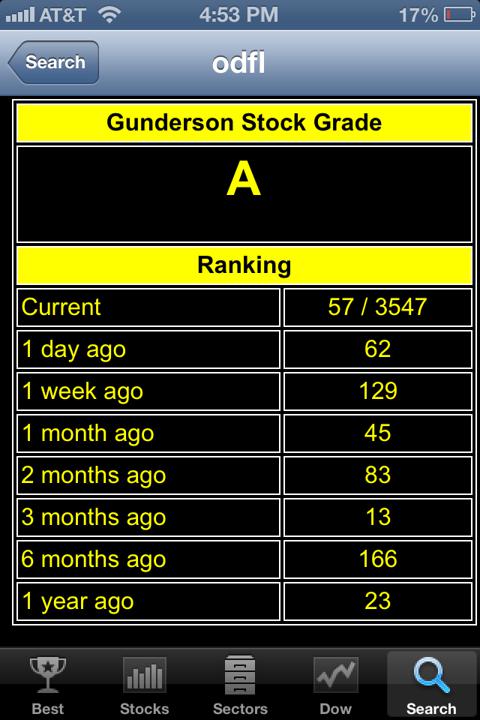 Data from Best Stocks Now App
Disclosure: I am long ODFL. I wrote this article myself, and it expresses my own opinions. I am not receiving compensation for it. I have no business relationship with any company whose stock is mentioned in this article.