There are several things a company can do with its money, if it wants to be branded a company that respects its shareholders.
Acquisitions
The first thing any company usually does with its spare cash is to acquire other companies. The goal is for EPS to increase and hopefully the price of the stock. Since cash these days earns next to nothing, an acquisition is the best way to increase earnings. At least that's what Warren Buffett has been doing all these years.
Well Microsoft (NASDAQ:MSFT) just announced that it is buying Nokia's (NYSE:NOK) devices division for about $7 billion. I think it made a good move and I think it will work out long term. Short term might prove a little tricky, but overall I think Microsoft will greatly benefit.
Dividends
Another thing a company does with its spare cash is to give it to shareholders in the form of a dividend. Many companies also give out a one time lump-sum dividend payment. Microsoft is doing its part and has continuously raised its dividend over the past several years.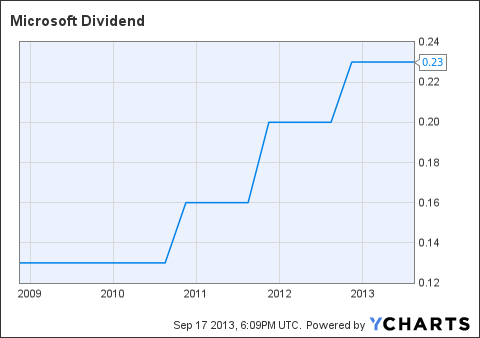 MSFT Dividend data by YCharts
In addition, the company just today announced it is raising its dividend one more time by $0.05 a share, to $0.28 per share. That's a 22% increase, and you don't get that every day. Thumbs up for the dividend increase from me.
Share repurchases
And last but not least, Microsoft also announced a $40 billion share repurchase program that will commence on September 30, 2013, when the previous repurchase program expires.
As far as I'm concerned Microsoft is doing everything by the book and probably everything that I would do if I were Microsoft's CEO (in another life). So I really don't understand what the "little bag of tricks" comment was all about in an article by thestreet.
I also don't understand why the market is selling the stock hands over fist tonight. The stock is barely moving on the dividend and share repurchase news. Volume, as I write this article stands at around 70 million shares, with the average 3-month daily volume being 52 million shares. It's as if everyone was waiting for this piece of news to dump the stock.
Granted management has made many mistakes, especially the $900 million tablet write-off fiasco, but everyone makes mistakes now and then. You just can't crucify the company. Besides, it does have spare cash to burn and make mistakes. It's not like it's life-threatening or something.
Bottom line
As far as I'm concerned Microsoft's management is doing right by shareholders, and is doing everything by the book. While I am not a big fan of the stock, and have only recommended it as a swing trade opportunity, if management becomes quite aggressive in repurchasing shares, I think the stock can get a good pop over the next 12 months.
And If I were Microsoft's management, I would complete the $40 billion repurchase as soon as possible and do it all over again (and again and again and again).
There is not much Microsoft can do with all this money. Going on a corporate buying spree will probably result is writing most of this money off, than increasing EPS in the future. So buying back its own stock is the next best thing when you can't find big enough companies to buy that will increase your EPS.
But in my book, if Microsoft really wants to reward shareholders, it should aggressively repurchase shares as if they are going out of fashion.
On my last take on the company I said that anywhere below $30 a share would be a bargain price for conservative long-term mined investors. With the dividend increase and the repurchase program, the bargain price stands at today's prices.
Disclosure: I have no positions in any stocks mentioned, and no plans to initiate any positions within the next 72 hours. I wrote this article myself, and it expresses my own opinions. I am not receiving compensation for it (other than from Seeking Alpha). I have no business relationship with any company whose stock is mentioned in this article.