Colony Financial Inc. (CLNY) is a commercial real estate finance company engaged in acquiring, originating, investing in, financing and managing a diversified portfolio of real estate-related debt investments. It primarily focuses on commercial mortgage loans, CMBS, mezzanine loans, real estate owned properties, debtor-in-possession loans, B-notes, bridge loans, etc. It is externally managed and advised by a wholly owned subsidiary of Colony Capital LLC -- a privately held independent investment firm founded in 1991. Colony Capital has an extensive global footprint and experience. A number of deals are done in conjunction with Colony Capital. CLNY is a US REIT.
CLNY does invest in residential real estate, but it is primarily a commercial real estate finance company. Does that mean it has done better or worse than most of the other REITs that are perhaps not quite as commercial real estate oriented? If you are talking about book value alone, then CLNY has clearly done better than most of its peers. CLNY's book value was $18.58 on June 30, 2013. This was unchanged from March 31, 2013. It was up $0.28 per common share over the December 31, 2013 book value of $18.30. The following table shows how this compares to some other real estate REITs.
| | | | | |
| --- | --- | --- | --- | --- |
| Stock | Stock Price at the close on September 16, 2013 | Book Value Loss in Q2 2013 | Book Value % Loss in Q2 2013 | Book Value as of Q2 End 2013 |
| CLNY | $20.10 | $0.00 | 0.00% | $18.58 |
| New York Mortgage Trust (NASDAQ:NYMT) | $6.61 | -$0.30 | -4.58% | |
| Invesco Mortgage Capital (NYSE:IVR) | $16.01 | -$2.54 | -12.44% | |
| Annaly Capital Management (NYSE:NLY) | $11.92 | -$2.16 | -14.22% | |
All of the above REITs have at least some interest in commercial real estate loans. In that sense they are comparable to CLNY. Yet all of them had much bigger percentage losses than CLNY in Q2 2013. This speaks well of CLNY and of its management team.
As for Q2 2013 earnings performance, CLNY had total income of $40.8 million in Q2 2013. Net income attributable to common stockholders was $20.3 million (or $0.31 per basic and diluted share). More importantly CLNY's Core Earnings were $23.6 million (or $0.36 per basic and diluted share). This last nicely covered the dividend of $0.35 per basic and diluted share. The dividend amounts to approximately 7.0% annualized. This is far from the dividends of over 10% for the other company's above; but it appears to be a relatively safe dividend; and CLNY's book value also appears to be safer.
CLNY issued a cash dividend of $0.53125 per share on its 8.50% Series A Cumulative Perpetual Preferred Stock (CLNY.PRA) with a liquidation preference of $25 per share. If you happen to like preferred stock, this seems to be a good prospect, especially after CLNY's book value out performance in Q2 and Q1 of 2013. Plus this is higher than the 7.27% average yield in the "Real Estate" preferred stock category.
Another good point in CLNY's favor is that it replaced its old credit facility with a new one on August 6, 2013. The new facility provides a maximum availability of $360 million (with an option to accordion to $600 million). The new facility has expanded types of assets and associated income that can qualify for the borrowing base; and it carries a lower interest rate of LIBOR plus 2.75% or 3.00% depending on CLNY's leverage. This is significantly lower than the LIBOR plus 3.50% or 3.75% rate of its previous credit facility. The revolving credit facility has a three year term with the ability to extend any outstanding balance by two years subject to certain terms and conditions. This indicates a substantial improvement in CLNY's credit worthiness; and it provides reason to buy the stock. It means the company is viewed as more stable; and the lower interest means that the company will be that much more profitable.
In April 2013, the company issued $200 million of 5.00% Convertible Senior Notes due in April 2023. The 10 year notes carry a conversion price of $23.60 per share. They were sold to underwriters at a 3% discount. This resulted in net proceeds of $194 million. This provided the company with more investible money.
As far as activities, CLNY has invested in a large number of commercial and residential real estate opportunities in Q2 and afterwards. As an example, it invested in a joint venture with an affiliate of Colony Capital. The JV acquired a portfolio of first mortgage loans secured by commercial and residential real estate. The portfolio included 52 loans, of which 83% were performing at acquisition, with an aggregate unpaid balance of $72 million. The purchase price was about $54 million (or 75% of the portfolio's unpaid balance). CLNY has a 50% share in the JV.
The many other investments of CLNY are too numerous to mention here. However, CLNY maintains very low leverage compared to its peers (see chart below). This makes it a much safer place to put your money in troubled times. all told CLNY made $462 million worth of investments in Q2 2013.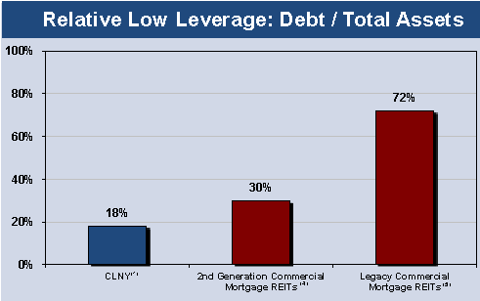 It also has little dependence on CMBS or repo financing markets. This means when repo rates eventually go up, which they will, CLNY will remain relatively unaffected. This is a good thing for income investors who do not like to pay too much attention to the stock market. CLNY is a hybrid total return company that provides a balanced mix between current yield and capital appreciation potential. In other words, the company expects to be able to grow its stock price significantly over time -- more so than the higher yield mortgage REITs.
CLNY maintains a diversified investment portfolio. The table and charts below give an approximation of CLNY's holdings.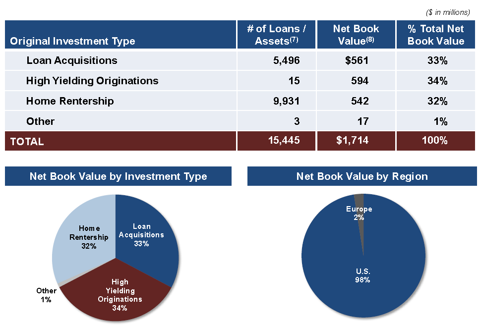 The charts give a rough approximation (as of March 31, 2013) of CLNY's main portfolio holdings. They also show the small amount of diversity outside the US in Europe (Germany).
CLNY points out that there has been a severe dislocation (see chart below) in the housing market. This has created a great opportunity to invest in single family homes, which CLNY has done. Further there has been a relatively faster appreciation of commercial real estate prices (see chart below). CLNY is also acting to take advantage of this; and CLNY's overall savvy of all real estate markets makes it a great investment.

In sum CLNY gives every appearance of being a well run, relatively "safe" REIT. It pays an approximate good 7% dividend. Plus CLNY gives share price appreciation a much higher priority than most REITs. In other words, it should gain back for you in share price what you miss out on in dividend rate. Plus it is "safer". A lot of investors will like this stock.
The two year chart of CLNY provides some technical direction for this trade.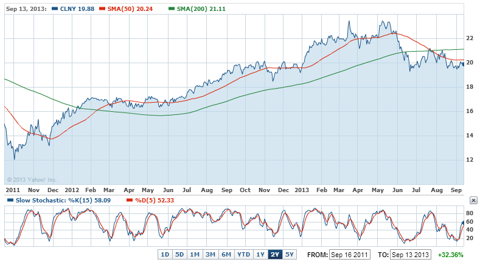 The first thing you should notice is that CLNY's stock has actually appreciated by +33.82% in the last two years. By comparison a leading Agency mortgage REIT, American Capital Agency Corp. (NASDAQ:AGNC), is down -21.16% over the last two years. NLY is down -33.52% in the last two years. There is really something to be said for stock price appreciation with a good, but smaller dividend of 7%. You get the 7% plus more (in all likelihood), whereas with a higher dividend yielding NLY you got more dividend, but you suffered a significant stock price depreciation. Over the last two years you essentially gave back the whole dividend payouts in stock price depreciation. The average investor is clearly better off with CLNY with its approximately 48% total return over that time.
Technically the slow stochastic sub chart shows that CLNY is neither overbought nor oversold. The main chart shows that CLNY has fallen recently with the huge mortgage REIT sell off. However, its prices has held up much better than most other mortgage REITs. It easily found support at the roughly $20 level; and it has generally refused to go below there. Many now think that the real estate REITs are ready for a rally, especially since hawk, Larry Summers, has withdrawn his name from Fed Chairman consideration. If such a rally occurs, CLNY should be one of the strong participants. It appears to have been consolidating for months now. CLNY is a buy. It has an average analysts' recommendation of 1.7 (a strongish buy), and a CAPS rating of four stars (a buy). Some may consider it boring, but it appears to be a solid stock that will garner investors solid returns.
Disclosure: I have no positions in any stocks mentioned, but may initiate a long position in CLNY over the next 72 hours. I wrote this article myself, and it expresses my own opinions. I am not receiving compensation for it (other than from Seeking Alpha). I have no business relationship with any company whose stock is mentioned in this article.