While shares of online music leader Pandora (NYSE:P) have more than doubled in 2013, and are up nearly 60% in the last three months, the run is overdone. The market has driven the stock higher on both the news of the company's new CEO and on news of the secondary offering in the works. The market place is getting increasingly crowded as major players like Apple (NASDAQ:AAPL) get into the mix, meaning that competition will get even harder looking ahead. When you consider that Pandora's earnings are weak, the company lowered expectations at its last earnings report, and its biggest shareholder is reducing its position as a part of the offering, a correction of at least 25% from where the stock is trading at the time of this writing should be expected - shares are currently flirting with $25 per share.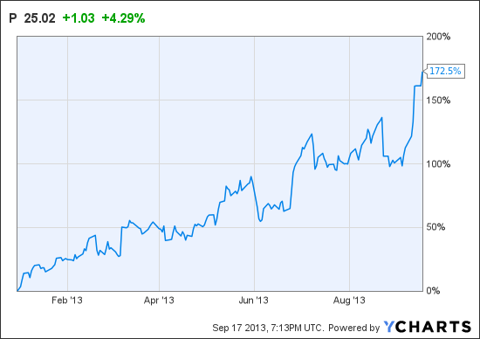 P data by YCharts
Pandora's Financials
At the company's most recent earnings announcement, it beat expectations by announcing earnings of $0.04 per share, ahead of the $0.02 expected - this was on a 58% rise in revenues to $162 million. As part of the same announcement, the company lowered guidance to $0.00 to $0.05 per share, below the expected $0.05 expected. This guidance did come before Brian McAndrews was hired as the new CEO, but it is still telling of where the company has been and was expecting to go. Hopes have been high that McAndrews, a veteran of the online advertising game, may be able to bolster ad sales - which account for 88% of the company's revenue - but even with increased hope driving the stock, the run seems overdone.
McAndrews at the Helm
McAndrews was the named replacement for departing CEO Joe Kennedy, reinvigorating investors and leading to the single best day the stock had seen in months. For the last fiscal year, 88% of the company's $427 million in revenue was generated by ad dollars. McAndrews' background in the field - in which he built AQuantive Inc. until it was sold to Microsoft (NASDAQ:MSFT) for $6 billion - might seem like a worthy reason to be hopeful. This history led some to speculate that Pandora might be in the process of being groomed for a Microsoft takeover, but when you consider that Microsoft took a $6.2 billion write-down on the acquisition, you must wonder how anxious Mr. Softy will be to repeat its past mistake. In fairness, however, Pandora is an identifiable property that might make an interesting takeover candidate under the right circumstances.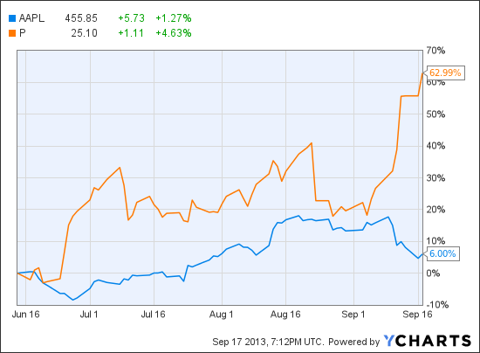 AAPL data by YCharts
An Increasingly Crowded Market
Before considering the rollout of Apple's iTunes Radio, which is the big news on the sector, Cupertino is not the only place that things are happening. Clear Channel's (NYSE:CCO) iHeartRadio recently got a big boost from a deal with Time Warner (TWX) that covers both terrestrial radio and streaming content. Under the deal, as reported by The New York Times, Clear Channel will pay a royalty anytime a Warner song is played on any of its terrestrial stations - the company has 850 - in exchange for a reduced streaming royalty rate. The company is trying to add content to compete with current leader Pandora and with the entrance of Apple.
The release of iTunes Radio is a huge step for music lovers, Apple, and even music companies. This last element is a key for Apple and another big problem for Pandora. Music labels do better with Apple than they do with typical FM stations, so they are throwing their support behind the new venture. Rising content costs have plagued Pandora which, despite growing its number of subscribers, has actually seen its cost per subscriber increase. The relationship Pandora has had with labels has been shaky to begin with, and now that Apple, and its untouchable balance sheet have entered the fight, Pandora is directly on a collision course with its worst nightmare.
Additionally, when you remember that Apple mentioned 'iOS in the Car' at the last WWDC, you remember that Apple is making a big push into the car market, meaning traditional FM will come under attack. Radio advertising is big business, and with more apps bringing people music while driving, picking an expert like McAndrews seems even more sensible, but the more integrated Apple becomes, the harder a time Pandora will have competing.
The Secondary Offering
The Wall Street Journal recently reported that Pandora intends to run a secondary offering in conjunction with Crosslink to offer 14 million shares of stock for around $24 per share. Crosslink was the company's largest shareholder at the time of the IPO and would reduce its overall ownership from 16.5% to 13.4%. Against so many other pieces of concerning news, the fact that the company's largest shareholders is taking a significant step back is meaningful. It could easily be argued that, given recent performance, such a reduction is prudent, but the message it sends should not be over looked.
Trade Mechanics
In looking deeply at a stock, it is often easy to let the basics get swept up in the discussion. At the most basic level, the release of iTunes Radio is the catalyst for the trade against the backdrop of a big run for Pandora shares that I believe are overvalued and misunderstood. McAndrews is a reasonable choice for CEO, but the secondary offer is not a purely positive event and the stock is ready to correct.
The two biggest risk factors for this trade, which I would expect to register success either very quickly or when Apple announces its first iTunes Radio numbers, are continued momentum and an unexpected takeover bid. The momentum the stock has demonstrated should not be overlooked, but I do not believe it can continue. On the takeover side, I do not believe if Pandora were anywhere near such a deal that the secondary offering would be in play. While I see these as unlikely, the stock could run to $28 or beyond before correcting.
The potential for the trade, on the other hand, is very good. A fall back to $20 - or 20% below current levels - seems easy, and another 5% to 10% would likely result from a fall below the psychologically-meaningful $20-level. If events line up - weak numbers for Pandora and strong numbers for Apple in near proximity - I think Pandora shares could get ugly very fast without a white knight takeover. Ultimately, as much as I have enjoyed Pandora over the years, with the release of iTunes Radio, shares must correct at least.
Disclosure: I have no positions in any stocks mentioned, and no plans to initiate any positions within the next 72 hours. I wrote this article myself, and it expresses my own opinions. I am not receiving compensation for it (other than from Seeking Alpha). I have no business relationship with any company whose stock is mentioned in this article.