2013 has been a forgettable year for CenturyLink (NYSE:CTL). The stock started the year strong, rising alongside other high yield names. However, CenturyLink's stock price was crushed in February when it announced a "capital allocation strategy," which was basically a dividend cut bundled with a large share buyback program. This was quite an unexpected event, especially since CenturyLink was once considered a dividend-growth stock, with nearly 40 years of annual dividend increases. Over the past few months, CenturyLink has managed to recover some its dividend-cut related losses, However, the stock has recently lagged the market, mostly due to a weaker than expected Q2 2013. CenturyLink's last declared quarterly dividend was for $0.54 per share which equates to about 6.70%.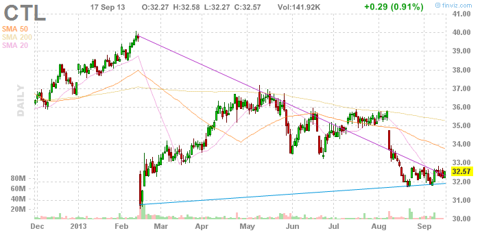 Q2 2013 Overview
The best thing that can be said about CenturyLink's Q2 2013 is that its buybacks led to an EPS beat. However, other metrics, such as revenue, showed weakness. Revenues declined 2% to $4.53B compared to last year. This decline in revenues was mainly centered in CenturyLink's consumer and wholesale segments which saw revenue declines of 3% and 3.8%, respectively.
When separating CenturyLink's revenues into "strategic" and "legacy" baskets, the trend becomes even clearer. CenturyLink's strategic revenues increased 4.1% while legacy revenues declined 7.3%. Overall legacy consumer voice revenues declined 5% in the quarter. In addition, the company saw "slower acceleration" in some of its strategic growth areas, such as data hosting.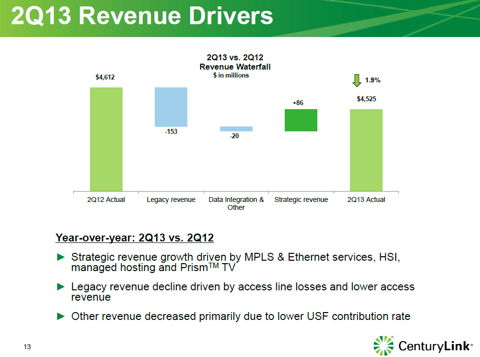 Buybacks boost EPS
As noted above, CenturyLink repurchased quite a bit of stock. During Q2 2013, the company retired 12.8 million shares for about $465M. YTD, the company has bought back nearly 29M shares for about $1B, which is about half of the $2B stock repurchase program announced in February.
The reduced share count was the most likely cause of CenturyLink beating its EPS estimates during Q2. These buybacks have decreased CenturyLink's total shares outstanding by around 5% so far this year. For Q2, CenturyLink's EPS benefited from the reduced share count by around $0.03.
When CenturyLink's share buybacks are coupled with its current dividend yield of well over 6%, this represents about 11% of capital being returned to shareholders, which is in line with other telecoms.
Dividend Payout Ratio
As with any dividend paying stock, it is wise to check the dividend's sustainability via its payout ratio metrics. Unfortunately, CenturyLink has already lowered its payout this year, stating a need to pay future cash taxes.
However, this dividend reduction has left the company with a very healthy dividend payout ratio. When compared to other telecoms, such as Frontier Communications (NYSE:FTR) and AT&T (NYSE:T), CenturyLink's payout ratio appears to be fairly solid. Using free cash flow, or FCF, CenturyLink's dividend payout ratio for Q2 2013 was about 46%. On a TTM FCF basis, CenturyLink's payout ratio hovers around 50%.
Valuation
In terms of valuation, there are various methods for valuing telecom stocks such as CenturyLink. As these companies carry large amounts of debt, it is best to look at total enterprise value, or EV, when making comparisons.
First, let us look at CenturyLink's valuation compared to peers using EV divided by TTM FCF, or EV/FCF. As shown below, CenturyLink tends to trade much closer to AT&T then compared to Frontier. Indeed, before its February dividend reduction, CenturyLink was actually trading at a premium to AT&T. This may appear to be classic mispricing by the market as AT&T has much better growth prospects due to its cellular assets.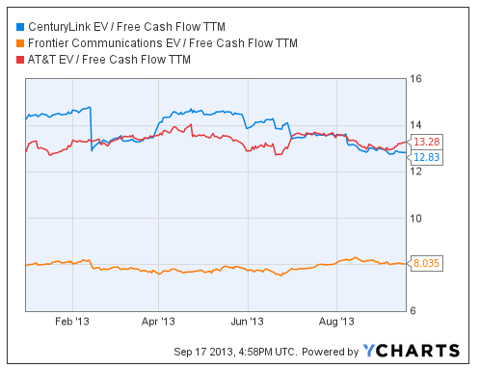 However, FCF is only one way to measure valuation. Another method widely used is to divide EV by TTM EBITDA, or EV/EBITDA. This metric tends to have much less noise and offers a much more cleaner basis for comparisons. As shown below, it appears as if CenturyLink is trading at a substantial discount to its peers. Even rural telecom focused Frontier commands a higher premium than CenturyLink. As for AT&T, it makes sense for it to command a lofty valuation.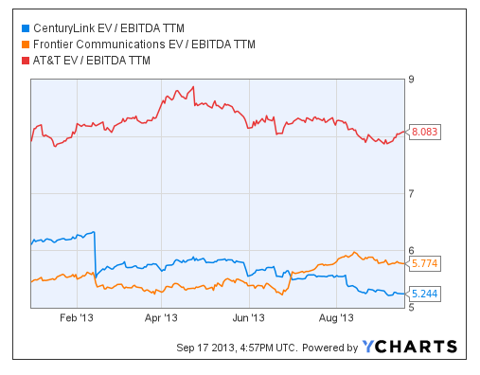 Updated Guidance: Revenue weakness expected for Q3 2013
Besides weak revenue trends, what really impacted CenturyLink was its guidance for the rest of the year. Across the board, CenturyLink lowered expectations for Q3 2013 earnings, revenues and cash flow. During its Q2 2013 conference call, CenturyLink noted that its updated guidance reflected higher seasonal expenses that typically occur during Q3.
However, what really hurt the stock were downbeat comments regarding future growth. The company noted that it may have been too aggressive in its original assumptions for the second half of 2013. In particular, the company is seeing larger than expected declines in its low bandwidth services and a deceleration in data hosting revenue growth. In addition, the company also noted that it projects a slight decline in revenues for 2014 compared to 2013.
Conclusion
CenturyLink lost many things when it decided to lower its dividend payout back in February. The stock now trades at a discount to peers, offers a lower yield and has disappointed many long-term shareholders. As a value play, CenturyLink is mediocre at best. Yes, the stock is cheap, but the same can be said for nearly all the telecom stocks.
As a former dividend champion, the company had a long history of dividend growth. However, as the telecom sector has struggled, so has CenturyLink. Any sort of growth, be it EPS, revenue, FCF, or dividend, now seems unlikely.
Disclaimer: The opinions in this article are for informational purposes only and should not be construed as a recommendation to buy or sell the stocks mentioned. Please do your own due diligence before making any investment decision.
Disclosure: I have no positions in any stocks mentioned, but may initiate a long position in T over the next 72 hours. I wrote this article myself, and it expresses my own opinions. I am not receiving compensation for it (other than from Seeking Alpha). I have no business relationship with any company whose stock is mentioned in this article.