With the exception of reinsurance, which has a stable rating, Standard & Poor's Ratings Services is maintaining its negative outlooks on the North American life insurance industry.
Excerpts from Industry Report Card: Outlook Remains Negative For Most North American Insurance Sectors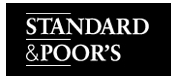 S&P's outlook on the Life Insurance sector "has been negative since October 2008, when we revised it predominately as a result of the economic downturn. Since then, there have been numerous downgrades, and we expect little change in the economic conditions that led to them. Despite all the unfavorable rating actions so far, we expect that downgrades will continue to exceed upgrades during the next six months to a year, though downgrades generally will be limited to one or two notches (for example, 'AA' to 'AA-' or 'A+').
The outlook for the U.S. commercial lines property/casualty sector has been negative since August 2008.S&P said "We believe the reinsurance sector has undeniably demonstrated its resilience in the past 12 months.
The rating outlook for the Health Insurance sector remains negative. Generally weak economic conditions and ongoing uncertainty about the state of health care reform are key factors.
The majority of rated reinsurers emerged from 2008 with their balance sheets intact and a steely resolve to arrest the decline in underwriting margins. A relatively light catastrophe season and improved capital market conditions during the first half of 2009 have enabled most global reinsurers to post strong underwriting results and unrealized investment gains during the period. In turn, these players have displayed improved equity positions as of June 30, 2009, relative to year-end 2008. Particularly among Bermuda market reinsurers, many saw their book value grow by high single-digit to midteen percentages during the first half of 2009."
Combined with significantly improved premium rates for property (particularly U.S. property/catastrophe) and flattening premium rates for casualty, these factors contribute to our maintenance of a stable outlook on the reinsurance sector despite the negative rating trends that currently characterize many other segments of the global insurance markets. Reinsurers' liquidity and reserve positions also remain strong in our view.
The highest-rated reinsurer is Bermuda-based RenaissanceRe Holdings Ltd (NYSE:RNR) (A/Stable/–). The company this week reported strong results for the third quarter with low catastrophe activity in the Atlantic basin and a rebound in investment values generating solid profitability. "We achieved an annualized operating return on equity of 33% and book value grew by 11%, " CEO Neill Currie said on an Earnings conference call.