A great way to profit from the secular trend of a growing middle class in Brazil is to invest in full-range financial services provider Banco Bradesco ADR (NYSE:BBD). Global Finance magazine names this financial services company the best bank in Brazil in their "World's Best Emerging Markets Banks 2013."
Banco Bradesco is a "complete bank" in Brazil offering a full suite of banking/financial services (checking accounts, savings accounts, credit cards, debit cards, mortgages, auto loans, business loans, investment banking, asset management, insurance policies, savings bonds, commercial financing, etc.). It services all classes and business sizes in Brazil society. Below is a breakdown of Bradesco's diverse customer base.
Click to enlarge images.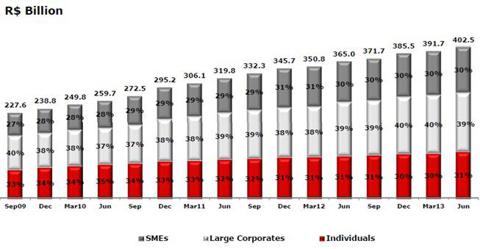 Click to enlarge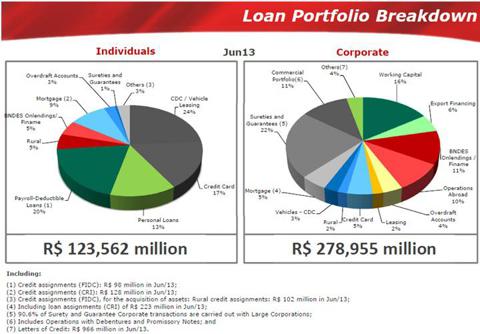 Click to enlarge
Bradesco is the third-biggest bank in Brazil where the financial services industry is a tightly knit oligopoly. The six largest financial services companies control approximately 80% of the total market assets, and three of the top six banks are government-controlled. Privately controlled Banco Bradesco allows management to focus on creating shareholder value and attract the most profitable customers. Morningstar had an interesting article on how the Brazilian banking industry is well positioned to benefit from the Brazilian story of a rising middle class in need of more financial services.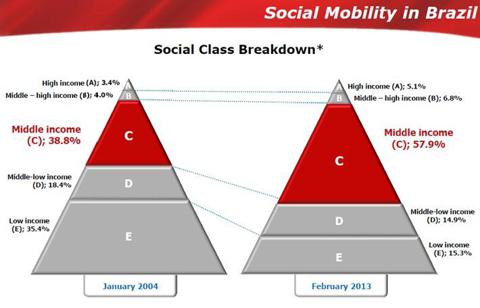 Click to enlarge
Brazil is a leading emerging market economy that's rich in natural resources, a relatively fiscally and monetarily responsible government, few major natural disasters or wars, and a growing middle class. Brazil policy makers acknowledge they need to build more infrastructure and simplify tax and regulatory codes. A growing middle class, diverse economy, budget and trade surpluses, and abundant natural resources will very likely lead to Brazilian fiat money growing in value vs. other borrow and spend country fiat money -- i.e., Europe, the United States, Japan, etc. Banco Bradesco is facing risks such as Brazilian economy experiencing a slowdown with inflation, flat overall revenue growth from the first half of 2012 to the first half of 2013, and an interventionist government that may enact harmful policies.
Organic growth in consumer banking, credit cards, fees, SME loans, bank accounts, corporate loans, fees mortgages, car loans, etc., and investments in IT data center, Internet, mobile device and telecom technology are paying off. Bradesco's non-interest income accounts for over half their revenue being less dependent on interest margins than main competitors Itau Unibanco (NYSE:ITUB) and Banco Santander (NYSE:BSBR), each with only approximately one-third of revenues from non-interest income. Other than a higher-than-average debt, this now bargain priced stock is a good value, at least as of this writing:
P/E ratio: 11
Dividend yield: 3.3%
Debt to asset percentage: 92%
Current ratio: 1.02
Net profit margin: 13.2%
Credit rating long-term: BBB+ (Fitch)
Fundação Bradesco (a philanthropic and educational foundation) directly and indirectly holds approximately 55% of all voting shares, which should keep excessive executive compensation and irresponsible risk-taking in check. For example, Banco Bradesco pays their executives reasonable compensation and follows a conservative investment banking strategy, having no exposure to sovereign debt from the PIIGS (Portugal, Iceland, Ireland, Greece, and Spain).
After reading the 10-K, investor presentation, and financials as well as performing my due diligence on the Brazilian financial services industry, I emailed and talked with people who live in Brazil who advised me that Bradesco has a best-in-class Internet site and mobile device/online banking, with excellent brand reputation.
What makes Banco Bradesco the best financial services stock to profit from the Brazilian story is they are the No. 1 insurance company in the rapidly growing insurance market in Brazil. Insurance is approximately 32% of Bradesco's business and the fastest growing division with approximately 15% year-over-year growth. Bradesco Seguros ("seguros" is Portuguese for insurance) and other subsidiaries have approximately one-fourth of Brazil's fledgling total insurance market. They have an advantageous distribution sales network -- e.g., a middle class consumer gets a home mortgage or car loan through Bradesco, which can also sell an insurance policy with it.
Many investment pros believe insurance is the world's greatest business because insurance companies take policyholders' money and then invest it for profit. And if a policyholder files a claim, they can adjust it or raise future premiums to ensure the "house always wins." Plus, they can lobby governments to make laws requiring people to buy their product. It's even better when the insurance market is a fledgling.
Here is an excellent article on Brazil's rapidly growing insurance market. Bradesco sells life, health, dental, home, auto, P/C, liability, RE, and other insurance policies through their bank branches, direct sales, and independent insurance brokers. As people earn more things, so they will protect them. Below is an analysis of the Bradesco Insurance division businesses and the growing Brazilian insurance market, which has substantial barriers to entry.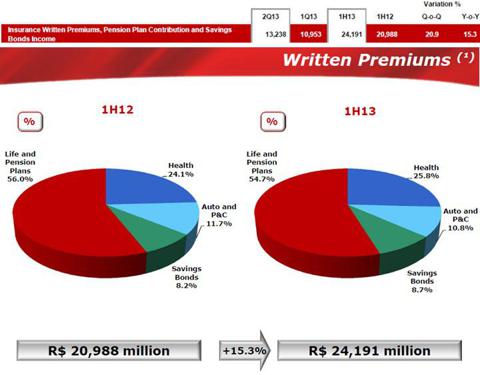 Click to enlarge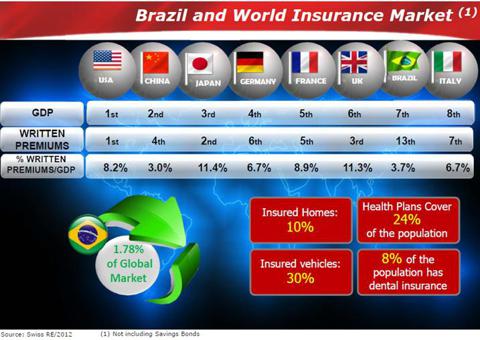 Click to enlarge
I am long BBD because of their impressive infrastructure of bank/express bank branches/ATMs, best-in-class Internet/mobile device online banking, growing insurance business with sustainable competitive advantages, and brand recognition as the best financial services provider in Brazil, servicing a growing middle and upper class of consumers and businesses.
Disclosure: I am long BBD. I wrote this article myself, and it expresses my own opinions. I am not receiving compensation for it. I have no business relationship with any company whose stock is mentioned in this article.