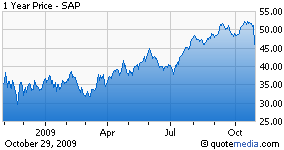 SAP (NYSE:SAP), which makes money by selling crucial software applications to businesses worldwide, reported quarterly results recently that indicate the demand for its software has been lower than expected (see earnings call transcript). Furthermore, those customers who are spending have been more demanding, leading to declines in SAP's high margins. The company's primary competitor, Oracle (NASDAQ:ORCL), has also experienced lighter than expected demand for its business software products, but Oracle has fared better due to stability in its recurring software maintenance revenues whereas SAP's maintenance revenue has also experienced deterioration.

Resource planning software is one of SAP's software product categories and accounts for nearly 40% of the stock's value. We now expect that the $20 billion market for Resource Planning Software will not return to 2008 peak levels until 2011. We continue to believe that SAP will also experience on-going market share declines within this segment from share of about 26% today to 24% by the end of the Trefis forecast period. Additionally, we expect SAP's gross profit margin in resource planning segment to dip to about 79% compared to historical averages above 80% and slowly return to close to 82% over our forecast period.

If margins don't recover to their historical levels but rather stagnate around 79%, we estimate that it would eliminate more than $1 billion from SAP's market value. We have a Trefis price estimate of $39 for SAP currently, compared to the market price of $46.