Earlier this week, I wrote a Seeking Alpha article Invest In REITs With A Margin Of Safety To Reduce Risk And Enhance Returns in which I examined some of the most expensive and least expensive U.S. Equity REITs. A new reader to my article replied:
I would urge that any reader plot a chart of the ten year government bond against the FFO yield of Realty Income (NYSE:O) for the past twenty years. One immediately sees that there is no "margin of safety" in that spread unless you are willing to assume the long term average government bond yields in the future will be similar to the past. Margin of safety seems to be misused as an idea of business quality versus the value one gets by purchasing well below intrinsic value.
Another reader went on to argue a similar point:
…even the most cursory examination of its (Realty Income) financial statements would show that there is $4,055 million debt + $600 million preferred equity = $4,655 million ahead of the common equity which you guys own. Then you look at the cash flow statement and last quarter O generated $55 million net income + $78 million D&A = $133 million cash flow. O paid preferred dividends of $11 million + common dividends of $107 million = $118 million distributions. $133 million cash flow - $118 million distributions = $15 million with which to pay back debt. $15 million x 4 quarters = $60 million per year. So basically either O has to massively increase profitability, cut its distributions, pay its debt back over 78 years, or dilute the heck out of you guys. So how does a REIT increase profitability? Hint: it can't, these are long-term leases which adjust 1-2% per year. The math doesn't add up.
Now rather than debate the math (above), it seems simplest for me to say that the sustainability of Realty Income's current dividend is not very debatable. With approximately $2.40 in current cash earnings per share and a $2.18 dividend per share, the dividend is well covered. The $765 million of current annualized cash rent speaks for itself - clearly able to pay debt interest, preferred dividends and G&A before well covering the dividend.
Realty Income's leverage levels are actually quite low compared to most companies (31% debt, 5.9x EBITDA, etc). You could take any REIT's full debt maturity schedule and try to do the math the way the above-mentioned reader suggests, and you could try to make an argument that a company can't repay everything - but it's kind of illogical thinking - for example, it assumes zero growth via new acquisitions - an unreasonable assumption.
Finally, and what prompted me to write this article was my review of an article by Joel Laceda on Benzinga. The author wrote:
We don't like seeing stocks like O:NYSE that consistently climb on their moving averages without a natural pullback. That type of action suggests that the stock is IN-PLAY and when the stock eventually turns, as is did in May 2013, then the stock will get slaughter as all the Players leave that stock and find something else to push up. That's just how the game is played.
Laceda went on to say:
The rules change when a Dividend producing business is being propped up by the momentum camp. Sure the 5.56% Dividend is attractive but in comparison to the actual and potential volatility in the stock price, you are chasing a 5.56% dividend while assuming massive risk. The stock is approximately 30% off from its highs. A 5.56% dividend doesn't offer enough protection from a 30% drop in 4 months.

Let's Start With Fundamentals
Before my rebuttal to the technical analysis offered by Laceda, I'll start with a fundamental analysis of Realty Income, better known as The Monthly Dividend Company®.
As of the last quarter, Realty Income owned 3,681 properties in 49 states and Puerto Rico. Founded in 1969 (44 years ago), the San-Diego-based listed on the New York Stock Exchange in October 1994 (19 years ago). As evidenced below, there is no more diverse income stream in REIT-dom today: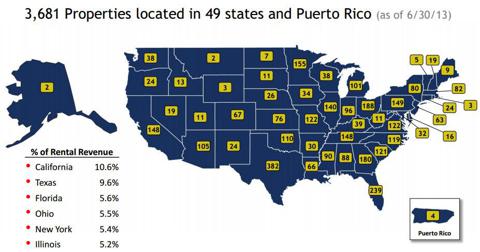 As most know, Realty Income started out as a landlord to fast food chains and daycare operators; however, the company has evolved into a more diverse REIT (58.35 million square feet) comprised of retail, distribution, office, agriculture, manufacturing, and industrial.

Realty Income now leases land and buildings to 46 industries with revenues spread out over a diverse landscape of sectors. The largest industry is convenience stores (11.4%) and the strategically enhanced diversification model has become a formidable ingredient for the sustainability of "The Monthly Dividend Company®" model.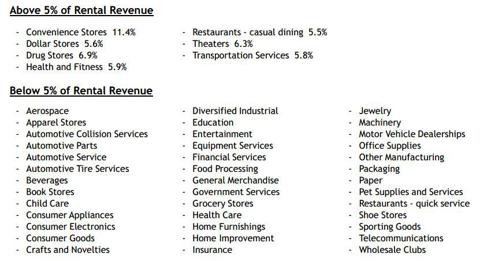 Realty Income's largest tenant (based on revenue) is Federal Express (NYSE:FDX), representing around 5.3% of revenues, and the company has no other tenant with more than 5% exposure.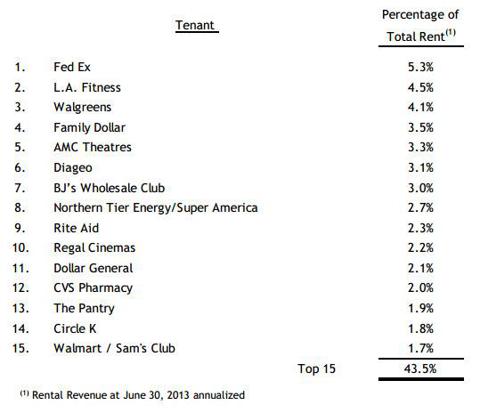 Perhaps the best scorecard for measuring a REIT's underwriting capabilities is to consider the historical occupancy record. Currently, Realty Income's occupancy is 98.2% and the company's occupancy has never dropped below 96% in 44 years.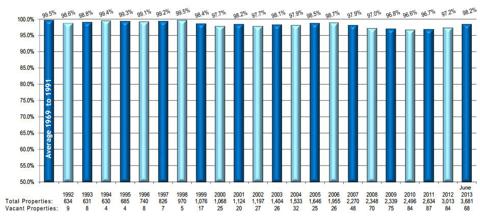 Now Let's Examine the Balance Sheet
As mentioned above, Realty Income's leverage levels are quite low compared to most REITs. The company has a total capitalization of around $13 billion, comprised of $4.1 billion in debt ($3.27 billion in bonds and $793 million in mortgages), $629 million in preferred stock, and $8.3 billion in common stock. In addition, the company's debt metrics are sound: (1) debt service coverage is 4.1x, (2) fixed charge coverage is 3.3x, and (3) the dividend payout ratio is 87%. Recently S&P upgraded Realty Income from BBB to BBB+ (the only Triple Net REIT with that rating) and also an indication that the company's 31% low leverage is sound.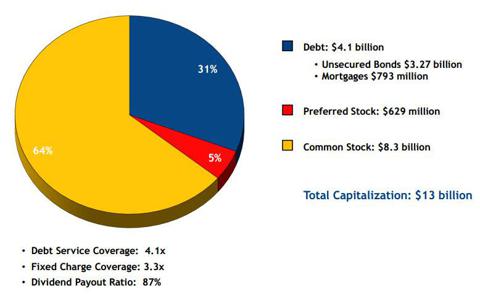 Keep in mind that Realty Income has 100% fixed rate debt (including bonds) and a fraction of secured debt (most of that was assumed when assets were acquired). The company has a $1 billion credit facility with zero borrowing outstanding (and a $500 million accordion) priced at Libor +125.
Realty Income match funds its capital such that the long-term leases (average 11 years) are matched up with long-term liabilities with fixed terms (most unsecured). Alternatively, American Realty Capital Properties (ARCP) is forced to push back debt maturities (meaning that it can't match its 18 month to 5-year debt with its 11 year leased asset base). ARCP has funded itself with floating lines and it cannot use the CMBS and ABS markets to fund itself fully and does not yet have an investment-grade rating to issue term debt, which is likely where the company needs to move towards.
Conversely, Realty Income appears to have a much stronger balance sheet than most of its peers. As we have seen (over the more recent years), any REIT can be a Net Lease "hero" for a few years but it takes more than aggregating assets to be considered a "blue chip" REIT. Being able to protect the balance sheet is a true differentiator for Realty Income and I can't over emphasize the importance of analyzing the capital that drives the value. The REITs that have the strongest fundamentals should also have share values that will hold up the best against interest rate moves (be less interest rate sensitive). But, absent a better investor understanding, all NNN REITs stand to be painted with the same brush, which will be unfortunate.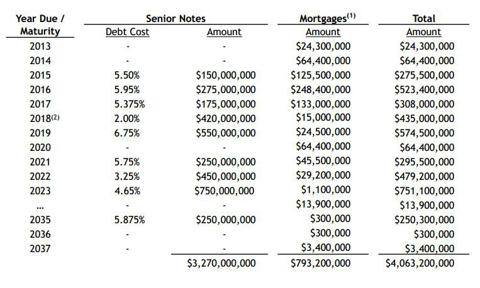 Now Let's Examine the Growth
Realty Income acquired around $1.16 billion in 2012 and so far this year (Q1 and Q2) the company has acquired around $867 million. During the latest earnings call, the company stated that it was increasing its acquisition guidance from $1 billion to $1.25 billion. Also, in January 2013, the company closed on an M&A deal with American Realty Capital Trust, a $3.2 billion deal.
Remember Private REIT capital, which has been plentiful and devoted mostly to the Triple Net space and which generally has a 6%+ yield upon receipt of the equity, MUST invest quickly in order to minimize paying dividends with principal. If you are American Realty Capital Trust IV (ARCT4), the only way to get the capital deployed quickly is through large portfolio purchases, like GE at a 7% cap rate.
Unlike Realty Income, a company that has built its balance sheet "brick by brick," the private REITs don't have that luxury because they have so much cash available and that makes for leaking dividends. GE likely could not have sold their assets one-off at a 7% cap rate… ever, but the buyer here (ARCT4) needed to make an acquisition. Then, to compound this issue, American Realty Capital Trust IV (ARCT4), is selling the same assets to ARCP at a 5.85% yield! This will likely represent NEGATIVE external growth. The winner here is ARCT4 and anyone making fees from ARCT4 investors.
Investors should acknowledge that Triple Net leases are long-term by design and the rental increases therefore are modest, around 1% to 2% a year. Accordingly, the value proposition for growth is centered on external growth, not internal growth. However, because most Triple Net lease expenses are paid by the tenant (taxes, insurance, and maintenance), there is limited expense risk.
I explained the wave of Net Lease growth in a previous article (We're Just At The Tip Of The Iceberg, Triple Net REITs Will Soon Be A Glacier Sector):
Investors should recognize that the Triple Net sector is not an industry made up of just three of four REIT players, but instead this $2 trillion industry is made up of hundreds of operating businesses like Wal-Mart (NYSE:WMT), Target (NYSE:TGT), and Safeway (NYSE:SWY), who own significant free-standing products. Unlike many of the fragmented real estate sectors, the Triple Net REITs are in a position to "move the needle" much quicker by taking down large portfolios where the "law of large numbers" generate considerable external growth.
More to the point, I explained:
Unlike the other sectors, the Triple Net category provides ongoing capital solutions - much like a bank - and while most sectors rely on "supply and demand" the Triple Net REITs provide market solutions all of the time (so supply and demand is not the driving force).
At the opening of this article, the reader reasoned that "there is no "margin of safety" in that spread unless you are willing to assume the long-term average government bond yields in the future will be similar to the past." That's great but Realty Income's long-term average investment spread over its cost of equity has been 110-115b, about where it is today. From 1969 to 2001, Realty Income's average investment yield was 11%; in 2002-2004 it was 10%; in 2005-2008 it was 9%; in 2009-2011 it was 8%; and in 2012-2013 it has been 7%. These are approximate ranges to show the trends in a declining interest rate environment - one might assume it's possible a reversal can occur in a rising interest rate environment.
Ouija Board or Just the Facts?
Does anybody remember the Ouija Board? The board game uses a small heart-shaped piece of wood to send messages to spirits, like a séance. I never fell in love with that game because it was a joke. There was simply no intelligent aspect to that game and with zero skills required I'm confident a monkey could win.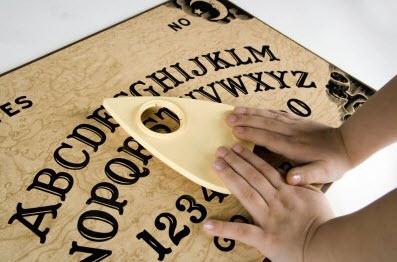 That's how I felt when I read Laceda's article referenced above. Remember, stock prices are driven by emotion and when one makes investment decisions based upon emotion alone, there are usually losses to follow. It's like going into your area psychiatric ward and asking someone if they can help with investment advice. That's insane!
Now, moving on to the facts. I want to show you a perfect example, Realty Income, with no emotion attached. In other words, unlike the stock price charts used by Laceda, I will show what a paradigm of consistency looks like - a stalwart REIT that has been massively profitable.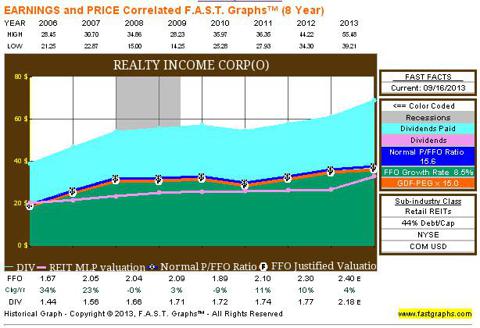 As you can see, I used FAST Graph and I removed the price line. This Graph has no emotion attached; it's just a perfect example of a REIT that has maintained a growing and consistent earnings stream.
Now, I will add two new lines: The black line that represents the share price and the darker pink line that represents an overlaid Price to Funds from Operations (P/FFO) multiple of 19x. As you can see (and I zoomed into the post Great Recession era), Realty Income has comfortably traded at a 17x P/FFO multiple. In other words, that tells me that Realty Income is a "soundly valued" stock. Notice, I did not say the price ($39.87) is a bargain. With a P/FFO multiple of 16.8x (per FAST Graphs), I believe that "The Monthly Dividend Company" deserves a premium valuation.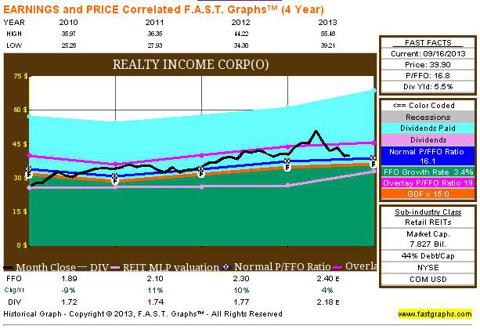 So you may ask, why do I think Realty Income is a "soundly" valued REIT that deserves a premium valuation? First, and as I explained above, Realty Income has a fortress balance sheet and the company has demonstrated its superior skills of balance sheet management and asset underwriting. Second, Realty Income has proven itself with a 44-year track record of risk control. It's easy to look good in the net lease space, but show me another REIT that has managed 26 tenant bankruptcies (8 since the last recession), while never dropping occupancy below 96%.
Simply said, I consider Realty Income an enhanced dividend-paying brand, especially after the company has demonstrated its time tested track record of dividend reliability and sustainability. I'm not trading or investing on emotion. I'm simply considering the facts and business analytics. I trust the earnings history (the orange line on the FAST Graphs) and I will continue to own the shares as long as the fundamental value is intact. I believe that if there is downside (in the shares), it will only be temporary and that will provide me with more buying opportunities.
AT $39.87, Realty Income is not a screaming bargain today; however, the blue-chip REIT is not expensive either. I believe the shares are "soundly valued" (P/FFO is 16.7x ) and I subscribe to the notion that I'm buying a premium brand - much like an insurance policy that offers me risk premium coverage for the dividend's future performance. Remember, risk control is invisible in good times, bet essential!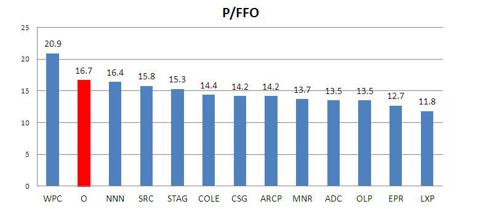 Are there higher paying REITs today? Sure there are, but I would rather buy risk protection at the expense of a few basis points of additional yield.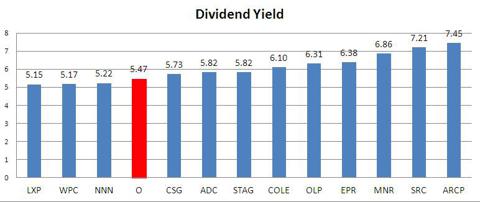 I believe that much of the power of the margin of safety concept lies in its wide applicability. It is something of an "all purpose" risk minimization tool with which one can proceed with a fair degree of certainty that, regardless of day-to-day price fluctuations, one's principal is likely to be secure. Based upon my analysis of Realty Income, I am confident that the current share price ($39.87) is sound and that the dividend is secure (and growing). That's why, I'm not a seller. I'm simply an Intelligent REIT Investor that "sleeps well at night" owning "The Monthly Dividend Company®"! Just the facts, Ma'am.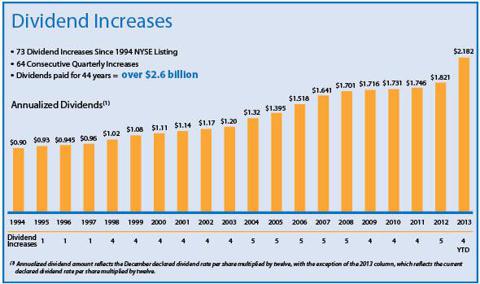 Warning: An investor who "places his emphasis on timing, in the sense of forecasting, that person will end up as a speculator and with a speculator's financial results." (Benjamin Graham)
For more information, check out my monthly newsletter HERE.
Source: SNL Financial, FAST Graphs, and Realty Income website.
REITs mentioned: (NYSE:GPT), (NYSE:LXP), (NYSE:NNN), (NYSE:MNR), (NYSE:EPR), (NYSE:CSG), (NYSE:STAG), (NYSE:ADC), (NYSE:COLE), (NYSE:OLP), (NYSE:WPC), and (NYSE:SRC).
Disclaimer: This article is intended to provide information to interested parties. As I have no knowledge of individual investor circumstances, goals, and/or portfolio concentration or diversification, readers are expected to complete their own due diligence before purchasing any stocks mentioned or recommended.
Disclosure: I am long O, VTR, HTA, CSG, ARCP, STAG, GPT, DLR, HCP, UMH. I wrote this article myself, and it expresses my own opinions. I am not receiving compensation for it (other than from Seeking Alpha). I have no business relationship with any company whose stock is mentioned in this article.