After its latest quarterly report was extremely disappointing, I was one who suggested that Microsoft (NASDAQ:MSFT) needed to wake up. Poor results sent the stock down 11.4%, the largest fall in some time and also the heaviest volume day as well. It was clear that something needed to be done, not just having the CEO retire. I argued that Microsoft needed to either raise its dividend by a decent amount, or announce a large buyback since its current plan was nearing its end. Well, Microsoft investors got the news they were hoping for on Tuesday, and I'm here today to break it all down.
The big dividend raise:
I was on the record stating that Microsoft had to start the dividend at $1.00 annually ($0.25 quarterly) and go from there (higher). Microsoft did just that on Tuesday, announcing a raise to $0.28 per share. This new quarterly dividend will mean $1.12 in yearly payments. A chart of Microsoft's recent dividend history is below, with the years below representing the majority of its payments in that year. So for instance, the new $0.28 dividend will mostly be paid in 2014.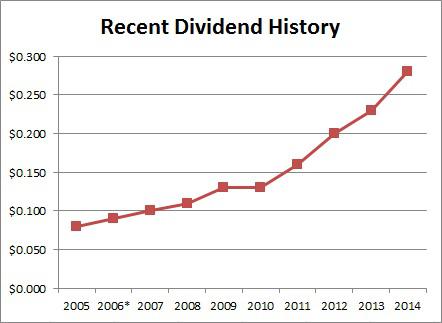 *According to Microsoft's dividend history, the first payment in fiscal 2006 was $0.08, before being raised to $0.09 for the final three payments. The chart above uses the $0.09 figure for fiscal 2006.
The nickel a quarter raise was an increase of 21.74%. That's a sizable increase, but investors should be used to that by now. In three of the past four years, Microsoft has increased its dividend by more than 20%. The only raise below that level was still 15%, last year's raise, which just so happens to be the same amount that Apple (NASDAQ:AAPL) raised its dividend earlier this year. More on Apple later. In the past four years, Microsoft has more than doubled its quarterly dividend from $0.13 to $0.28. As of Tuesday's close, the new $1.12 annual payment represented a yield of 3.40%.
A new buyback as well:
The dividend news wasn't the only important financial item of the day. Those that have been reading my recent coverage of Microsoft know that I've also been detailing the company's buyback plan. The plan had about $3.6 billion left as of June 30th, according to its 10-K filing. According to today's press release, that plan was set to expire on September 30th, 2013, about two weeks from now.
Well, Microsoft announced a new $40 billion plan to replace that old plan, with no expiration date. $40 billion is a large plan, and it will only be outsized by Apple's $60 billion repurchase program. Microsoft's new plan does a couple of things. First, it does level the playing field a bit, putting Microsoft a little closer to Apple, although many still say it is far away. Also, it reinforces my recent opinion that the Nokia (NYSE:NOK) deal was a financial win for Microsoft. Because Microsoft was able to use foreign funds for the Nokia deal, it did not have to tap into its US based cash resources for the deal. As I stated in the article above, Microsoft's cash and investments balance in the US stood at just over $7.4 billion at the end of June. That was the lowest value at the end of the past three fiscal years. Had Microsoft needed US funds for the Nokia deal, you would have not gotten this huge dividend raise or buyback announcement by itself. You probably would have seen Microsoft issue some debt, like Apple did, to pay for some of the dividend and buyback. Microsoft's margin of safety seemed a little low recently, since 90% of its cash pile was located outside the US.
Maybe we can lower the share count now?
There are a couple of goals for a buyback plan, with the most obvious being to get the share count down. Getting the share count down will help your earnings per share figure, and it also improves your cash flow in the sense that total dividend payments are reduced. Obviously, you have to use cash to buy back shares, but a buyback is better than just having the cash sit on your balance sheet and do nothing, especially when interest rates are low.
The problem that Microsoft has seen recently is that its buyback plan has not been that effective. Over the past two years, the outstanding share count has not improved that much, especially when compared to other names. The following table shows the share counts of four tech giants, including Apple, Intel (NASDAQ:INTC), and Cisco Systems (NASDAQ:CSCO), over the past two years. The table shows their outstanding share counts for their June or July end quarters, with values in millions.

Over the past two years, Microsoft states in the above 10-K that it has used approximately $8.6 billion in cash to repurchase shares. It used $8.6 billion to repurchase shares and all it got was a lousy t-shirt, I mean 0.57% decrease in the outstanding share count. Does that sound like a winning strategy to you? Apple and Cisco each had one of the two years above see a rise in their share count, and they still had a larger two year decrease. Apple's share count will drop even faster in the following year or two as it buys back another $40 billion worth of shares by the end of calendar 2015. I'm not quite sure Microsoft will execute its plan that fast, since it doesn't have an expiration date. Cisco has also started to accelerate its buyback in recent quarters. Intel's buyback has slowed in recent quarters, but was more powerful a year or two back. The chip giant's plan might pick up some speed in 2014 as it looks for a rebound in revenues and earnings. Hopefully, Microsoft will speed up its buyback a little bit and try to get some meaningful share count reductions. In its latest fiscal year, the small reduction in the share count improved Microsoft's earnings per share by 1.1 cents, not much when you are over $2.50 a share for the year.
Comparing the dividends:
With this dividend increase, Microsoft didn't just become another top tier tech name with a decent dividend. Microsoft became the clear #2 behind Intel in terms of yield, as you can see from the chart below.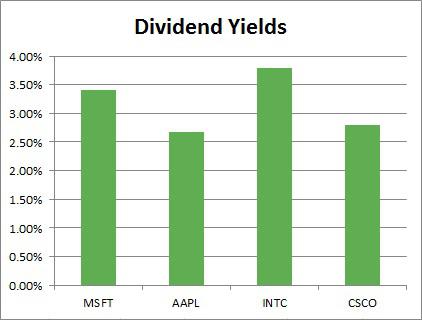 Using Tuesday's closing price, the dividend yield using the old dividend would have been 2.79%, and now it is 3.40%. That's an increase of 61 basis points in yield. Microsoft has now put its yield about halfway between the 10-Year and 30-Year US Treasury Bonds. At this point, Microsoft's yield still trails that of Intel by about 39 basis points, but Microsoft now leads Cisco by 61 basis points and Apple by 72.
Final thoughts:
Microsoft investors have been troubled lately with a poor quarterly result and the announcement of the Nokia deal. On Tuesday, Microsoft gave those investors a new hope in the form of a larger than expected dividend raise and new buyback announcement. Microsoft now has a capital return plan that is second to Apple's in terms of large cap tech names. Microsoft needed to shake things up, and this was certainly a way to do just that.
Disclosure: I have no positions in any stocks mentioned, but may initiate a long position in AAPL over the next 72 hours. I wrote this article myself, and it expresses my own opinions. I am not receiving compensation for it (other than from Seeking Alpha). I have no business relationship with any company whose stock is mentioned in this article.
Additional disclosure: Investors are always reminded that before making any investment, you should do your own proper due diligence on any name directly or indirectly mentioned in this article. Investors should also consider seeking advice from a broker or financial adviser before making any investment decisions. Any material in this article should be considered general information, and not relied on as a formal investment recommendation.